Despite Advertising, YumEarth Organic Fruit Snacks Contain No Real Fruit, Class Action Alleges
A class action alleges some YumEarth products contain less fruit and more sugar than consumers are led to expect based on how the items are labeled.
A proposed class action alleges some of YummyEarth, Inc.'s YumEarth products contain less fruit and more sugar than consumers are led to expect based on how the items are labeled.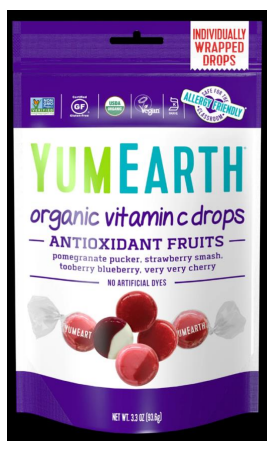 The 49-page lawsuit says that although YummyEarth's Organic Fruit Snacks, Vitamin C Drops, Fruit Chewys and Gummy Fruits are represented on product packaging as healthy and nutritious snacks, the items, in reality, contain high levels of sugar and are devoid of "any real fruit."
The case claims that YummyEarth has likely raked in millions from selling purportedly fruit-based snacks that consumers would not have otherwise purchased had they known the items were "merely sugar-packed candy masqueraded as health-focused treats containing real fruit and nutrition."
"Rather than containing real fruit, the Products are packed with sugar," the complaint reads. "Defendant's Products contain sugar levels comparable to candy and none of the vibrantly depicted fruits."
Specifically mentioned in the complaint are the YumEarth-brand Organic Fruit Snacks, Organic Tropical Fruit Snacks, Organic Vitamin C Drops, Organic Fruit Chewys and Organic Gummy Fruits, but the lawsuit intends to cover any of the defendant's products that are similarly "deceptively marketed."
According to the case, YummyEarth positions its products as healthy, fruit-packed snacks that contain less sugar than candy and provide nutritional benefits. The suit alleges, however, that the "fruit" in the fruit snacks, vitamin C drops and gummies is, in fact, "concentrated juice from apples and blackcurrant" that serves to provide only coloring. Per the lawsuit, none of the products contain real fruit or flavors derived from the fruits depicted on their labels.
Moreover, the case claims that each of the purportedly fruit-based products contains more sugar per serving than snacks that consumers "consider unhealthy," such as candy and soda.
The lawsuit alleges that YummyEarth deceptively targets its marketing toward health-conscious consumers even though its products provide none of the health benefits associated with consuming fruit and contain high levels of sugar.
The case adds that the Vitamin C Drops contain vitamin C from ascorbic acid, a synthetic ingredient that "mimics natural Vitamin C."
"In other words," the complaint states, "despite representing that it includes real fruit that is high in Vitamin C and containing beneficial antioxidants, it is a fruit-less candy packed with sugar, that is boosted with a synthetic ingredient that is meant to mimic real Vitamin C."
The lawsuit claims the YummyEarth products are misbranded given their labeling misleads consumers into believing that the snacks contain more fruit—and less sugar—than is actually the case. As a result, the products "cannot be legally manufactured, advertised, distributed, or sold in the U.S. as [they are] currently labeled," the suit contends.
The lawsuit looks to represent anyone who purchased YummyEarth's products in the U.S. within the applicable statute of limitations period.
Get class action lawsuit news sent to your inbox – sign up for ClassAction.org's newsletter here.
Last Updated on May 9, 2022 — 4:32 PM