Costco's Kirkland Signature White Albacore Tuna Not as 'Dolphin Safe' as Advertised, Class Action Alleges
Wright v. Costco Wholesale Corporation
Filed: July 27, 2022 ◆§ 1:22-cv-04343
A class action alleges Costco's Kirkland Signature White Albacore Tuna in Water is not "dolphin safe" as advertised.
A proposed class action alleges Costco's Kirkland Signature-brand White Albacore Tuna in Water is not "dolphin safe" as advertised given the product is sourced via fishing methods that "seriously injure and kill thousands of dolphins and other marine life each year."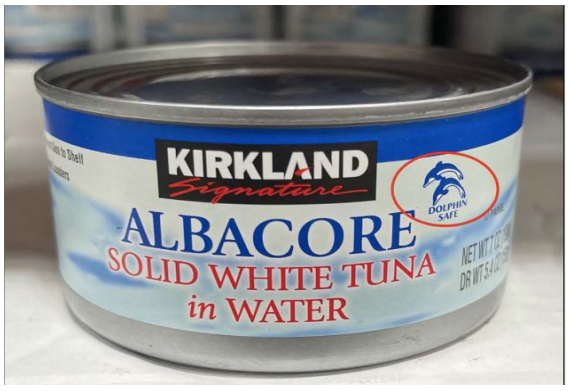 The 46-page lawsuit out of California alleges Costco knowingly and intentionally labels and advertises the Kirkland Signature tuna as "dolphin safe" to increase profits at the expense of consumers concerned with sustainability and animal welfare.
Although Costco does not mention on its "Sustainable Fisheries" webpage the specific fisheries and corporations it employs to catch the tuna in its products, the retailer in 2002 contracted with Bumble Bee Foods to supply and manufacture the Kirkland Signature tuna at issue, the suit states. Per the case, Bumble Bee outlines on its website that its fishing practices include the use of longlines to harvest the albacore used in its tuna products.
According to the filing, longline fishing can involve lines more than 60 miles long, with as many as 10,000 baited hooks. The lawsuit stresses that longline fishing poses a significant risk to dolphins and leads to large numbers of bycatch, the unintentional capture of unwanted fish and other marine creatures during commercial fishing for a different species.
The case charges that given the large volumes of marine mammals killed or seriously injured each year due to incidental bycatch, any company that uses longline fishing cannot truthfully claim that their products are "dolphin safe."
"Defendant contracted with and continues to employ Bumble Bee as its supplier for its canned tuna products despite Bumble Bee's open and obvious use of unsafe and unfair fishing practices," the complaint reads.
Further, the case relays that there is no indication that FCF Co. Ltd., the worldwide fish supplier who purchased Bumble Bee's assets after it filed for Chapter 11 bankruptcy in November 2019, employs fishing practices that do not harm, injure or kill dolphins.
According to the complaint, conservation group Greenpeace in 2017 listed the Kirkland Signature tuna among the bottom eight tuna brands based on sustainability and ethical concerns for ocean wildlife. In 2021, the case says, Greenpeace listed Costco among the bottom seven tuna brands based on sustainability and human rights concerns.
"Out of the sixteen major U.S. tuna retailers ranked by Greenpeace, Defendant ranked tenth and received a failing score in every available category, including the company's tuna procurement policy, traceability policies, and consumer education/labeling. Greenpeace concluded that such results were 'extremely disappointing given [Defendant's] size and influence...'"
The lawsuit goes on to allege that Costco's claim that the Kirkland tuna products are "100% traceable from sea to shelf" is also false and misleading as there apparently exists no program with which consumers can trace the source of the tuna on the defendant's website. Although Costco purports to use end-to-end traceability systems, such as TruTrace, the company, the complaint claims, "makes no effort to actually foster transparency" about its tuna suppliers, especially considering that its website contains no other information about them, and any data collected by the tracing program is accessible only to Costco.
At the same time, although Costco and Bumble Bee claim to be participants in the International Seafood Sustainability Foundation (ISSF), the partnership between global scientists, tuna processors and the World Wildlife Fund is, according to the lawsuit, "nothing more than a front for giant tuna companies."
Additionally, the filing alleges the "dolphin safe" logo found on packages of Kirkland Signature tuna is not the official label as approved by the U.S. Department of Commerce.
The lawsuit looks to cover all United States residents who, within the applicable statute of limitations period, purchased Kirkland Signature White Albacore Tuna in Water.
Get class action lawsuit news sent to your inbox – sign up for ClassAction.org's free weekly newsletter here.
Camp Lejeune
Camp Lejeune residents now have the opportunity to claim compensation for harm suffered from contaminated water.
Read more here: Camp Lejeune Lawsuit Claims
Stay Current
Sign Up For
Our Newsletter
New cases and investigations, settlement deadlines, and news straight to your inbox.
Last Updated on August 2, 2022 — 4:29 PM