in
Newswire
Published on August 31, 2022
Clif Bloks Energy Chews Contain Less Caffeine Per Cube Than Advertised, Class Action Says
A proposed class action contends that each cube of Clif Bloks Energy Chews contains less caffeine than advertised.
A proposed class action contends that each cube of Clif Bloks Energy Chews contains less caffeine than advertised.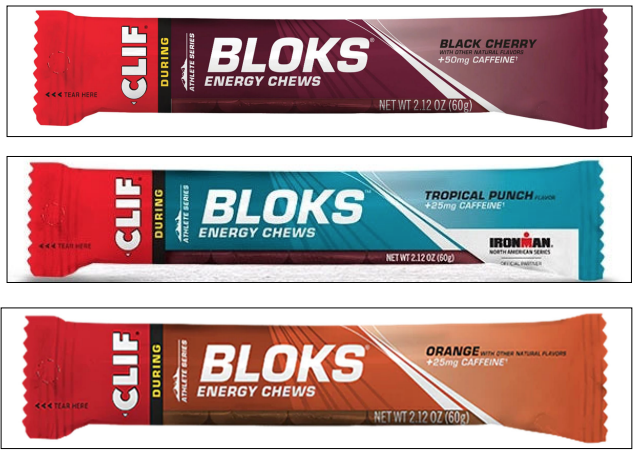 The 28-page suit says that although product labels lead buyers to believe that each Clif Bloks cube will contain 25mg or 50mg of caffeine, depending on the flavor, the energy chews actually contain 25-50 milligrams of caffeine per three cubes.
"Thus, consumers are effectively getting only one-third (1/3) of the advertised amount of caffeine per package of the Product," the case summarizes, arguing that reasonable consumers interpret the product packaging to mean each Clif Bloks cube contains 25 to 50mg of caffeine.
The complaint charges that defendant Clif Bar & Company can correct "this misleading advertising" by stating the amount of caffeine "per serving," which is three cubes, on front product labels yet has instead "tried to hide this information from consumers" by disclosing underneath the flap on the bottom of the package that "3 Clif Bloks" contain 25 or 50mg of caffeine.

As the complaint tells it, reasonable consumers are not only unlikely to find this disclaimer but would not expect small print "buried" on the bottom of product packaging to contain language "inconsistent with the front-facing representation that the Product contains 25mg or 50mg of caffeine per cube."
According to the lawsuit, the amount of caffeine in each Clif Bloks cube, which come in black cherry, tropical punch and orange flavors, is a material consideration for consumers as the product is marketed to boost physical performance during endurance sports and activities. Per the case, it is a "common strategy" to improve performance during endurance sports by using caffeine supplements, and Clif Bar partners with the Ironman series of triathlons in marketing some of its products, the suit relays.
"Had Plaintiffs and consumers known that there was one-third the amount of caffeine in each cube of the Product as advertised, they would not have purchased the Bloks or would have paid less for them," the case claims.
The lawsuit aims to represent all consumers in the United States who have bought Clif Bloks Energy Chews in the tropical punch, black cherry or orange flavors during the applicable statute of limitations period.
Get class action lawsuit news sent to your inbox – sign up for ClassAction.org's free weekly newsletter here.
Camp Lejeune
Camp Lejeune residents now have the opportunity to claim compensation for harm suffered from contaminated water.
Read more here: Camp Lejeune Lawsuit Claims
Stay Current
Sign Up For
Our Newsletter
New cases and investigations, settlement deadlines, and news straight to your inbox.
Last Updated on August 31, 2022 — 4:24 PM