Class Actions Claim Degree MotionSense UltraClear Black + White Antiperspirant Leaves Stains, Marks It's Supposed to Prevent
A class action alleges Unilever's Degree MotionSense UltraClear Black + White antiperspirant is misleadingly marketed.
At least two proposed class actions allege the men's and women's varieties of Unilever's Degree-brand MotionSense UltraClear Black + White antiperspirant are misleadingly marketed given the products actually cause the yellow stains and white marks they're supposed to prevent.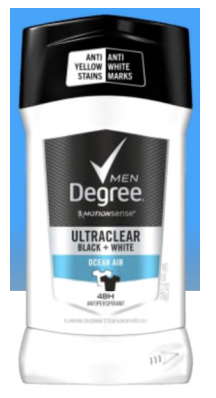 The nearly-identical 21-page lawsuits allege defendant Conopco, Inc. has violated the Missouri Merchandising Practices Act (MMPA), and claim it is "a scientific fact" that the white marks and yellow stains from the products can be traced back to their primary active ingredient, Aluminum Zirconium Tetrachlorodhydrex (aluminum).
The cases stress that because it is scientifically well-established that aluminum in some antiperspirants can leave white marks and stains, numerous other brands that do not contain the ingredient can therefore legitimately claim to be "anti-white marks" and/or preventative against marks and stains. The fact that "legitimate" anti-stain and -mark antiperspirants exist on the market renders Unilever's deception "all the more convincing to consumers," the suit alleges.
"[A] consumer does not simply take for granted that all antiperspirants cause white marks and stains," the cases read. "Rather, a consumer has reason to believe that the 'UltraClear Black + White' antiperspirant categorically does not cause white marks or yellow stains, not that it simply does so to a lesser extent than 'normal' antiperspirants."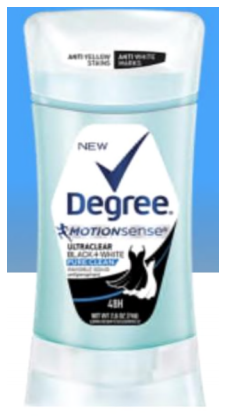 Even if the antiperspirant causes fewer white marks and stains than other brands, the fact that it does so at all renders Unilever's marketing and advertising claims false and misleading, the lawsuits contend.
Further, the products, compared to the non-UltraClear version of Unilever's MotionSense antiperspirant, do not contain a single additional ingredient that provides "protection from staining or marks," the complaints say. Per the suits, the only material difference is that the active ingredient in MotionSense UltraClear, aluminum, is diluted in concentration.
"Pursuant to the MMPA, Defendants' deceptive practices are illegal," the lawsuits allege.
The lawsuits, which were filed in St. Louis County Circuit Court on March 8, were transferred to Missouri's Eastern District Court on June 17.
Get class action lawsuit news sent to your inbox – sign up for ClassAction.org's free weekly newsletter here.
Last Updated on June 18, 2021 — 5:03 PM