Class Action Takes Issue with Sale of 'Illegal' Milwaukee Fastback 'Press and Flip' Knife
Last Updated on June 25, 2018
Lakatosh v. Techtronic Industries Company, Ltd. et al
Filed: June 21, 2018 ◆§ 2:18cv5527
A lawsuit takes issue with Techtronic and the Home Depot's sale of Milwaukee-brand Fastback utility knives, saying they're illegal in many states.
A proposed class action lawsuit has been filed in California federal court that revolves around defendant Techtronic Industries Company, Ltd.'s popular Milwaukee Fastback "Press and Flip" utility knife.
The knife is advertised as having a blade that can be activated "3X faster than a 2-handed opening" knife, the lawsuit says. The problem, however, is that according to the 33-page complaint, Techtronic and co-defendants Milwaukee Electric Tool Corporation and The Home Depot, Inc. respectively manufacture and sell the knives, including a similarly designed Husky brand knife, even though they are "illegal to possess or carry in many jurisdictions."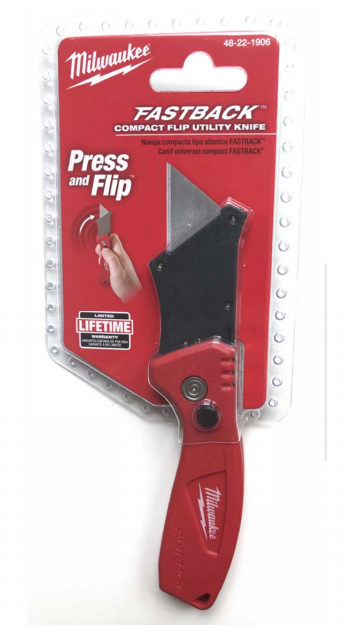 Fastback knives are essentially foldable knives a step removed from a traditional switchblade pocketknife, the suit explains. The knife, which is sometimes called a "gravity knife," is activated by holding the knife in hand, cocking the wrist, and depressing a button on the blade's handle that quickly releases the knife via a spring-load mechanism. Many Home Depot customers have no idea that what they just bought is illegal, the suit states.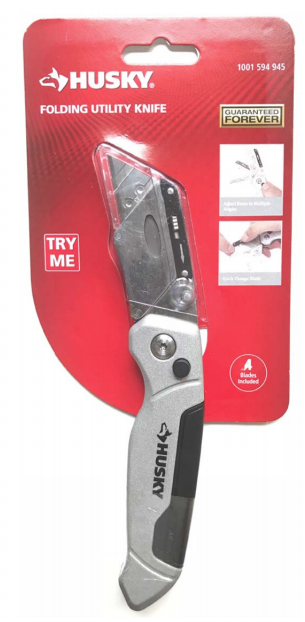 Many states outlaw possession and/or the concealed carry of switchblade or gravity knives, the lawsuit continues. Despite this, the defendants allegedly generate considerable profits from the sale of knives that have no place out in the open as a means of maintaining a sizable advantage over competitors.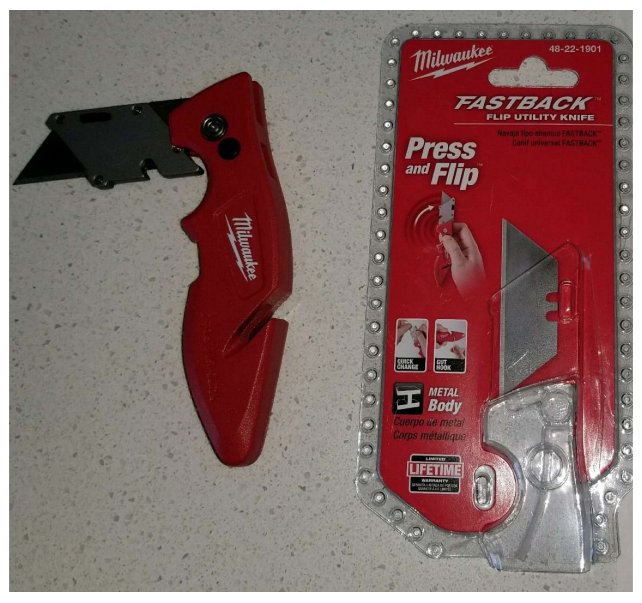 Specifically, California, Delaware, Hawaii, Louisiana, New Jersey, New Mexico, New York and Washington have statutes on the books that define the outlaw of switchblades in step with the Federal Switchblade Act, the lawsuit says. The plaintiff claims he has spoken with experts who confirmed the knives made and/or sold by the defendants are illegal. From the complaint:
"[The plaintiff] has conferred with a qualified expert and confirmed the blade of all the Illegal Gravity Knives, when measured from the tip of the blade to the closest point on the knife's hilt, exceeds 2" in length. More specifically, the blade includes the entire portion of the knife that swings out from the handle, including the portion [the defendants] refer to as a 'holder.' [The plaintiff] has also confirmed with that expert that there would be probable cause for a law enforcement official to arrest a person who was caught in California with one of the Illegal Gravity Knives."
Last Updated on June 25, 2018 — 2:06 PM