Class Action Says SlimFast 'Clinically Proven' Weight Loss Claims Based on Discontinued, Older Products
Kuciver v. KSF Acquisition Corporation
Filed: November 6, 2021 ◆§ 1:21-cv-05964
A proposed class action challenges the assertion that SlimFast products are "clinically proven" to help lose weight and keep it off.
A proposed class action challenges the assertion that SlimFast products are "clinically proven" to help lose weight and keep it off.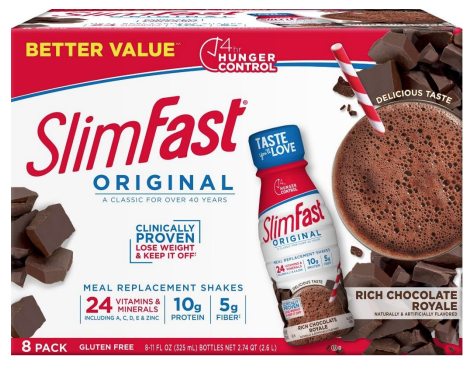 The 12-page lawsuit alleges the "clinically proven" and four-hour hunger control claims that appear on the labels of more than 50 SlimFast products are false given the company that makes the weight-loss supplement "does not possess evidence to support them," such as randomized and relevant controlled studies.
According to the case, SlimFast maker KSF Acquisition Corporation's "clinically proven" claims are based on studies of products that were introduced many years ago and are no longer sold, and on weight-loss plans that have not been offered by SlimFast for many years.
"Defendant has not clinically tested the weight-loss efficacy of the Products," the complaint alleges, contending that KSF's clinical trial claims are based on discontinued SlimFast products as part of a high-carb diet with "no resemblance" to today's products, which are higher in fat and protein and contain fewer carbohydrates.
Moreover, the lawsuit alleges the studies on which KSF has based its "clinically proven" claims are not entirely relevant to weight loss. For instance, the case says, one study called for only two snacks per day and neither required participants to exercise nor accounted for the higher number of calories consumed by men. Another study failed to indicate whether any specific eating plan was required, the suit claims, while another involved subjects being advised to eat various servings of fruits and vegetables per day in addition to meal replacements and meals, per the complaint. Yet another study allegedly involved adhering to a low-calorie diet using SlimFast products to achieve a caloric deficit, the suit adds.
The lawsuit says that no current SlimFast plan requires consumption of a specific number of fruits and vegetables.
The case goes on to contend that the back label of SlimFast products attempts to disclaim the "Keep It Off" weight-loss claims on the front label with the text "*When Used as Part of the SlimFast Plan." This disclaimer, however, is written in text that's "small and difficult to read," the lawsuit argues. Moreover, other product label claims concerning hunger control, satiety and blood sugar are "false and misleading," the suit says.
"Defendant's hunger control claim is misleading because the studies relied upon had limited consumer relevance because the subjects were not given food during the test period, so whether or not they could control their hunger was not actually evaluated," the complaint reads.
As the lawsuit tells it, the studies relied upon for the "Keep It Off" claim are not supportive of the "clinically proven" assertion in that 20 percent of participants' weight was regained at the end of one year.
The lawsuit argues that reasonable consumers must and do rely on a company to honestly identify and describe the "components, attributes, and features" of a product relative to itself and comparable items or alternatives. According to the complaint, the value of the SlimFast products at issue was materially less than their value as represented by the defendant.
Consumers would not have bought "clinically proven" SlimFast products, or would have paid less for them, had they known the truth, the lawsuit alleges.
The case looks to represent consumers in Illinois, North Dakota, Kansas, Texas, Wyoming and Delaware who bought SlimFast products labeled as "Clinically Proven—Lose Weight & Keep It Off" and "4hr Hunger Control" during the relevant statute of limitations period.
Get class action lawsuit news sent to your inbox – sign up for ClassAction.org's free weekly newsletter here.
Last Updated on November 8, 2021 — 4:21 PM