in
Newswire
Published on October 4, 2022
Class Action Says Carnation Breakfast Essentials Label Overstates Amount of Protein
Benzin V. Nestle Healthcare Nutrition, Inc.
Filed: October 1, 2022 ◆§ 1:22-cv-00747
A class action claims that packages of Carnation Breakfast Essentials Nutritional Powder Drink Mix contain less protein than advertised.
A proposed class action claims that packages of Carnation Breakfast Essentials Nutritional Powder Drink Mix are misleadingly labeled in that the product contains less protein than advertised.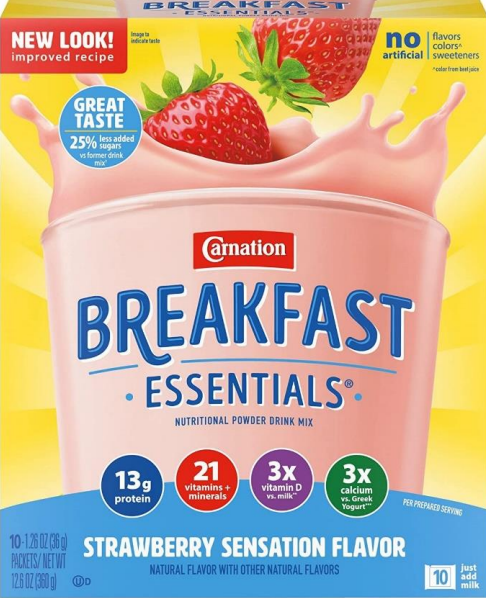 The 10-page complaint alleges that defendant Nestlé Healthcare Nutrition has misrepresented the protein content of its powdered drink mix, promoting 13 grams of protein per serving when it contains only five grams.
Although the front label of the Carnation Breakfast Essentials drink mix promotes "13g Protein," smaller print reveals that consumers must add milk to reach the advertised total amount of protein "per prepared serving," the suit says. The case argues that consumers would not think they need to add milk to the product because the label claim "3x vitamin D vs. milk" positions the drink mix as comparable to milk.
Moreover, the complaint asserts that the product label provides no instructions about how much milk to add or what kind of milk is required to obtain the advertised 13 grams of protein. The case says that due to the drink mix's mislabeling, the plaintiff was led to believe that "whatever she mixed it with, such as water or milk, would not result in her getting less than 13g of protein."
Per the complaint, Nestlé Healthcare Nutrition has purposefully mislabeled its drink mix to increase profits.
"Defendant was aware of the studies and reports showing that consumers are increasingly seeking foods with protein content, and used this information – some of it proprietary – to market it to consumers like Plaintiff."
Likewise, marketing insights firm Precedence Research states that the global protein ingredients market is projected to grow from $72 billion to $114 billion by 2030. A study at NielsenIQ also shows that the market for plant-based protein, including dairy alternatives, is rapidly growing.

The lawsuit looks to cover New York, Utah, Wyoming, Arkansas, North Carolina, and Alabama residents who have purchased Carnation Breakfast Essentials Nutritional Powder Drink Mix within the statutory period.
Get class action lawsuit news sent to your inbox – sign up for ClassAction.org's free weekly newsletter here.
Camp Lejeune
Camp Lejeune residents now have the opportunity to claim compensation for harm suffered from contaminated water.
Read more here: Camp Lejeune Lawsuit Claims
Stay Current
Sign Up For
Our Newsletter
New cases and investigations, settlement deadlines, and news straight to your inbox.
Last Updated on October 4, 2022 — 9:48 AM