Class Action Says Almond Breeze Vanilla Almondmilk Label Misleading Without Disclosure of Artificial Flavors [UPDATE]
A lawsuit claims the label of Almond Breeze Vanilla Almondmilk is misleading in that it fails to disclose the amount of real vanilla in the product.
July 21, 2021 – Almond Breeze Settlement Website Is Live, File Your Claim
The proposed class action detailed on this page has been resolved as part of a class-wide settlement reached in a similar case, Biegel v. Blue Diamond Growers, according to a joint status report submitted to the court on June 17.
The official, legitimate Almond Breeze almondmilk settlement website can be found here:
https://almondbreezesettlement.com/
Anyone who purchased any of the Blue Diamond Almond Breeze products listed on this page from April 15, 2014 through May 17, 2021 is covered by the settlement, which awaits final approval from a judge. Consumers with proof of purchase can receive up to $1 for each product purchased, up to a maximum of 20 products. Those who submit a claim without proof of purchase can receive up to $0.50 per product, up to 10 products.
Consumers have until November 23, 2021 to submit their claims. To file a claim, head to this page—https://almondbreezesettlement.com/submit-claim.php—and fill out your information. Claims can also be submitted by mail and must be received by November 23. If you do nothing, you will receive no compensation from the settlement.
The settlement administrator can be contacted here.
Don't miss out on settlement news like this. Sign up for ClassAction.org's free weekly newsletter here.
Blue Diamond Growers has misled consumers by failing to disclose on the label of its Almond Breeze Vanilla Almondmilk that the beverage contains artificial vanilla flavors and less real vanilla than consumers expect, a proposed class action claims.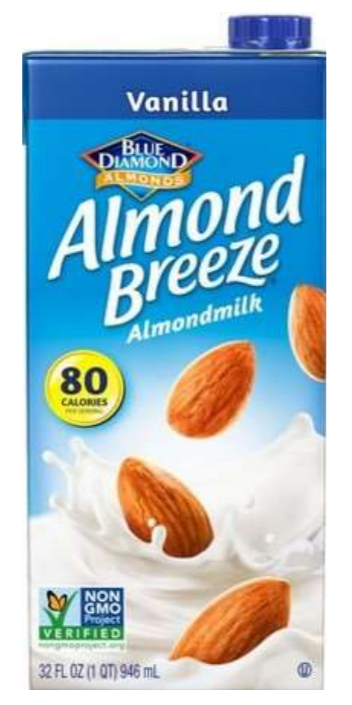 Upon reading the term "Vanilla" on the product's front label, consumers are led to believe that the almond milk beverage is flavored exclusively or predominantly with vanilla beans from the vanilla plant, the lawsuit argues.
In truth, however, "much or most" of the vanilla taste in Almond Breeze Vanilla Almondmilk comes from vanillin, an artificial flavor, while the presence of real vanilla is minimal or less than expected, the suit says.
According to the case, FDA regulations mandate that the front labels of foods containing vanilla disclose the presence of vanillin—the "main flavor molecule" in vanilla that can be isolated and added to foods to boost their vanilla flavor—as an artificial flavor. When the term "vanilla" appears on a front label without qualification, meaning without the words "flavored," "artificial flavors," or "with other natural flavors," consumers are led to believe the food is flavored exclusively with vanilla extract or another vanilla flavoring derived solely from vanilla beans, the suit relays.
Per the complaint, a consumer survey of over 400 Americans revealed that nearly 68 percent of consumers who viewed the Almond Breeze Vanilla Almondmilk label expected the product's vanilla taste was derived from vanilla beans, and 58 percent of respondents indicated they would be less likely to purchase the almond milk had they known the vanilla flavoring did not come from the vanilla plant.
The case argues that while consumers should not be expected to double-check the product's ingredients list to determine its vanilla content, the listing of "Natural Flavors" among the ingredients nevertheless fails to disclose that the almond milk contains artificial vanilla with a minimal amount of real vanilla from the vanilla plant.
Further, a gas chromatography-mass spectrometry test revealed that the Almond Breeze beverage contains "an abnormal excess of vanillin relative to the profile of minor components in vanilla," indicating vanillin from non-vanilla sources, such as tree bark or petroleum by-products, was added, the lawsuit says.
When vanillin from vanilla beans is present in a product, small amounts of other compounds present in vanilla, such as p-hydroxybenzoic acid and vanillic acid, would also be detectable, according to the case. The fact that the test did not detect the presence of such compounds indicates that vanillin was added and the almond milk contains less vanilla than consumers expect, the suit avers.
Per the case, the marketing and promotion of Almond Breeze Vanilla Almondmilk "is designed to—and does—deceive, mislead, and defraud" consumers.
"Consumers are misled by the front label and unable to cure the deception because the Product's ingredient list only indicates it is flavored by 'Natural Flavors,'" the complaint argues, contending that consumers would not have purchased the beverage, or would have paid less for it, had they known the truth.
The lawsuit looks to represent anyone in California and Oregon who purchased the Almond Breeze Vanilla Almondmilk product for personal use (including feeding their families), and not for resale, anytime since May 9, 2014.
Get class action lawsuit news sent to your inbox – sign up for ClassAction.org's newsletter here.
Last Updated on July 21, 2021 — 2:07 PM