Class Action Lawsuit Filed Against Taser Maker Over Allegedly Defective Safety Mechanisms
Last Updated on June 26, 2018
Richey v. Axon Enterprise, Inc.
Filed: June 25, 2018 ◆§ 4:18cv3751
The co. formerly known as Taser International faces a lawsuit alleging the safety mechanisms on its citizen-model tasers can cause the devices to unintentionally discharge.
The company formerly known as Taser International, Inc. is the defendant in a proposed class action lawsuit filed by a consumer who claims the safety mechanism on the manufacturer's "Pulse," "X2" and "X26P" citizen-model Conducted Electrical Weapons (CEW) is defective. The alleged defect can cause the tasers to unintentionally discharge, the complaint claims.
The lawsuit alleges that the plaintiff purchased a taser from the defendant in October 2016 and experienced difficulty with the device almost immediately. The man reportedly contacted Axon Enterprise's customer service and shortly thereafter received a replacement model from the company. According to the case, the plaintiff's replacement model discharged without warning while in the man's pocket a few months later. From the complaint:
"On January 18, 2017, [the plaintiff] was carrying the Pulse CEW inside a neoprene case in his right jacket pocket. It was [the plaintiff's] custom and habit to carry the weapon with the safety switch in the 'safe' position, which he did on this occasion. [The plaintiff] had been in his car and as he exited the driver side of the car, he heard a muffled pop and smelled gunpowder. [The plaintiff] looked down at his pocket and saw the weapon's electric barbs protruding from his jacket. The weapon had discharged in [the plaintiff's] pocket without his pulling the trigger. [The plaintiff] ejected the cartridge from the gun and pulled the gun out of his pocket. The barbs were still stuck in his jacket, and [the plaintiff] had to rip the jacket pocket to free the barbs. Luckily, [the plaintiff] was not personally harmed from the incident."
The case alleges that the safety mechanism on the defendant's tasers can be disengaged "with very little pressure." The device itself can be armed by moving the safety lever "only a fraction of the way" into the armed position, the suit adds, noting the weapon can be fired with "very little pressure" on the trigger.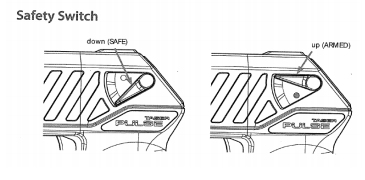 According to the lawsuit, defendant Axon Enterprise, Inc. "manufactured, supplied, promoted, and sold" the tasers when it knew or should have known of the safety issue. Moreover, Axon allegedly failed to hold up its end of the bargain in honoring "both legally mandated and voluntary" warranties for its electrical weapon products, which the suit notes require the company to repair or replace the tasers at no cost to consumers.
The lawsuit seeks to certify a class of individuals nationwide who purchased Axon Enterprise's Pulse, X2 and/or X26P Conducted Electrical Weapons, as well as two California-only subclasses.
Last Updated on June 26, 2018 — 4:06 PM