Class Action Filed Over 'Misleading' Label on Chobani 'Vanilla' Coffee Creamer
A proposed class action claims the label of Chobani brand "Vanilla" coffee creamer is misleading in that it fails to disclose the presence of non-vanilla flavors.
A proposed class action claims the label of Chobani brand "Vanilla" coffee creamer is misleading in that it fails to disclose the presence of non-vanilla flavors.
The 15-page lawsuit alleges that because defendant Chobani, LLC represents its coffee creamer as "Vanilla" without any qualifying terms such as "flavored," "other natural flavor," "artificially flavored," or "naturally flavored," a reasonable consumer would never expect the product to contain flavors not derived from the vanilla bean.
"Even though these non-vanilla flavors are not chemically identical to 'vanilla extract,' their addition to the Product requires disclosure," the complaint reads.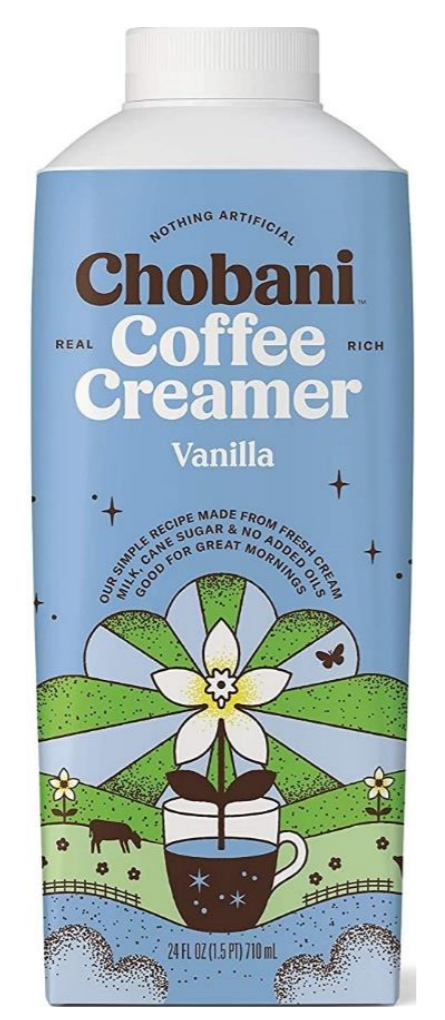 In light of the "rampant" adulteration of vanilla extract, food labeling standards now require any non-vanilla flavors that "increase and promote a vanilla taste" in a product labeled as "vanilla" to be disclosed as artificial flavors in order to avoid misleading consumers, the lawsuit says.
According to the suit, the Chobani coffee creamer's ingredients list reveals that the product contains "natural flavors"—i.e. additional non-vanilla flavors that contribute to the creamer's vanilla taste. The case argues that the addition of these ingredients must be disclosed on the product's front label, which the suit notes contains "no reference to any non-vanilla flavors."
"The unqualified, prominent and conspicuous representation as 'Vanilla' is false, deceptive and misleading because the Product contains non-vanilla flavors which imitate, resemble and extend vanilla's taste but are not derived from vanilla bean, yet these flavors are not disclosed to consumers on the front label as required and expected," the complaint states.
Reasonable consumers would be unaware that the "natural flavors" in Chobani coffee creamer should be accurately labeled as "artificial flavors" given they contribute to the product's vanilla taste, the lawsuit argues. Further, in order for a purportedly vanilla product's "natural flavors" to go unmentioned on its label, they would have to provide a taste sensation "completely unrelated to vanilla," the suit adds.
At any rate, the responsibility does not fall to buyers to know that a "vanilla" product's label may not be telling the whole flavor story, the case contests.
From the complaint:
"Consumers cannot be expected to know intricate labeling regulations for vanilla ingredients and the array of flavor compounds companies use to boost and simulate vanilla, which makes defendant's representation of the Product as 'Vanilla,' without more, deceptive and misleading."
The lawsuit argues that consumers are willing to spend more for products labeled "Vanilla" with no other qualifiers and have therefore been misled into paying a premium for a product that was worth "materially less" than its represented value.

"Had plaintiffs and class members known the truth, they would not have bought the Product or would have paid less for them [sic]," the complaint reads.
Get class action lawsuit news sent to your inbox – sign up for ClassAction.org's newsletter here.
Last Updated on July 9, 2020 — 4:07 PM