in
Newswire
Published on October 14, 2020
Class Action Claims Whole Foods' Chocolate-Coated Ice Cream Bar Label Conceals Presence of Vegetable Oils
Mitchell v. Whole Foods Market Group, Inc.
Filed: October 12, 2020 ◆§ 1:20-cv-08496
A proposed class action alleges Whole Foods' chocolate-coated ice cream bars were falsely labeled given the chocolate coating contains vegetable oil.
A proposed class action alleges the packaging of the chocolate- and almond-coated vanilla ice cream bars sold by Whole Foods Market Group, Inc. under its Organic 365 Everyday Value brand is "false, deceptive and misleading" in that the product contains vegetable oils.
According to the case, a reasonable consumer, upon reading the references to "chocolate" and "chocolate coating" on the front of the ice cream bars' box, would not expect that the chocolate coating contains vegetable oils, a cheaper alternative to cacao fat. As the 14-page suit tells it, consumers prefer—and will pay more for—products made with chocolate derived from a real source such as cacao beans.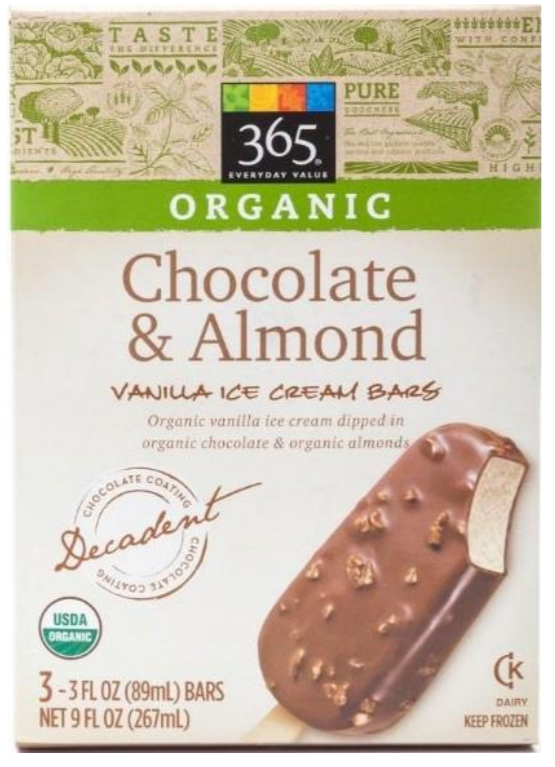 "Chocolate provides greater satiety and a creamy and smooth mouthfeel compared to other ingredients which substitute for chocolate, like vegetable oils, which provide less satiety, a waxy and oily mouthfeel and leave an aftertaste," the complaint relays, noting that chocolate has specific labeling requirements due to how frequently it's adulterated in certain foods.
For example, the suit says, an FDA food labeling law dictates that the optional ingredients in milk chocolate include cacao fat, nutritive carbohydrate sweeteners, spices, natural and artificial flavorings, dairy ingredients and emulsifying agents.
Ultimately, the fact that the ice cream bars' front label represents the treats as "chocolate" with a "chocolate coating" and lacks any qualifying terms that disclose the inclusion of chocolate with vegetable oils and/or fats leads consumers to inaccurately believe the product is made with only chocolate ingredients, the lawsuit alleges. The case contends that this conclusion is in line with a consumer survey indicating that buyers would understand based on Whole Foods' labeling that the "chocolate" and "chocolate coat[ed]" ice cream bars contain cacao ingredients, with no expectation of the presence of vegetable oils.
In truth, the product's ingredients list reveals the presence of "Organic Expeller Pressed Palm Kernel Oil," an ingredient the suit argues consumers would not expect to be found in real chocolate.
"Defendant's branding and packaging of the Product is designed to – and does – deceive, mislead, and defraud plaintiff and consumers," the complaint scathes, alleging Whole Foods was able to sell more of the ice cream bars, and at a higher price, than it would have absent the misleading label.
Get class action lawsuit news sent to your inbox – sign up for ClassAction.org's newsletter here.
Camp Lejeune
Camp Lejeune residents may soon have the opportunity to claim compensation for harm suffered from contaminated water.
Read more here: Camp Lejeune Lawsuit Claims
Stay Current
Sign Up For
Our Newsletter
New cases and investigations, settlement deadlines, and news straight to your inbox.
Last Updated on October 14, 2020 — 4:41 PM