Class Action Claims Walgreens' Lidocaine Products Misrepresented as 'Maximum Strength'
A lawsuit claims Walgreens falsely advertised its lidocaine products as "maximum strength" even though competing products contain a higher dose of the medication.
A proposed class action claims Walgreens Co. has falsely advertised its over-the-counter lidocaine patches and cream as "maximum strength" even though competing products with a higher dose of the medication exist on the market.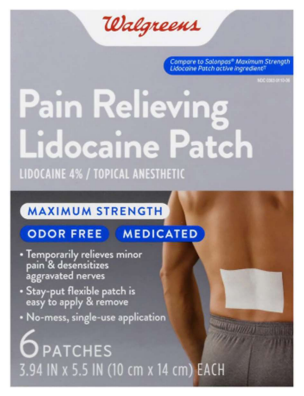 More specifically, the 27-page case alleges the supposedly max-strength Walgreens-brand Pain Relieving Lidocaine Patch, Assorted Sizes Pain Relieving Lidocaine Patches and Pain Relieving Cream + Lidocaine contain four percent of the topical anesthetic, while products made by the retailer's competitors contain up to five percent.
Per the suit, the "maximum strength" representation on the products' packaging misleads consumers into believing the items contain the highest dose of lidocaine available, which the case argues is an important consideration for buyers in search of pain-relieving products. The lawsuit claims consumers were harmed by Walgreens' actions given they would not have purchased the lidocaine products, or would have paid less for the items, had they known that the items were not, in fact, maximum strength.
"Defendant's multiple and prominent systematic mislabeling of the Products form a pattern of unlawful and unfair business practices that deceives and harms consumers and the public," the complaint contends.
According to the case, consumers looking to buy pain-relieving products have a "strong preference" for ones that contain the maximum possible dose of lidocaine, a local anesthetic that reduces pain by blocking signals in the nerve endings in a person's skin. Walgreens, the suit says, specifically markets its lidocaine patches and creams as "maximum strength" in order to appeal to this consumer preference.
Nevertheless, Walgreens is well aware that there are prescription lidocaine patches and over-the-counter lidocaine creams available that contain five percent of the anesthetic, the lawsuit alleges. As such, Walgreens' lidocaine products are not "maximum strength" given they do not contain the maximum dose of lidocaine available on the market, according to the complaint.
The case claims Walgreens has profited by "selling the misrepresented Products to at least thousands of consumers throughout the nation."
The lawsuit looks to represent anyone in California, Florida, Illinois, Massachusetts, Michigan, Minnesota, Missouri, New Jersey and Washington who, within the applicable statute of limitations, purchased Walgreens' lidocaine products for personal, family or household purposes and not for resale.
Get class action lawsuit news sent to your inbox – sign up for ClassAction.org's newsletter here.
Last Updated on January 13, 2022 — 4:26 PM