in
Newswire
Published on November 19, 2021
Class Action Claims FITCRUNCH, FITBAR Protein Bar Products Not as Healthy as Represented [DISMISSED]
Seljak et al. v. Pervine Foods, LLC
Filed: November 18, 2021 ◆§ 1:21-cv-09561
The maker of FITCRUNCH whey protein bars and FITBAR energy bars has been named in a lawsuit that claims the bars are misleadingly represented as healthy.
March 15, 2023 – FITCRUNCH, FITBAR Protein Bar Class Action Dismissed
The proposed class action detailed on this page was dismissed on March 3, 2023 after a federal judge found that the products' labels would not mislead a reasonable consumer into believing that the protein bars are healthy.
Get class action lawsuit news sent to your inbox – sign up for ClassAction.org's free weekly newsletter here.
In a 43-page order, United States District Judge Naomi Reice Buchwald pointed out that a reasonable consumer who viewed the FITCRUNCH label would not assume that the product is healthy because its label specifies that it has a "soft cookie center" and a high number of calories, and because its packaging includes pictures of desserts, such as Oreo cookies.
"Even assuming arguendo that defendant's use of the term 'FIT' was ambiguous and could be interpreted to mean 'healthy,' the ingredients panel available on the back of the packaging, which includes the product's fat content, can easily cure that ambiguity," Judge Buchwald wrote.
Moreover, the judge relayed that because the plaintiffs failed to state a claim for the FITCRUNCH products they purchased, they thus could not bring claims for FITBAR products, which they did not purchase.
The judge denied the plaintiffs' request to amend the suit.
Want to stay in the loop on class actions that matter to you? Sign up for ClassAction.org's free weekly newsletter here.
The maker of FITCRUNCH Whey Protein Baked Bar and FITBAR energy bar products has been named in a proposed class action that claims the bars are misleadingly represented as healthy.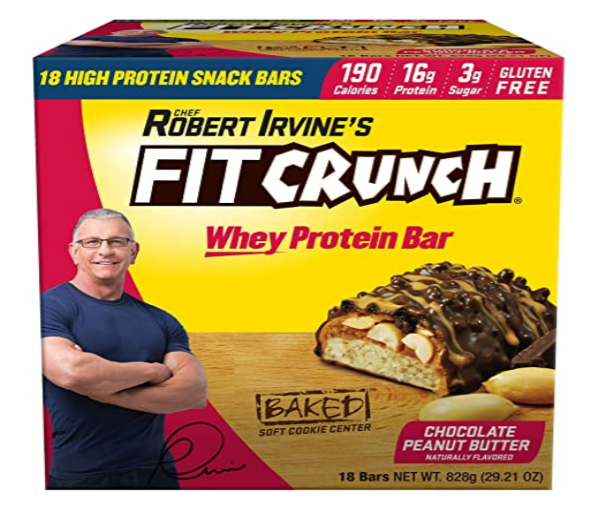 According to the suit, defendant Pervine Foods, LLC has run afoul of state and federal food labeling regulations by positioning the FITCRUNCH protein bars and FITBAR energy bars as healthy when they contain a considerable amount of fat.
The lawsuit alleges consumers understand the word "fit" to be synonymous with "healthy" and would reasonably believe that the protein and energy bar products contain less fat than they do based on the defendant's representations. The case claims Pervine Foods purposely chose to label its products in this way in order to deceive consumers:
"As purveyors in the highly lucrative protein bar market, Defendant knows that when it comes to labeling and marketing, words matter. This is why Defendant chose to name the Products 'FIT' crunch, and to emblazon the word 'FIT' on the front and center of each Product label, in a bold all-capitalized font, where it cannot be missed by consumers," the complaint reads.
The lawsuit claims federal and state law dictate that it is misleading to represent a product with a high fat content as healthy and argues that the defendant's labeling of its protein and energy bars as "FIT" is "deceptive and unlawful."
According to the case, the defendant and co-founder Chef Robert Irvine have marketed the FIT protein bars and energy bars as nutritious and supportive of a healthy lifestyle, with ads for the product depicting people exercising and living a seemingly healthy life. Customer reviews seem to indicate that Pervine Foods' marketing "clearly works" and that consumers purchase the bars because they believe the products to be a healthy choice, the lawsuit alleges.
The case claims, however, that the FITCRUNCH and FITBAR products do not comply with regulations under the Federal Food, Drug, and Cosmetic Act and similar state statutes that specify which foods can be represented as healthy. More specifically, the lawsuit says products such as the defendant's protein and energy bars must contain less than three grams of fat to be marketed as healthy, which the case stresses is synonymous with the term "fit" as consumers understand it.
The FITCRUNCH and FITBAR products, however, contain at least eight and up to 18 grams of fat, depending on the size and variety, the suit says.
The complaint further alleges that while the FDA has stated it will exercise enforcement discretion with regard to products that either have a high fat content but contain mostly mono and polyunsaturated fats or contain at least 10 percent of the daily value per reference amount customarily consumed of potassium or Vitamin D, the defendant's products fail to meet this threshold as well.
Per the suit, consumers would not have purchased the FITCRUNCH or FITBAR products had they known the protein and energy bars were not as healthy as represented.
The lawsuit claims the affected products include, but are not limited to, the FITCRUNCH Chocolate Peanut Butter, Milk & Cookies, Apple Pie, Peanut Butter & Jelly, Chocolate Chip Cookie Dough, Mint Chocolate Chip, Lemon Cake, Peanut Butter, Caramel Peanut or any other limited, discontinued, or seasonal varieties, along with the FITBAR Peanut Butter Chocolate, Cranberry Vanilla Almond or any other limited, discontinued or seasonal energy bar varieties.
Get class action lawsuit news sent to your inbox – sign up for ClassAction.org's newsletter here.
Camp Lejeune
Camp Lejeune residents now have the opportunity to claim compensation for harm suffered from contaminated water.
Read more here: Camp Lejeune Lawsuit Claims
Stay Current
Sign Up For
Our Newsletter
New cases and investigations, settlement deadlines, and news straight to your inbox.
Last Updated on March 15, 2023 — 9:20 AM