in
Newswire
Published on February 11, 2022
Class Action Alleges Sunvalleytek Offered Customers Financial Incentives in Exchange for Positive Reviews
Last Updated on June 13, 2022
Oh v. Sunvalleytek International, Inc.
Filed: February 10, 2022 ◆§ 5:22-cv-00866
Electronics retailer Sunvalleytek International faces a class action over its alleged practice of providing customers with gift cards in exchange for positive product reviews.
Consumer electronics retailer Sunvalleytek International faces a proposed class action over its alleged practice of secretly providing customers with gift cards in exchange for writing and posting positive product reviews online.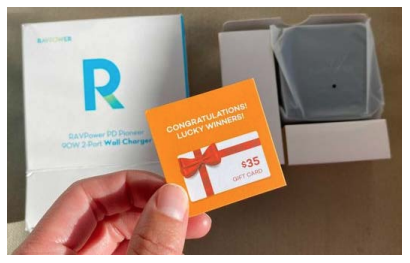 The 23-page suit alleges Sunvalleytek, who sells consumer electronics under brand names that include RAVPower, HooToo, Sable, TaoTronics, VAVA and Anjou, offers financial incentives, usually placed within product packaging, to customers as a way to artificially inflate both the numbers of reviews for certain items and their ratings.
The lawsuit contends that this practice is unfair and deceptive given many positive reviews stem from the financial incentive provided by Sunvalleytek, and not a product's true quality.
"In this way, Defendant intended to artificially inflate, and did inflate, its products' perceived quality," the complaint claims. "Defendant thereby misled Plaintiff and other consumers into believing that Defendant's products are more highly-regarded, and of a higher quality, than they really are."
According to the lawsuit, Amazon in June 2021 delisted Sunvalleytek's products as a result of its "unfair and deceptive review practices," which violated the e-commerce giant's terms of service. Amazon's delisting of Sunvalleytek, the suit says, came in the wake of a June 2021 Wall Street Journal investigation revealing Sunvalleytek's practice of including gift cards in product packaging that read "CONGRATULATIONS! LUCKY WINNERS!" On the backside of the gift cards, consumers would find instructions to email the company a screenshot of their order ID and URL for their review in order to redeem the card's benefits, the lawsuit relays.
The case argues that paying for reviews artificially inflates the number of positive reviews of a product given consumers "naturally write more positive reviews and give higher scores in exchange for compensation, even without being specifically told to do so, and regardless of their experience with the product."
Per the complaint, "[v]irtually every product," if not every single product, on Sunvalleytek's websites has an average score of five out of five stars. When the company's products were listed on Amazon, they had "an unusually high number" of five-star ratings and positive reviews, the case claims.
The lawsuit looks to represent all consumers who bought Sunvalleytek's products in the United States during the applicable statute of limitations period.
Get class action lawsuit news sent to your inbox – sign up for ClassAction.org's free weekly newsletter here.
Camp Lejeune
Camp Lejeune residents may soon have the opportunity to claim compensation for harm suffered from contaminated water.
Read more here: Camp Lejeune Lawsuit Claims
Stay Current
Sign Up For
Our Newsletter
New cases and investigations, settlement deadlines, and news straight to your inbox.
Last Updated on June 13, 2022 — 1:54 PM