Class Action Alleges Snack Pack Chocolate Pudding Not Made with 'Real Milk' as Advertised
A class action claims Conagra Brands' Snack Pack chocolate pudding is not made with real whole milk as the company claims.
According to a proposed class action, Conagra Brands' Snack Pack chocolate pudding is not made with real milk as the company claims.
The 14-page suit alleges that consumers have been deceived by the Snack Pack's product labeling in that the pudding is made not with whole milk—"real milk"—as consumers expect, but rather nonfat milk supplemented with palm oil.
As the complaint tells it, though Conagra's "made with real milk" claim appears at first to have a copyright or trademark symbol attached to it, closer inspection reveals the symbol to be an asterisk. At the bottom of Snack Pack's packaging is an explanation that the asterisk symbolizes the product is made with nonfat milk, according to the suit.
Importantly, while the bottom of the product denotes that the pudding is made in truth with nonfat milk, the same information is nowhere to be found on the product's front label, the lawsuit says, noting that the Snack Pack ingredients list includes nonfat milk and palm oil.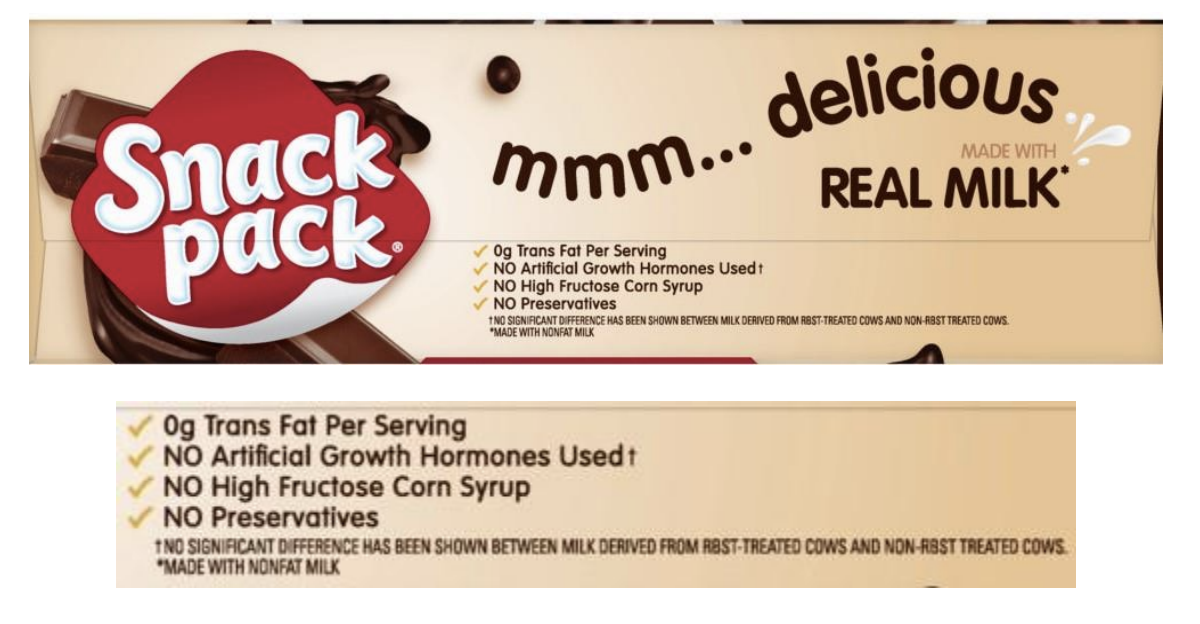 Per the suit, the FDA defines milk as 3.25 percent milkfat and 8.25 percent nonfat milk solids. Ultimately, nonfat milk is unable to provide the "equivalent organoleptic experience" offered by whole milk, the suit says. Further, the fat content in the defendant's product comes from vitamin- and mineral-deficient palm oil, which the case says is used as "a lower cost replacement" for the milkfat in whole milk.
"Palm oil is like milkfat because it is a hard fat and unlike liquid vegetable oils such as corn, canola or soybean oils," the lawsuit reads. "Palm oil is only fat and lacks any vitamins (such as Vitamin A), minerals or protein."
The lawsuit argues that if "real milk" were used instead of nonfat milk and palm oil, the product would be expected to have a higher protein and calcium content.
The complaint goes on to say similar products made by other companies are labeled properly so as not to create the "misleading impression" that their fat content is provided by real/whole milk. Only Snack Pack products give consumers the impression that they contain "real milk," understood as "whole milk," the suit argues.
Ultimately, though no rule exists against including nonfat milk and palm oil in a product, it is false and misleading to highlight "real milk" on a label when the product's "most significant element"—milkfat—has been replaced with nutritionally inferior palm oil, the lawsuit claims.
"Had plaintiff and class members known the truth, they would not have bought the Product or would have paid less for them [sic]," the case reads.
Get class action lawsuit news sent to your inbox – sign up for ClassAction.org's newsletter here.
Last Updated on June 12, 2020 — 5:06 PM