Class Action Alleges DoorDash Steers Consumers Away from Non-Partner Restaurants
Lona's Lil Eats, LLC v. DoorDash, Inc.
Filed: September 24, 2020 ◆§ 3:20-cv-06703
An esteemed St. Louis restaurant alleges DoorDash has steered customers away from non-partner eateries to drive traffic to its website and those of its partners.
DoorDash has deceptively steered customers away from restaurants who have chosen not to partner with the mobile meal delivery company, in particular by falsely representing that non-partner eateries are closed, cannot deliver or are not accepting orders, a proposed class action alleges.
Filed by a St. Louis restaurant specializing in vegan-friendly Asian-fusion cuisine, the 18-page lawsuit alleges DoorDash has unlawfully flexed its market power by taking advantage of non-partner restaurants as a means to drive traffic to its own site and those of establishments that pay for the company's services.
As the suit tells it, the competition-suppressing conduct alleged by the plaintiff, a James Beard Award nominee, has received an additional boost given DoorDash's popularity—and the grave situation faced by many restaurants—amid the COVID-19 pandemic:
"DoorDash has developed significant market power, particularly as a result of the Covid-19 pandemic. With many restaurants unable or unwilling to offer dine-in services, many consumers have turned to DoorDash to have restaurant food delivered in lieu of eating out.
The market power is such that restaurants are put in a difficult situation: they can become Partner Restaurants and pay exorbitant fees and commissions to Defendant, or they decline to do so and risk losing out on sales.
This already difficult choice is made far more difficult, however, because DoorDash publishes false and misleading information about restaurants that are not Partner Restaurants."
The plaintiff says that while it is not a partner restaurant with DoorDash, its location still shows up in search results on the company's platform. According to the suit, clicking through the corresponding link will bring a consumer to a page replete with DoorDash branding and a complete menu, "as if it were possible to place an order through the site":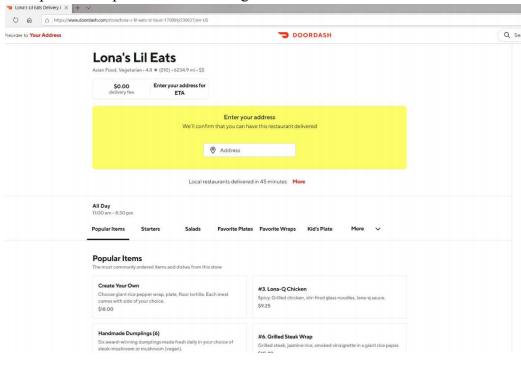 Though DoorDash's platform would then allow a consumer to go through the process of compiling and customizing an order, which the case says adds "credibility to the idea" that the plaintiff restaurant has partnered with the defendant, the order, in truth, cannot be completed, according to the complaint. Instead, the consumer is told by DoorDash that the plaintiff restaurant is "unavailable" due to being out of the delivery area and too far, the suit says.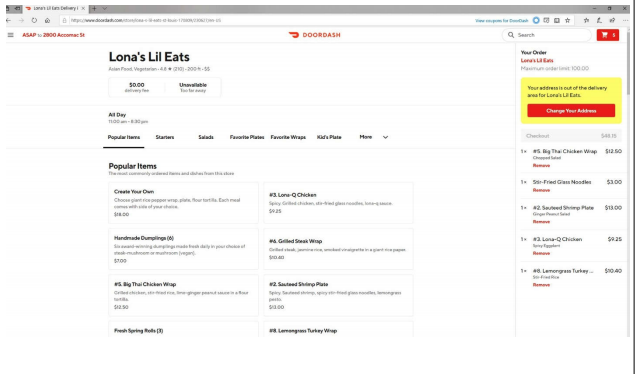 Whereas this may not be a problem on its face, the lawsuit points out that for the hypothetical order screenshotted in the complaint, the address selected for delivery was directly across the street from the plaintiff's restaurant, roughly 200 feet away: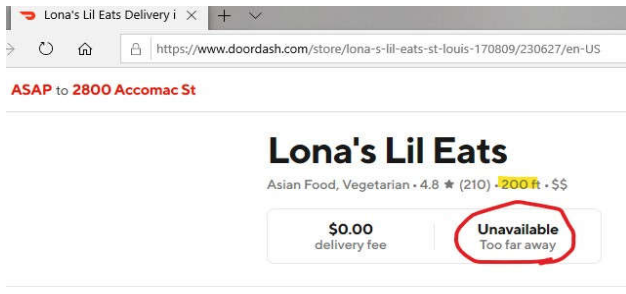 "The problem is not, in fact, that the delivery address is too far away, the problem is that Lona's has not agreed to pay DoorDash's exorbitant fees," the complaint says, noting that the plaintiff's restaurant has, in other instances, been misrepresented as closed. "A consumer can change his or her address over and over again, but it will never become available for delivery because Lona's is not a Partner Restaurant."
In all, the case alleges, DoorDash aims to take advantage of the existing market demand for the plaintiff's and other restaurants to drive traffic to its website, which will redirect consumers to partner restaurants. The suit chalks up DoorDash's alleged conduct to a de facto punishment for establishments that choose not to partner with the company, a tactic the plaintiff charges is especially harmful amid the pandemic:
"This behavior is particularly troubling in the context of the Covid-19 pandemic. At a time when many restaurants—and in particular locally owned restaurants (as opposed to national chains)—are struggling to stay open and have been forced to radically change their business model to survive, DoorDash is engaged in predatory, deceptive, and anticompetitive behavior that takes unfair advantage of their market position."
The lawsuit looks to represent all restaurants, entities and/or individuals with any ownership interest in such restaurants or entities in the United States who do not do business with DoorDash but who nevertheless have a landing page on a DoorDash website and/or within its mobile app.
ClassAction.org's coverage of COVID-19 litigation can be found here and over on our Newswire.
Sign up for ClassAction.org's newsletter here.
Last Updated on September 29, 2020 — 4:09 PM