Celsius Holdings Hit with Class Action Over Labeling for Sparkling Orange Beverage
Last Updated on January 25, 2021
A class action claims Celsius has misrepresented its Sparkling Orange beverage as containing natural orange flavor.
A proposed class action alleges Celsius Holdings has deceived consumers by characterizing its Sparkling Orange beverage as containing natural orange flavor.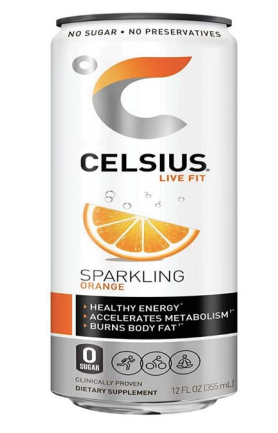 Contrary to representations on the product's front label, the taste of Celsius' Sparkling Orange "healthy energy" beverage is derived from "a lab synthesized ingredient" defined vaguely as "natural flavor," the 36-page complaint alleges.
"By characterizing the Product in this manner—failing to either include its characterizing ingredient, or alternatively, clearly indicating on the Product's principal display panel that it is a 'flavored' beverage, Celsius has falsely and misleadingly labeled its Products, deceived its consumers, and violated the law," the case, filed in California's Southern District Court, alleges.
According to the suit, Celsius touts its line of fitness beverages as "health energy" drinks and "functional calorie burning fitness beverages" containing "no preservatives," artificial colors or flavors. The lawsuit states the drinks are based on a "proprietary formulation" that provides vitamins, minerals and other "healthful ingredients," such as guarana, ginger root and green tea.
Within the fitness beverage market, Celsius, the suit says, has "created a niche" for itself thanks in part to a series of "structure function claims," the inclusion of healthful ingredients and statements concerning what the beverages are free from, such as preservatives or artificial colors. As the lawsuit tells it, Celsius is "keenly aware of its labeling obligations" under the Federal Food, Drug and Cosmetic Act and other statutes.
The issue, the lawsuit claims, is that Celsius has nonetheless chosen to "deceptively label" its beverages by way of "obfuscating the material fact that they [do] not contain real fruit," but instead derive their flavor from "highly processed, lab-synthesized flavoring packets." While the defendant's Sparkling Orange product is labeled and characterized as an orange beverage, the product "contains no orange," and its flavors are described in the ingredients list only as "natural flavor," the lawsuit says.
The suit alleges Celsius's failure to indicate on the product's front label that it does not contain its characterizing ingredient, but rather is flavored by "lab synthesized chemicals," is deceptive, misleading and in violation of California and federal laws.
"Under any scenario, Celsius has failed to indicate that its Products are flavored—a failure that is in violation of the law and operates as deceit upon consumers," the case claims.
The lawsuit looks to represent all consumers in the United States who bought certain Celsius beverage products during the applicable statute of limitations period.
Get class action lawsuit news sent to your inbox – sign up for ClassAction.org's newsletter here.
Last Updated on January 25, 2021 — 5:01 PM