Bottles of Zarbee's Children's Melatonin Are Overdosed, Class Action Alleges
A proposed class action alleges Zarbee's systematically misrepresents how much melatonin is in its children's sleep supplements.
A proposed class action alleges Zarbee's systematically misrepresents how much melatonin is in its children's sleep supplements.
The 21-page complaint says that lab testing on multiple bottles of Zarbee's melatonin gummies found that the supplements were "substantially (and seemingly randomly) overdosed" with the brain chemistry-altering neurohormone.
Per the case, the true amount of melatonin in the Zarbee's Children's Sleep with Melatonin Gummies purchased by the plaintiff, a Salinas, California consumer, was 216 percent of the amount disclaimed on the product label. The lawsuit alleges that since Zarbee's tests the melatonin content in the supplements before they're distributed, the company therefore knows that the products are systematically overdosed.
"Consumers are being misled and overcharged and children are being put at risk," the suit alleges.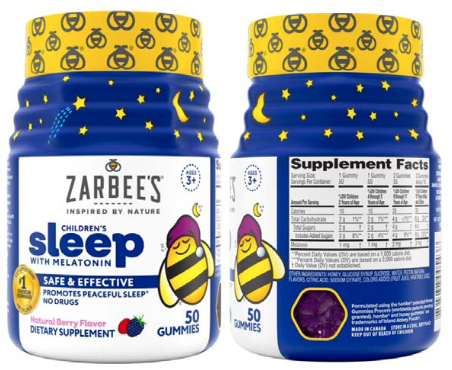 Melatonin regulates the brain's circadian rhythm and sleep cycle, and millions of consumers take melatonin supplements to help treat sleep problems, anxiety and other issues, the case relays. Use of over-the-counter melatonin supplements has increased significantly over the last two decades, and its use for helping children sleep has become "increasingly popular" as well, according to the case.
Given that melatonin is commonly self-prescribed, it is crucial that product labels are informative and representative of active ingredient values, the filing stresses. Higher doses of melatonin can cause unpleasant and/or unexpected side effects, including headaches, dizziness, nausea, or excessive or unwanted sleepiness. Regardless of dosage, consumers do not wish to take excessive amounts of a neurohormone, and certainly do not want to give excessive dosages to their children, the lawsuit says.
The filing cites a 2017 study of Canadian melatonin brands that found "high variability, ranging from -83% to +478%," of the claimed concentration of melatonin content in certain supplements. For more than 70 percent of the brands tested, the true amount of melatonin varied by more than 10 percent from the amount stated on the product label, and varied similarly between different manufacturing batches of the same item, the case says.
The suit relays that U.S. scientists, the National Institute of Health and Consumer Reports were among those who warned that the Canadian study may herald what also might be true for over-the-counter melatonin supplements stateside.
According to the complaint, liquid chromatography-mass spectrometry analysis (LC-MS) of three gummies per bottle of Zarbee's Children's Sleep with Melatonin Gummies with different lot numbers found that the true dosage of melatonin in the supplements ranged from +128 percent to +216 percent of the claimed dosage. The lawsuit alleges that Zarbee's labeling of its melatonin products is therefore "false and misleading" to reasonable consumers.
"By selling a melatonin supplement for sleep (i.e., a supplement that alters brain chemistry), Zarbee's is representing to consumers that its products are accurately dosed and labelled. When a consumer picks up a bottle of Zarbee's Melatonin, they reasonably expect that it actually has the dosage for which Zarbee's designed the recommended serving. No reasonable consumer expects that a melatonin supplement has a random and substantial overdose of melatonin, compared to what it is supposed to have. And specifically, when a bottle of Zarbee's says it has a particular amount of melatonin per serving (e.g., 1 mg), consumers expect this to be accurate. This is especially true for melatonin marketed for children."
The filing scathes that if Zarbee's "told the truth" about its melatonin supplements, "the price of its products would crater." Without accurate dosing information, Zarbee's melatonin is "worthless," and consumers have paid a premium based on false and misleading labeling, the complaint alleges.
"What consumer would want to buy such a product for their children?" the case asks. "If Zarbee's told the truth, its melatonin products could not sell."
The lawsuit looks to represent all persons who bought Zarbee's melatonin in the United States during the applicable statute of limitations period.
Get class action lawsuit news sent to your inbox – sign up for ClassAction.org's free weekly newsletter here.
Camp Lejeune
Camp Lejeune residents may soon have the opportunity to claim compensation for harm suffered from contaminated water.
Read more here: Camp Lejeune Lawsuit Claims
Stay Current
Sign Up For
Our Newsletter
New cases and investigations, settlement deadlines, and news straight to your inbox.
Last Updated on August 3, 2022 — 10:05 AM