in
Newswire
Published on November 23, 2021
BlackOxygen Mud-Based Supplements Contain Unsafe Levels of Toxic Heavy Metals, Class Action Alleges
McMonigle et al. v. 1157243 Canada, Inc. et al.
Filed: November 19, 2021 ◆§ 1:21-cv-04790
A class action alleges BlackOxygen Organics nutritional supplements contain high levels of toxic heavy metals that render the products unsafe and unfit for their intended use.
A proposed class action alleges BlackOxygen nutritional supplements contain high levels of toxic heavy metals that render the products unsafe and unfit for their intended use.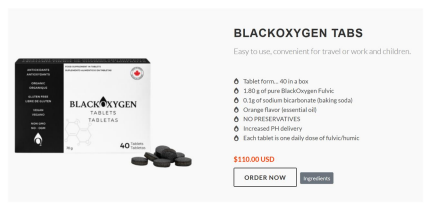 The 21-page suit contends that BlackOxygen tablets and powders, which are made from mud extracted from an Ontario, Canada bog defendant BlackOxygen Organics claims is rich in fulvic acid, offer no medical benefits to humans and contain dangerously high levels of heavy metals unsafe to be absorbed orally or through the skin. The case stresses that although most organic products contain trace amounts of heavy metals, such as arsenic, lead and cadmium, the amounts found in BlackOxygen products are unacceptable.
Moreover, the lawsuit says BlackOxygen's claims that its tablets and powders have "magical healing properties," contain "miracle molecules" that promote general wellness, and increase athletic performance, are bunk. Overall, BlackOxygen negligently allowed products "completely without value" and "deleterious to human health" to be sold to the public, causing economic harm, the suit claims.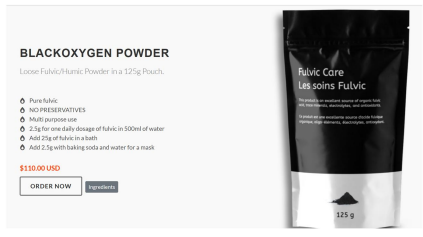 "The subject products offer no medical benefits to humans," the complaint alleges. "Worse, the subject products are dangerous for human use and consumption."
According to the filing, BlackOxygen extracts supposedly fulvic acid-rich mud from the Moose Creek Bog in Ontario and then dries and processes the mud into powder and pill form before it's sold to consumers. The supplements are marketed for consumption orally and/or absorption through the skin, the suit says.
Per the case, while BlackOxygen holds the products out as possessing high-quality organic ingredients free from harmful toxins, contaminants and chemicals, the presence of unsafe levels of dangerous heavy metals in BlackOxgen supplements means the products are adulterated, unlawful and worthless.
BlackOxygen had a duty of ordinary care to ensure its products were not adulterated, and to source raw material free from unsafe levels of toxic heavy metals, the suit says. Further, it was the company's responsibility to maintain its production facilities in a manner that prevented adulterated supplements from being sold to the public, the case claims.
The lawsuit looks to cover all U.S. residents with a confirmed purchase of BlackOxygen tablets and/or powder products from November 19, 2019 through the present.
Get class action lawsuit news sent to your inbox – sign up for ClassAction.org's free weekly newsletter here.
Camp Lejeune
Camp Lejeune residents now have the opportunity to claim compensation for harm suffered from contaminated water.
Read more here: Camp Lejeune Lawsuit Claims
Stay Current
Sign Up For
Our Newsletter
New cases and investigations, settlement deadlines, and news straight to your inbox.
Last Updated on November 23, 2021 — 4:37 PM