7-Eleven 'Yumions' Packaging Misleads Consumers About Onion Content, Class Action Says
A class action alleges the packaging of 7-Eleven's "Yumions" is misleading because it fails to disclose that the snacks are made of mostly corn meal, not onions.
A proposed class action alleges the packaging of 7-Eleven's 7-Select "Yumions" is misleading to consumers because it fails to disclose that the "crunchy onion snacks" do not contain onions in any significant amount.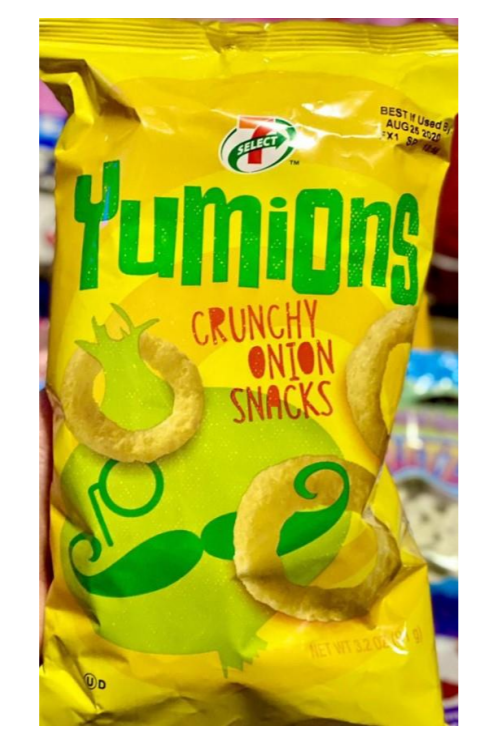 According to the suit, the product is mostly fried corn meal with onion powder included as part of the seasoning component. The lawsuit argues that consumers, upon viewing the representations on the Yumions label, would be misled into believing the snack contained onions in more than just a trace amount.
"By not disclosing on the front of the Product that it is a deep-fried corn chip with added onion flavor, consumers are misled to expect a non-de minimis amount of real onions," the complaint states, contending that consumers paid a higher price for the product than they otherwise would had they known the truth.
The top two ingredients in Yumions are corn meal and vegetable oils, the suit says, with onion powder listed among the ingredients as part of the product's seasoning component though still eclipsed by greater amounts of corn, salt and sugar.
Per the case, onion powder lacks "the depth of flavor" provided by real onions, given it is only made with the bulb part of the vegetable, and lacks the unique flavor and aroma compounds provided by the root, stem and skin. The suit claims that even the added onion flavor that makes up part of the "natural flavors" ingredient component is not enough to provide the "oniony" flavor expected by consumers.
"Added onion flavor cannot replicate the flavor from real onions because it lacks the delicate balance of flavonoids critical to onions," the complaint reads.
The case goes on to argue that onion powder and added onion flavor lack the fiber, vitamin C, folate, vitamin B6 and potassium found in real onions and thus cannot provide the same health and nutrition benefits.
Food labeling regulations require that the presence of onion powder and onion flavor be disclosed on the front label of Yumions as a "natural onion flavored" or "onion flavored" fried corn snack, the suit says. Lacking these disclosures, and with the addition of food coloring to further the impression that the snack contains more onions than it does, the Yumions product has the effect of convincing consumers to pay more for the snack than they otherwise would, the case argues.
"Defendant knows consumers will pay more for the Product because the front label only states 'Crunchy Onion Snacks' instead of 'natural onion flavored fried corn snacks' or 'does not have any real onions and does not taste like real onions,'" the complaint says.
Get class action lawsuit news sent to your inbox – sign up for ClassAction.org's newsletter here.
Last Updated on January 12, 2021 — 4:01 PM