'Throw It Away': Jif Peanut Butter Recall Sparks Nationwide Class Action Lawsuit
Last Updated on May 31, 2022
Concerned about the Jif peanut butter recall? If a new lawsuit is any indication, class action attorneys are, too.
A proposed class action case has now been filed on behalf of consumers nationwide who bought Jif peanut butter products with certain lot codes that were sold between February and May 2022.
Be sure to scroll down to see which Jif peanut butter items are mentioned in the lawsuit.
The 36-page complaint out of Kentucky alleges The J.M. Smucker Company promoted the recalled peanut butter products as containing ingredients safe for human consumption, even though they could cause bacterial infections, gastrointestinal illness and other conditions due to their contamination with salmonella.
Get class action lawsuit news sent to your inbox – sign up for ClassAction.org's free weekly newsletter here.
"Plaintiff and consumers do not know, and did not have a reason to know, that the Jif peanut butter products purchased were contaminated with Salmonella," the filing states. "Consumers expect the food they purchase to be safe for consumption and not contaminated by an organism 'which can cause serious and sometimes fatal infections.'"
The lawsuit aims to force the J.M. Smucker Company to refund Jif buyers nationwide for their purchases.
The recall
In May, the U.S. Food and Drug Administration (FDA) announced that it and other agencies, including the Centers for Disease Control and Prevention (CDC), were investigating a "multistate outbreak of Salmonella Senftenberg infections" linked to certain Jif peanut butter products made at the defendant's Lexington, Kentucky facility.
Specifically, the FDA relayed that analysis of an environmental sample collected at the Lexington J.M. Smucker facility in 2010 matched the strain linked to illnesses reported during the current outbreak. Per the FDA, epidemiologic evidence indicates that Jif-brand peanut butter produced at the defendant's Lexington facility is "likely the cause of illness in this outbreak."
Importantly, the FDA advised the public to not eat any recalled Jif peanut butter and to instead throw it away, the lawsuit says.
According to the complaint, the FDA shared on May 21 that 14 people had been infected with salmonella across 12 states.
The case relays that salmonella can sometimes be fatal in young children, the elderly or those with a weakened immune system. Symptoms often include fever, diarrhea, nausea, vomiting and abdominal pain.
Which Jif product codes are mentioned in the case?
According to the complaint, the Jif peanut butter items at issue include those with the lot codes 1274425 through 2140425 with "425" at the end of the first seven numbers. More than 40 Jif products were part of the voluntary recall issued by the J.M. Smucker Company, per the case.
Each Jif product's lot code can be found near the "Best If Used By" date on the item's label: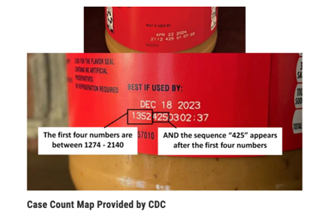 Want to stay in the loop on class actions and settlements that matter to you? Sign up for ClassAction.org's free weekly newsletter here.
The official Jif recall website can be found here. News reports relay that candy, trail mix and other items made with Jif peanut butter are also being recalled amid the investigation into the salmonella outbreak.
Who's covered by the Jif peanut butter class action?
The lawsuit aims to represent all individuals in the United States who have purchased any Jif peanut butter product that was recalled by the J.M. Smucker Company on or around May 20, 2022.
How do I participate in the suit?
When a class action lawsuit is initially filed, there's generally nothing you need to do to "join" or make sure that you're "included" in the case. For consumers, it's only if and when a lawsuit settles that action is needed. This might involve filing a claim form online or by mail.
If a settlement is reached and you're "covered," you would most likely receive a notice by mail and/or email containing certain information—such as how to file a claim, the rundown on your legal rights, what proof you might need to submit, and more.
Keep in mind that most class actions take some time to work through the legal process, usually toward a settlement, dismissal or arbitration. For now, Jif peanut butter buyers, and anyone else interested in class action lawsuit and settlement news, should sign up for ClassAction.org's free weekly newsletter.
A PDF of the legal complaint is embedded below.
Camp Lejeune
Camp Lejeune residents now have the opportunity to claim compensation for harm suffered from contaminated water.
Read more here: Camp Lejeune Lawsuit Claims
Stay Current
Sign Up For
Our Newsletter
New cases and investigations, settlement deadlines, and news straight to your inbox.
Last Updated on May 31, 2022 — 10:04 AM