Olly Melatonin Supplements Are 'Overdosed,' Class Action Says
Last Updated on July 5, 2022
A proposed class action alleges Olly-brand melatonin supplements contain far more of the sleep-aiding ingredient than what's disclosed on their labels.
The 18-page case out of California says that the Olly supplements, which are advertised as containing anywhere from three to five milligrams of melatonin per serving, actually contain 165 percent to 274 percent of the amount claimed.
Be sure to scroll down to see which Olly varieties are mentioned in the lawsuit.
The complaint stresses that because melatonin alters brain chemistry, it is crucial for over-the-counter melatonin supplements to be accurately dosed and labeled. According to the suit, however, the results of testing done on certain Olly bottles, including the Sleep, Immunity Sleep and Extra Strength varieties, alarmingly revealed that all of the products were "substantially (and seemingly randomly) overdosed."
"Olly systematically misrepresents how much melatonin is in the supplements it sells," the lawsuit alleges. "Consumers are being misled, overcharged, and put at risk."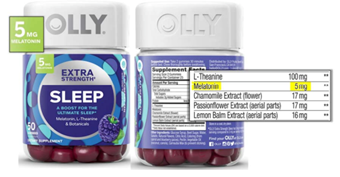 The case argues that the Olly supplements at issue are essentially "worthless" without accurate dosing and labeling. Indeed, the lawsuit asks rhetorically:
"What reasonable consumer wants to buy a supplement that alters brain chemistry, knowing that it may be randomly and substantially overdosed?"
Persistent questions about supplements' melatonin content
Melatonin is used by millions of consumers to treat sleep problems, anxiety and other ailments, the suit explains. Per the case, melatonin is one of the most popular over-the-counter supplements nationwide, and its use has significantly increased over the last two decades.
Given that melatonin alters brain chemistry, accurate dosage information is paramount, the complaint relays. When a melatonin supplement is falsely labeled, the case says, lower doses could be ineffective, while higher doses could produce unpleasant and/or unexpected side effects, including headaches, dizziness, nausea, or excessive or unwanted sleepiness.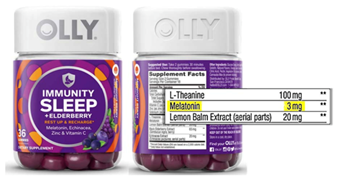 According to the filing, scientists tested Canadian melatonin supplements a few years back and found that, for a number of brands, the true amount of melatonin "varied wildly from the label."
Specifically, the complaint says that a 2017 study of Canadian melatonin brands found "high variability, ranging from -83% to +478%" of the labeled concentration of melatonin content in certain supplements. For more than 70 percent of the tested brands, the true amount of the neurohormone varied more than 10 percent from the stated amount, while the melatonin content in others "varied highly" between different product lots, the lawsuit says.
Per the suit, scientists and the National Institute of Health warned that the same may be true for melatonin supplements in the United States. From the complaint:
U.S. scientists warned that this Canadian study 'herald[s] what may also be true in OTC melatonin supplements marketed in the United States.' Likewise, the National Institute of Health has warned that 'some melatonin supplements may not contain what's listed on the product label.' And Consumer Reports warned: 'The findings … offer the latest proof of something supplement industry critics have long warned about: When it comes to this poorly regulated corner of modern medicine, consumers often don't know what they're buying.'"
Olly test results
According to the suit, "multiple bottles and types" of Olly melatonin were subjected to liquid chromatography-mass spectrometry analysis (LC-MS), a scientific process that can accurately measure the true amount of melatonin in a product. The suit relays that the LC-MS testing revealed that the melatonin in each gummy varied substantially from the amount stated on product labels:

The lawsuit contends that Olly's labeling of its melatonin supplements is false and misleading in that the dosages are "not well-controlled and consistent" with the amounts Olly designed for its recommended servings. Moreover, no mention is made on product labels that actual melatonin dosages may vary, the case adds.
Further, the case says that although Olly states on product labels that it does not recommend for consumers to exceed the amount noted for suggested use, customers are "unknowingly doing exactly what Olly recommends against" given that the products are overdosed.
According to the suit, Olly's false and misleading labeling ultimately "drives the demand" for its melatonin supplements and allows the company to collect a substantial price premium from consumers.
"If Olly told the truth—that its dosing and labelling [sic] was seriously inaccurate—the price of its products would crater," the filing argues.
Which Olly products are mentioned in the lawsuit?
The lawsuit says that Olly makes and sells several varieties of its sleep aid, including:
Olly Sleep;
Olly Sleep Extra Strength;
Olly Sleep Ultra Strength;
Olly Immunity Sleep;
Olly Muscle Recovery Sleep; and
Olly Kids Sleep.
Get class action lawsuit news sent to your inbox – sign up for ClassAction.org's free weekly newsletter here.
Who does the lawsuit look to cover?
The case looks to represent all consumers nationwide who bought Olly melatonin supplements in the United States during the applicable statute of limitations period.
I've bought Olly melatonin. What's next?
There's usually nothing you need to do to join a proposed class action case when it's initially filed. It's typically only if and when a lawsuit settles that a consumer might need to act, which tends to involve filling out and submitting a claim form online or by mail.
If the Olly melatonin class action were to settle, the people "covered" by the case ("class members") would probably receive a notice by mail and/or email. This notice would most likely contain information on how, where and by when to file a claim; your legal rights; any proof you need to include with your claim; and more details on the litigation.
But we're getting ahead of ourselves. Most proposed class action cases tend to take some time to work through the legal process, usually toward a settlement, dismissal or arbitration.
If you've purchased Olly melatonin supplements, or just want to stay in the loop on class action lawsuit and settlement news, sign up for ClassAction.org's free weekly newsletter.
Camp Lejeune
Camp Lejeune residents now have the opportunity to claim compensation for harm suffered from contaminated water.
Read more here: Camp Lejeune Lawsuit Claims
Stay Current
Sign Up For
Our Newsletter
New cases and investigations, settlement deadlines, and news straight to your inbox.
Last Updated on July 5, 2022 — 12:57 PM