'No Credible Studies' Support IcyHot Efficacy Claims, Class Action Says
A proposed class action claims the maker of IcyHot pain-relieving patches has falsely and misleadingly represented the over-the-counter product to consumers.
The 17-page lawsuit alleges defendant Chattem, Inc.'s claims regarding the overall effectiveness of IcyHot's lidocaine-containing patch are based on misrepresentations, half-truths, omissions and "ambiguities."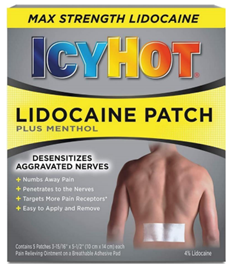 Specifically, the complaint takes issue with allegedly misleading representations concerning IcyHot's compliance with FDA rules for products containing lidocaine, a topical anesthetic used for decades to treat pain, and certain claims presented on the patch's packaging, including representations that it can continuously relieve pain for 12 hours and has the ability to provide pain relief by desensitizing aggravated nerves.
"No independent, credible studies support the claims made in support of the Product," the lawsuit contends. "Moreover, the FDA has recognized that several of the claims of the type made by defendant are misleading to consumers."
Overall, the case, filed in New York's Southern District on April 16, claims Chattem has been able to sell more IcyHot patches (and at a higher price) than it would have absent its alleged misconduct.
Had plaintiff and the proposed class members known the truth, they would not have bought the Product or would have paid less for it … As a result of the false and misleading representations, the Product is sold at a premium price, approximately no less than … $1.79 for 33.8 OZ, excluding tax, compared to other similar products represented in a non-misleading way, and higher than it would be sold for absent the misleading representations and omissions."

Lawsuit Says Label Statements Don't Pass Muster
The lawsuit focuses on a number of statements made by Chattem on the front label of IcyHot packages—including "Max Strength Lidocaine," "Desensitizes Aggravated Nerves," "Numbs Pain Away," "Penetrates to the Nerves," "Targets More Pain Receptors" and "Easy to Apply and Remove"—as well as claims on the side panel that the product is "Long Lasting" and "Fast Acting."
For instance, the lawsuit alleges the defendant's "Max Strength Lidocaine" claim is misleading in that it implies IcyHot contains and delivers the maximum amount of lidocaine in patch form to the affected area. According to the complaint, this is false because other patch products more effectively deliver more lidocaine and are approved by the FDA "for more purposes than defendant's Product and are supported by clinical studies." The suit claims the "fast acting" statement also misses the mark given IcyHot "uses a thicker patch than similar products," which results in a "less effective and slower delivery of lidocaine to the affected area."
As for the defendant's "long lasting" statement, IcyHot, which is represented as able to be used for up to 12 hours, cannot live up to its advertised claim of lengthy pain relief "because the patch fails to adhere for even six hours," the lawsuit alleges.
"According to the FDA," the suit reads, "when a patch delivering lidocaine becomes 'partially detached,' its efficacy of delivery and absorption of the active ingredient is greatly reduced."
The complaint further alleges IcyHot's ability to "block pain signals" and "numb[] pain away" is not as strong as the defendant represents. Per the suit, these types of statements are misleading in that IcyHot's capability to perform such functions depends on how the product is used by consumers.
Claims that IcyHot patches provide pain relief by desensitizing nerves and/or pain receptors are similarly misleading, the case says:
Consumers understand these representations to mean the Product contains ingredients that target nerves and pain receptors when it does not.

Since 'nerves' and 'pain receptors' are associated by consumers with medical treatments typically requiring a prescription and approval by the FDA, seeing these claims tells them the Icy Hot patch can achieve these results.

However, the FDA prohibits external analgesic products containing lidocaine from claiming they 'completely block pain receptors' because this is misleading to consumers."
Lastly, the lawsuit alleges consumers are given the mistaken impression that IcyHot can treat neuropathic and musculoskeletal pain, including back and spinal pain, because of the defendant's representations that the patches provide "targeted relief" for back, neck, leg, and arm pain. According to the complaint, however, products that contain four percent or less of lidocaine are only authorized to be represented as able to provide "temporary relief" for certain minor types of pain and itching.
In Line with FDA Regulations?
Lidocaine has been approved for use by the FDA since the early 1950s and treats pain by depressing sensory receptors in the nerve endings in the skin, which in turn prevents pain signals from reaching the brain. Per the complaint, lidocaine is permitted for use as an active ingredient only for the temporary relief of pain and itching associated with minor burns, sunburn, minor cuts, scrapes, insect bites or minor skin irritations. Products that contain lidocaine are regulated by the FDA through "OTC Monographs," guidelines for the labeling of over-the-counter products that contain between 0.5 and four percent lidocaine, according to the case.
As the lawsuit tells it, the FDA initiated rulemaking around 2003 with regard to patch-form products that deliver lidocaine because there existed no data on "[t]he safe and effective concentration" of the pain-relieving ingredient in that format, and there also existed "uncertainties regarding the frequency of application that is considered safe and effective." Overall, the FDA proposed categorizing external analgesic patches as Category III products, which require agency review and labeling approval through a New Drug Application (NDA) or Abbreviated New Drug Application, the suit reads.
IcyHot, which contains four percent lidocaine by weight, is marketed as compliant with FDA regulations for Category I products, the lawsuit continues. The suit alleges, however, that IcyHot does not comply with OTC monograph requirements for Category I ingredients and has not undergone any review process for products containing Category III ingredients.
Who's covered by this lawsuit?
The lawsuit looks to represent consumers in New York who've bought IcyHot products within the applicable statute of limitations period.
Although the case proposes to cover a New York-only class, it's entirely possible that additional putative class action litigation will be filed over the same or similar allegations. If that happens, ClassAction.org will update this page with the pertinent details.
How can I join the class action lawsuit?
For the most part, there's nothing you need to do to "join" or be considered part of a class action lawsuit. It's only if and when a case settles that consumers would need to take action, most likely by submitting claims via an official settlement website for compensation. You can learn more about the process here.
If you believe you've been affected by a company's alleged conduct, the best thing to do is to stay informed and check back with ClassAction.org for updates. You can sign up for our free weekly newsletter here.
Camp Lejeune
Camp Lejeune residents now have the opportunity to claim compensation for harm suffered from contaminated water.
Read more here: Camp Lejeune Lawsuit Claims
Stay Current
Sign Up For
Our Newsletter
New cases and investigations, settlement deadlines, and news straight to your inbox.
Last Updated on April 19, 2021 — 3:29 PM