L'Oreal Collagen Creams Cannot Firm, Smooth Skin as Advertised, Class Action Claims
Last Updated on May 11, 2022
A proposed class action alleges two topical L'Oreal collagen products are "simply worthless" given they're unable to "restore [the] skin's cushion" or smooth wrinkles as advertised.
The 24-page lawsuit claims that although L'Oreal USA, Inc. touts the anti-aging effects of its Collagen Moisture Filler Day/Night Cream and Fragrance-Free Collagen Moisture Filler Daily Moisturizer, the topical products, in truth, offer no skin-firming or smoothing benefits given collagen molecules are too large to penetrate the epidermis, the top layer of human skin.
L'Oreal has therefore engaged in "widespread false and deceptive advertising" of the products, according to the case. The suit, filed on August 31 in New York, contends that consumers would not have bought the collagen creams, or would not have paid as much for them, had they known they were not actually capable of restoring or smoothing the skin.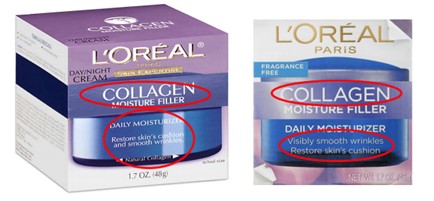 All about collagen
Collagen is the main structural protein in human connective tissues, making up an estimated 80 percent of the human skin. Sometimes called the "body's scaffolding," collagen serves as one of the primary building blocks for human bones, skin, hair, muscle, tendons and ligaments, the case states. Collagen production slows down over time, though, and can lead to dehydration and thinning of the skin, which in turn causes wrinkles to form and joint cartilage to weaken. Per the case, this process typically begins in one's 20s or 30s.
The global market for collagen products was reportedly valued at $4.27 billion in 2018 and is anticipated to grow by more than $2 billion by 2025, the lawsuit says. Given the crowded market for collagen supplements, sales of which reportedly increased 64 percent from June 2020 to June 2021 alone, manufacturers have started to lean heavily on the claim that the protein can provide certain "anti-aging" benefits, such as the ability to reduce wrinkles and tighten up sagging skin, according to the case.
While collagen supplements, such as powders, capsules and liquids, have become increasingly popular, topical collagen products that are applied directly to the skin, like those sold by L'Oreal, are similarly sought after, the lawsuit says.
What consumers may be unaware of, the case contends, is that topical collagen products are incapable of producing the desired anti-aging effects given their molecules are "too large to fit through the uppermost layer of the skin, and therefore, cannot effectively cross the skin barrier to penetrate the skin." The complaint further alleges that no topical collagen product is capable of stimulating or increasing a person's natural collagen production, even if some evidence might suggest that the ingestion of collagen could offer some benefit, the suit claims.
"Thus, while there is some authority to suggest that ingesting collagen orally has some (mild) effect on skin hydration, elasticity and wrinkling, topical collagen products are simply worthless as they are incapable of having any anti-aging or skin-firming effects on the skin," the complaint says.
The lawsuit alleges L'Oreal knew, or at least should have known, that its representations about the topical collagen products were false, deceptive and misleading and that the products were ineffective and unable to live up to their advertised claims. Nevertheless, the company chose to sell the collagen products at a premium price compared to items that do not claim to offer anti-aging benefits, the suit says.
Who's covered by the lawsuit?
The lawsuit looks to represent a class of all consumers nationwide who bought L'Oreal's Collagen Moisture Filler Day/Night Cream and Fragrance-Free Collagen Moisture Filler Daily Moisturizer during the applicable statute of limitations.
The plaintiffs also look to represent "subclasses" of New York and California consumers who bought the topical collagen products.
I buy L'Oreal collagen creams. How do I get involved in the class action?
Generally speaking, there's nothing you need to do right now to join or otherwise participate in the lawsuit detailed on this page. In fact, for most class action cases, you'll only need to act if and when a lawsuit settles. At that point, the people covered by the lawsuit, called "class members," will typically receive notice of the settlement by mail or email to file a claim for whatever compensation the court deems appropriate.
Fact is, it's not uncommon for a class action to take some time to wend its way through the court system toward a settlement, dismissal or arbitration outside of court. For now, stay informed on the latest class action lawsuit and settlement news by signing up for ClassAction.org's free weekly newsletter here.
Camp Lejeune
Camp Lejeune residents may soon have the opportunity to claim compensation for harm suffered from contaminated water.
Read more here: Camp Lejeune Lawsuit Claims
Stay Current
Sign Up For
Our Newsletter
New cases and investigations, settlement deadlines, and news straight to your inbox.
Last Updated on May 11, 2022 — 2:37 PM