Keurig Green Mountain Coffee Maker Won't Turn On? Descaling Defect May Be to Blame, Class Action Says
It might be time to switch to the old-fashioned way of making coffee.
A proposed class action alleges three models of K-Supreme single-serve coffee makers made by Keurig Green Mountain and sold by Bed Bath & Beyond suffer from a defect plaguing their self-cleaning function.
The 33-page suit out of New York says that should a consumer follow Keurig Green Mountain's "inadequate" instructions for descaling their coffee maker with its proprietary descaling solution, the machine will become "completely disable[d]."
Be sure to scroll down to see which Keurig Green Mountain coffee makers are allegedly defective.
According to the case, the problem occurs because the coffee makers' water reservoir empties completely during the descaling process, and users are not told to add more water. This causes the coffee maker to overheat and trip a "practically inaccessible" thermal switch, leaving the machine unusable, the filing says.
What's more, the only way for a K-Supreme single-serve coffee maker to be "brought back to life" is for a user to disassemble the machine and "use a paper clip to depress a miniscule reset button in the center of the thermal switch," according to the complaint.
As the lawsuit tells it, the Keurig Green Mountain coffee maker defect renders the product "essentially inoperable" for regular users.
The suit charges that given the bevy of consumer complaints and negative reviews online about the alleged descaling problem, the company "has known or should have known" that many customers' machines won't turn on after cleaning.
These complaints, and the hundreds more like them, all tell a similar story: Keurig's Coffee Makers' displayed an alert that directed consumers to descale their Coffee Makers in order to maintain them and extend their lifespan. However, rather than extending the Coffee Makers' useful life, attempting to descale the Coffee Makers in accordance with the instructions provided on the Descaling Solution bottle in fact utterly disabled them."
Keurig instructions missing crucial water refill step, suit claims
The filing explains that the Keurig K-Supreme coffee makers are designed to have water flow through them. Given that water naturally contains minerals, these minerals build up inside the machine over time, and Keurig recommends that users flush out these mineral deposits via a descaling process roughly every three months or 250 uses, the case says.
Per the suit, the company also recommends using its own proprietary descaling solution, which is labeled with instructions for how to descale one of the coffee machines at issue.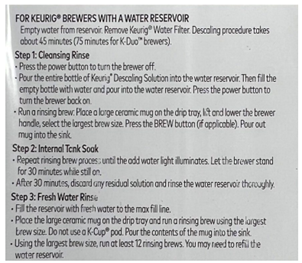 The issue with the instructions, the suit contends, is that they leave out the crucial step of adding more water to the reservoir and fail to warn users that following the process will cause the coffee makers to stop working.
As the case tells it, Keurig Green Mountain's advertising and marketing of the coffee makers and its descaling solution are false and misleading and leave out critical information.
Ultimately, the lawsuit cries foul on Keurig's representations that descaling its coffee machines will help preserve their long-term health and keep them running at "peak performance." The case says that consumers would not have bought the products had they known a defect with Keurig's descaling procedure makes it "impossible to actually maintain the coffee makers."
Bed Bath & Beyond, for its part, also "knew or should have known" about the incomplete descaling instructions and the propensity of the K-Supreme coffee makers to fail upon descaling since the retailer had "ample notice" of the defect based on customer reviews and complaints, the suit claims.
Which Keurig Green Mountain coffee makers does the lawsuit say are defective?
According to the complaint, the Keurig K-Supreme, K-Supreme Plus and K-Supreme SMART single-serve coffee makers can be left unusable due to the alleged descaling defect.
Get class action lawsuit news sent to your inbox – sign up for ClassAction.org's free weekly newsletter here.
Who does the case look to represent?
The suit looks to cover all consumers in the United States who bought a Keurig K-Supreme, K-Supreme Plus or K-Supreme SMART coffee maker or the descaling solution within the applicable statute of limitations period.
I own one of these coffee machines. How do I sign up?
For starters, there's nothing you need to do to "join" or "sign up for" a class action case when it's first filed. It's typically only if and when a lawsuit settles that the consumers the suit pertains to—called "class members"—would need to act. More often than not, this involves filling out and filing a claim form online or by mail.
Keep in mind, however, that proposed class actions generally take some time to work through the legal process, usually toward a settlement, dismissal or arbitration.
If you own a Keurig Green Mountain K-Supreme coffee maker, or just want to stay in the loop on class action lawsuit and settlement news, sign up for ClassAction.org's free weekly newsletter.
Camp Lejeune
Camp Lejeune residents now have the opportunity to claim compensation for harm suffered from contaminated water.
Read more here: Camp Lejeune Lawsuit Claims
Stay Current
Sign Up For
Our Newsletter
New cases and investigations, settlement deadlines, and news straight to your inbox.
Last Updated on September 2, 2022 — 2:22 PM