Italy's #1 Brand? Barilla's Product Packaging Is Misleading to Pasta Buyers, Class Action Says
A proposed class action contends that Barilla customers have been misled by product packaging into believing the company's pasta is made in Italy.
The 53-page suit out of California contends that Barilla America, Inc. has deliberately duped consumers by perpetuating the false representation that its pasta is made in Italy, including by touting the products as "Italy's #1 Brand of Pasta" and including the country's red, white and green flag colors on the box.
Be sure to scroll down to see which Barilla pasta products are mentioned in the lawsuit and what buyers should do next.
In truth, the complaint says, the Barilla products are made in New York and Iowa, and certain ingredients—including durum wheat, the pasta's main ingredient—are sourced from countries other than Italy. Per the suit, it is in Barilla's best interest, financially speaking, to position its pasta as made in Italy while manufacturing the products stateside.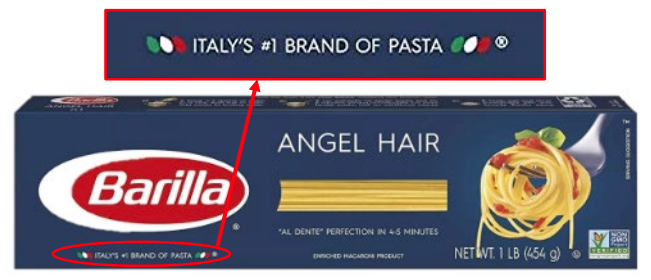 "Through falsely, misleadingly, and deceptively labeling the Products, Defendant sought to take advantage of consumers' desire for authentic Italian pasta, while cutting costs and reaping the financial benefits of manufacturing the Products in the United States of America," the case charges. "Defendant has done so at the expense of unwitting consumers, as well as Defendant's lawfully acting competitors, over whom Defendant maintains an unfair competitive advantage."
The suit looks to recover money that consumers have overpaid for the allegedly mislabeled Barilla pasta and asks the court to force the company to "stop [its] unlawful marketing" of the products.
Consumers can't tell the difference, suit stresses
A key contention in the lawsuit is that the average consumer can't determine on their own where food products are made or where their ingredients have been sourced from. All this is to say that most people don't have the personal knowledge necessary to disprove a claim made on an item's label and rely on manufacturers to be truthful.
Per the lawsuit, consumer demand for authentic Italian-made pasta is "exponentially high," to the point that an item advertised as being "made in Italy" has "evolved into a brand that distinguishes Italian products" from others.
"Consumers seek out products that look or sound like they are from Italy because Italian products have a better reputation, and, as such, consumers willingly pay more for Italian sounding and/or looking products," the suit relays, adding that manufacturers often "exploit a product's purported Italian origin" to drive sales and increase an item's perceived value.
The case goes on to state that despite the worldwide popularity of Italian pasta, the country's production of durum wheat simply cannot meet the demand. In response, companies such as Barilla, the lawsuit says, have "scrambled" to make, market and sell purportedly authentic Italian pasta using durum wheat made outside of Italy "in an effort to gain market share and increase sales."
Which Barilla pasta is mentioned in the lawsuit?
The case focuses on the packaging used in each of Barilla's five product lines—Classic Blue Box, Collezione Artisanal, gluten free, veggie and whole wheat. The specific varieties of Barilla pasta mentioned in the lawsuit include:
1) Barilla Classic Blue Box Pastas, including angel hair, campanelle, cellentani, ditalini, elbows, farfalle, fettuccine, fideo cut spaghetti, gemelli, jumbo shells, large shells, linguine, linguine fini, manicotti, medium shells, mezzi rigatoni, mini farfalle, mini penne, mini wheels, mostaccioli, orzo, pastina, penne, pipette, rigatoni, rotini, spaghetti, spaghetti rigati, thick spaghetti, thin spaghetti, tri-color penne, tri-color rotini, wavy lasagne and ziti
2) Barilla Collezione Artisanal Pastas, including bucatini, casarecce, orecchiette, penne, rigatoni and spaghetti
3) Barilla Gluten-Free Pastas, including elbows, fettuccine, penne, rotini, and spaghetti
4) Barilla Veggie Pastas, including rotini and spaghetti
5) Barilla Whole-Grain Pastas, including elbows, lasagne, linguine, penne, rotini, spaghetti and thin spaghetti
Want to stay in the loop on class actions that matter to you? Sign up for ClassAction.org's free newsletter here.
According to the complaint, all Barilla pasta sold in the United States, with the exception of the company's tortellini and Barilla Oven Ready Lasagna, are made at either Barilla's Ames, Iowa or Avon, New York plant.
Who does the lawsuit look to cover?
The case looks to represent all U.S. residents who, within the applicable statute of limitations period, bought any of the Barilla products listed on this page with a label displaying the "Italy's #1 Brand of Pasta" claim.
I've bought plenty of Barilla pasta. What comes next?
Barilla pasta buyers should know that when a proposed class action is filed, there's usually nothing a person needs to do to join or make sure that they're included in the case. For class action lawsuits, it's only if and when a suit settles that a consumer might need to act, typically by filing a claim form online or by mail.
If you're "covered" by a lawsuit that settles, you might receive a notice by mail and/or email. This notice will contain information on how and by when to file a claim, your legal rights, any proof you might need to submit, and more.
Most proposed class action suits like the one detailed on this page take some time to work through the legal process, usually toward a settlement, dismissal or arbitration. For now, Barilla pasta buyers, and anyone else interested in class action lawsuit and settlement news, should sign up for ClassAction.org's free newsletter.
Camp Lejeune
Camp Lejeune residents now have the opportunity to claim compensation for harm suffered from contaminated water.
Read more here: Camp Lejeune Lawsuit Claims
Stay Current
Sign Up For
Our Newsletter
New cases and investigations, settlement deadlines, and news straight to your inbox.
Last Updated on June 14, 2022 — 2:16 PM