'Inherently Dangerous' Morphe Makeup Contains Color Additives Unapproved for Use Around Eyes, Class Action Alleges [UPDATE]
January 16, 2023 – Morphe Color Additives Class Action on Ice After Parent Co. Files for Bankruptcy
The proposed class action detailed on this page was stayed (that is, put on hold) and administratively closed in light of Morphe parent company Forma Brands filing for Chapter 11 bankruptcy on January 12, 2022.
Want to stay in the loop on class actions that matter to you? Sign up for ClassAction.org's free weekly newsletter here.
On January 12, Forma Beauty Brands LLC filed a five-page notice with the court that states the company, Morphe and several related entities commenced bankruptcy cases in Delaware. The following day, U.S. District Judge Jon S. Tigar issued an orderstating that the case detailed on this page is subject to an automatic bankruptcy stay and closed for administrative purposes.
Prior to Forma Beauty Brands' bankruptcy announcement, the parties had been engaged in mediation in an effort to resolve the litigation via settlement.
The Chapter 11 bankruptcy announcement came less than a week after influencer-reliant Morphe, which rebranded to Forma Beauty Brands in 2020, announced via Twitter that it would be closing all of its U.S. stores, beauty publication Allure wrote. Per a press release, Forma Beauty Brands assets, which include Ariana Grande's r.e.m. beauty brand, will be acquired by a group of secured lenders, who will reportedly provide the company with roughly $33 million in financing to take over its wholesale operations, online platforms and international retail stores.
According to RetailDive, Forma Beauty Brands encountered rocky financial terrain as a result of "the COVID-19 pandemic, widespread changes to consumers' beauty habits and their need to terminate partnerships with certain influencers."
ClassAction.org will update this page with any future developments.
Get class action lawsuit news sent to your inbox – sign up for ClassAction.org's free weekly newsletter here.
A proposed class action claims that makeup company Morphe LLC has failed to warn consumers that some of its cosmetic products are not safe for use near the eyes as intended.
The 52-page case, filed on April 1 in California, alleges that some of Morphe's eyeshadow palettes, eyeliners and Colorfix 24-Hour Cream Color products contain "inherently dangerous" color additives that the U.S. Food and Drug Administration (FDA) has deemed "unsuitable and unapproved" for cosmetic use near a person's eye.
Want to stay in the loop on class actions that matter to you? Sign up for ClassAction.org's free weekly newsletter here.
The lawsuit alleges that the application of the Morphe cosmetics at issue to a person's eye area can cause severe eye irritation, skin discoloration and staining, rashes, allergic reactions and other "painful, embarrassing" conditions that can reportedly last days.
Be sure to scroll down to see which Morphe products are mentioned in the lawsuit.
Per the case, Morphe has nevertheless promoted and advertised these products for use in the eye area without warning consumers of the "known dangers" of applying the makeup as advertised.
"Defendants actively instructed and encouraged consumers, including children, to use the Products in a manner which Defendants knew or should have known was inherently dangerous and unlawful," the lawsuit scathes.
According to the suit, anyone who purchased the Morphe products at issue was injured financially in that they bought makeup they believed was safe and instead received items that were "unreasonably dangerous and defective."
Case claims Morphe fails to adequately warn customers
The lawsuit alleges Morphe LLC and co-defendants Morphe Management Holdings LLC, Forma Brands LLC and Forma Beauty Brands LLC have deceptively advertised their makeup products for use in a person's eye area while at the same time attempting to hide the fact that the cosmetics contain harmful color additives.
According to the case, Morphe refers to some of its eyeshadow palettes as "artistry palettes" or "pressed pigments" in order to avoid responsibility for marketing the makeup as eyeshadow. The suit claims the use of these euphemisms is confusing and dangerous given "pressed pigments" are essentially "indistinguishable" from eyeshadow, and the only reasonable use for them is for cosmetic application to the eye area.
Moreover, the lawsuit contends that Morphe has encouraged consumers to use the products at issue near their eyes by including in its advertising pictures of models wearing the cosmetics as eye makeup. Included in the complaint are the following images, which respectively purport to depict Morphe's advertisements for Colorfix 24-Hour Cream Color Neons in the shade UFO (neon yellow) and Colorfix 24-Hour Cream Color Mattes in the shade Valentine (bright pink), even though these two shades allegedly contain harmful color additives: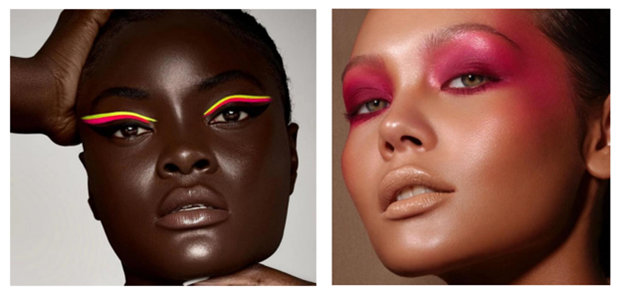 Morphe has also specifically directed consumers to apply the affected products to the eye area in instructions and product tutorials on its website and social media accounts, the case alleges.
The lawsuit argues that rather than provide a conspicuous warning about the alleged dangers of its products, Morphe instead includes online, for some items, "vague language and inconsistent statements," such as "*Caution: Pressed pigments not intended for use in eye area." These purported disclaimers, the suit says, "fall far short" of properly warning potential customers of the risks they could face should they apply the products to the eye area.
"Defendants' purported disclaimer does nothing to assist the consumer in understanding the known risks of using Morphe Eye Makeup, nor does it suggest that any known dangers exist," the complaint states.
Per the suit, customers can go through the entire purchasing process on Morphe's website for the products at issue without ever being shown the "hidden disclaimer," which, according to the case, appears "in small, unbolded font buried within 30 lines of text."
The case says Morphe's product packaging similarly contains no warning or disclaimer to put customers on notice of the risks of applying the makeup near their eyes. On the back of the Morphe X Sour Patch Kids Sour Then Sweet Palette, for example, Morphe categorizes the individual colors as either "eyeshadow" or "pressed pigment" and includes next to the pressed pigment list a "tiny symbol of an eye with a line through it," according to the case. The suit argues that this symbol "fails in every aspect" to properly warn consumers about the known hazards of using the makeup near their eyes.
As the case tells it, "Morphe describes itself as a company that likes to 'Blend the Rules,' and that's exactly what it has done."
Consumers allege Morphe makeup is unfit for its intended use
According to the suit, the presence of certain color additives in the Morphe makeup renders the products unsafe for their intended use, as application of the makeup to a person's eye area can cause pain, redness, itching, skin irritation, rashes and skin staining.
One of the plaintiffs, a Rodeo, California resident, says she bought several Morphe products for herself and her minor child, who the suit says experienced "severe eye irritation" that required medical attention.
Another plaintiff, a San Diego resident, claims to have experienced skin staining after using Morphe eyeshadow:
[The plaintiff] repeatedly scrubbed her eyelids and eye area with makeup remover, but it did not remove the stains or discoloration the Products caused. When [the plaintiff] woke up the following morning, her eyelids and general eye area were still stained and inflamed as a result of using Morphe Eye Makeup."

The third plaintiff, a Wahiawa, Hawaii resident, also claims to have experienced skin staining as a result of using Morphe products, including the Morphe 35O, Morphe 35M, Morphe 35W, Morphe 9C, and Jaclyn Hill eyeshadow palettes.

The plaintiffs each allege that when they purchased the Morphe products, they were unaware of any warnings or disclosures that the makeup contained harmful color additives that were unsafe for application to the eye area.
Which Morphe products are mentioned in the lawsuit?
The lawsuit alleges the following Morphe makeup products contain dangerous color additives:
James Charles Palette;
Morphe X Sour Patch Kids Palette;
35T Sweetest Tea Palette;
Mickey & Friends Truth Be Bold Palette;
9x L'il Artistry Palette;
We Make Rainbows Jealous Palette;
UV Grunge Palette;
UV Taffies Palette;
UV Brights Palette;
Coca-Cola X Morphe Cheerfully Cherry Palette;
Morphe X Nyane Fierce Fairytale Artistry Palette;
Morphe X Make It Black 18 Pan Artistry Palette;
Morphe X Lucky Charms Make Some Magic Artistry Palette;
Morphe X Pony Constellation Sky Artistry Palette;
35O Supernatural Glow Artistry Palette;
35XO Natural Flirt Artistry Palette;
18T Truth or Bare Palette;
35C Everyday Chic Palette;
9Y Heart Candy Artistry Palette;
9B Calm Me Baby Palette;
Morphe X Ashley Strong Affirmation Magic Artistry Palette;
35F Fall Into Fabulous Artistry Palette;
9E Pretty in Peach Palette;
9H Hot for Hue Artistry Palette;
9K Khaki Calling Artistry Palette;
9V Vintage Rose Artistry Palette;
9W Smoke & Shadow Artistry Palette;
9S So Chill Artistry Palette;
9D Painted Desert Artistry Palette;
18F Talkin' Flirty Artistry Palette;
18B Makin' Bank Artistry Palette;
18A Blue Ya Away Artistry Palette;
Morphe X Lisa Frank 35B By Lisa Frank Artistry Palette Zoomer & Zorbit;
Morphe X Lisa Frank 35B By Lisa Frank Artistry Palette Prancing Unis;
Morphe X Lisa Frank 35B By Lisa Frank Artistry Palette Forrest;
Madison Beer Channel Surfing Artistry Palette;
Morphe X Jaclyn Hill Volume 2;
35O3 Fierce By Nature Artistry Palette;
35M Boss Mood Artistry Palette;
39S Such a Gem Artistry Palette;
35H Hot Spot Artistry Palette;
Magic + Ecstasy Palette;
35V Stunning Vibes Artistry Palette;
Colorfix 24-Hour Cream Color (Shades Nebula, Alien, Ballerina, Goldmine, Celebration, Magnetic, Wild Orchid, Exposed, Nude 3, Latte, Desert Rose, Crème Brulee, Chocolate, Blackout, Lift, Beaches, Valentine, Clear, Wasabi, UFO);
Suva Beauty Hydra FX Liners (Shades Doodle Dee, Doodle Doo, Bomb AF, Scrunchie, Dance Party, Fanny Pack, Track Suit, Acid Trip, Lustre Lilac);
M2 Always Online Gel Liner (Shades Fierce Fuchsia, Berry Lush);
Color Pencil (Shades Coconut, Pearly, Fantasy, Love Bite, Pinken, All Night, Harper, Faith, Extra, Lock It, Poolside, Falling for Green, Everlasting, Sparkler, Laurel, Dusty, Jemma, Coin, Regal, Caviar, Editorial, Secret, Toastie, Trendsetter, Vibes, Saint, Richie, Bar, Midnight, Dark Room, Toots, Bamboo, Fairy Dust, Sun Kissed, Backseat, Love, Mimi, Foolish, Bae, Frenchie, Honeymoon, Chippy, Sweetheart, Guide Me, Clingy, Makeup Talk, Spiffy, Coffee & Kissy, Sweet Tea, Bite Me, Forecast, Show Stopper, Bubble, Zippy, Crush, Ginger, Twinkle, Hoova, Petal, Studded, BFF, Sugar Pie, Mina, Linda, Scarlet, Blossom, High Maintenance, Fashionista, Wine Me, Heckle, Date Night, 9to5, High Voltage, It's Vintage, Love Life, Lush Worthy, Well Red); and
P. Louise Bases (Shades Vivid Violet, Winter Rose, OTT Orange, Rude Boy Red, Blank Canvas, Raver, Ibiza, Glow Girl).
Want to stay in the loop on class actions that matter to you? Sign up for ClassAction.org's free weekly newsletter here.
Which color additives does the case say the makeup contains?
The case claims that the Morphe products mentioned on this page are "inherently dangerous" because they contain the following color additives banned by the FDA for use in the eye area:
FD&C Red No. 4;
D&C Red No. 6, 7, 17, 21, 22, 27, 28, 30, 31, 33, 34, 36;
D&C Violet No. 2;
Ext. D&C Violet No. 2;
FD&C Yellow No. 6;
D&C Yellow No. 7, 8, 10, 11;
Ext. D&C Yellow No. 7;
D&C Orange No. 4, 5, 10, 11;
D&C Green No. 6, 8;
FD&C Green No. 3;
D&C Brown No. 1; and
D&C Blue No. 4
Who is covered by the lawsuit?
The lawsuit looks to cover U.S. residents who purchased the Morphe eye makeup mentioned on this page during the "maximum period permitted by law."
How do I join the lawsuit?
There's usually nothing you need to do to join or be considered part of a proposed class action when it's first filed. If the case moves forward and settles, that's when those who are affected by the case, i.e., the "class members," would receive notice of the settlement with instructions on how to file a claim for their share and information on their legal rights.
Keep in mind that it often takes months or even years for a lawsuit to be resolved. In the meantime, one of the best things you can do is to stay informed. Check back on this page for updates, or get class action news sent straight to your inbox by signing up for ClassAction.org's free weekly newsletter.
Hair Relaxer Lawsuits
Women who developed cancer, endometriosis or reproductive problems after using hair relaxers such as Dark & Lovely and Motions may now have an opportunity to take legal action.
Read more here: Hair Relaxer Cancer Lawsuits
Stay Current
Sign Up For
Our Newsletter
New cases and investigations, settlement deadlines, and news straight to your inbox.
Last Updated on January 16, 2023 — 12:01 PM