FTC, 17 States Allege Amazon Has Used 'Monopoly Power' to Squash Competition, Inflate Prices
The Federal Trade Commission (FTC) and 17 states sued Amazon this week over allegations that the retail juggernaut has weaponized an arsenal of competition-stifling strategies to illegally maintain monopoly power over the market, harming not only competitors but hundreds of millions of shoppers nationwide.
Want to stay in the loop on class actions that matter to you? Sign up for ClassAction.org's free weekly newsletter here.
Specifically, the 172-page antitrust lawsuit says that Amazon maintains its monopoly power by preventing third-party sellers and competitors from lowering prices, overcharging sellers and forcing them to rely on its order fulfilment service, and stunting the growth of rivals to keep them from achieving the scale needed to fairly compete against the mega-retailer.
The landmark suit, filed on September 26 in Washington, alleges that Seattle-based Amazon's anticompetitive, "anti-discounting" strategies and "exclusionary conduct" have enriched the retailer at the expense of tens of millions of customers and businesses. Amazon, the lawsuit alleges, has stifled market innovation, artificially inflated prices inside and outside of the company's marketplace, and reduced the quality of services offered to shoppers, whose experience with the e-commerce heavyweight has frustratingly gotten worse.
As the FTC and the states tell it, Amazon has worked to ensure that "no current or future rival can threaten its dominance." The agency and its state partners have asked the court for a permanent injunction that would prohibit Amazon from engaging in unlawful conduct and "pry loose" its stranglehold on the online retail space.
"Amazon's far-reaching schemes impact hundreds of billions of dollars in retail sales every year, touch hundreds of thousands of products sold by businesses big and small and affect over a hundred million shoppers," the FTC said in a press release.
Amazon punishes sellers who "dare to discount" elsewhere, FTC says
To block competitors from attracting shoppers with lower prices, Amazon relies on a sophisticated price surveillance operation—namely a "network of web crawlers" that monitors online markets and searches for discounts that could "threaten Amazon's empire," the complaint alleges. Per the filing, if the company discovers that a product is listed at a cheaper price elsewhere than what the seller offers it for on the Amazon marketplace, the seller is penalized by Amazon.
For instance, sellers who list lower-priced items elsewhere may be buried so deep in Amazon search results that they become "effectively invisible," the lawsuit relays. As another example, discounting sellers may be expelled from Amazon's "Buy Box," the display window from which a consumer can "Add to Cart" or "Buy Now," the suit says.
According to the case, being knocked out of the "Buy Box" often means a seller's sales will tank.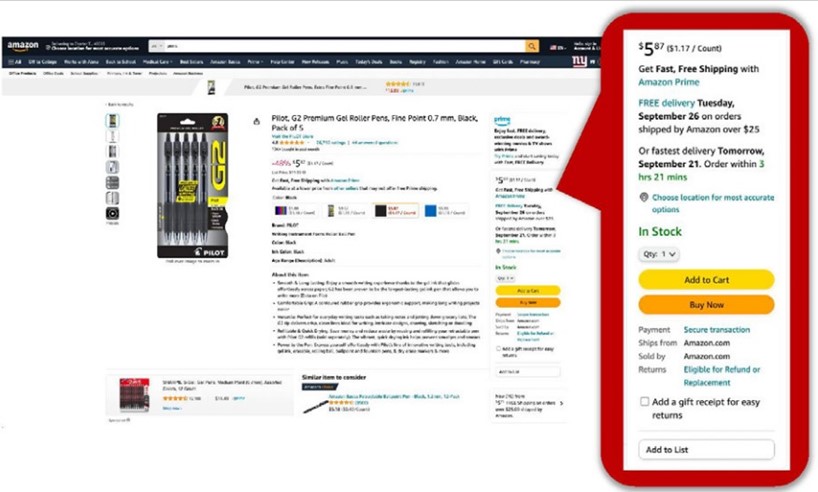 The complaint contends that, to avoid these penalties, many sellers raise their prices off Amazon's marketplace.
"Others never try discounting in the first place; fear of retribution by Amazon drives them to preemptively set higher prices everywhere," the filing states. "Still others simply stop—or never start—selling anywhere other than Amazon to avoid any possibility of Amazon's sanctions."
The lawsuit stresses that by "taming price cutters into price followers," the online retail giant "freezes price competition and deprives American shoppers of lower prices."
Suit alleges sellers are forced to rely on Amazon
The case claims that the defendant further solidifies its monopoly power by requiring sellers who want their products to be "Prime eligible" to use Amazon's proprietary order fulfillment service, Fulfillment by Amazon (FBA). Many sellers would prefer to utilize alternative fulfillment methods to store and ship orders, as using independent providers makes it easier for sellers to offer products across a range of sales channels and lowers their dependence on a single outlet, such as Amazon, the complaint explains.
However, virtually all sellers are forced to use FBA because of how crucial Prime eligibility is to accessing Amazon's huge consumer base, the filing shares. Indeed, sellers who lose Prime eligibility "effectively disappear from Amazon's storefront," the lawsuit says.
Further, the suit contends that the defendant has "hiked so steeply the fees it charges sellers that it now reportedly takes close to half of every dollar from the typical seller that uses Amazon's fulfillment service."
According to the case, seller forums on Amazon are littered with complaints, and one seller even lamented that they had to rely on the company because they "have nowhere else to go and Amazon knows it."
What's more, the defendant's "one-two punch of seller punishments and high seller fees" often pushes sellers to use their "inflated" Amazon prices as the price floor on every other platform or marketplace, the complaint alleges. The filing argues that, as a result, consumers face artificially inflated prices even when shopping outside of the Amazon e-commerce space.
Reduced quality and increased profits—a "hallmark of monopoly power," lawsuit charges
Per the suit, although Amazon's online marketplace "once prioritized relevant, organic search results," the storefront is now cluttered with paid advertisements that cost sellers top dollar. The bevy of paid ads slashes the number of relevant search results provided to shoppers and steers them toward pricier products, the filing claims.
However, despite degrading consumer experience and raising prices for both sellers and shoppers, Amazon maintains double-digit growth in net sales, "all without denting—and while in fact expanding—its dominance," the case contests.
The complaint emphasizes that the company's "ability to profitably worsen its service for customers is a hallmark of monopoly power" that wouldn't be possible in a fair, competitive market.
In a market free from anticompetitive restraints, Amazon's choice to exploit its monopoly power would create openings for rivals to enter, grow, and meaningfully compete. Rival online marketplaces could draw sellers by offering them lower fees or better terms, and sellers could pass along those lower costs to American shoppers in the form of lower prices. Rival online superstores, meanwhile, could draw shoppers by offering better prices, greater selection, or a superior shopping experience. But Amazon's illegal course of conduct shields Amazon from the competitive checks it would face in a free enterprise system."

According to the filing, Amazon's anticompetitive strategies and "punitive regime" are "paying off" at the expense of tens of millions of consumers and hundreds of thousands of sellers who are forced to rely on the retailer.

"Left unchecked, Amazon will continue to harm competition and maintain its monopoly power over the online superstore market and the market for online marketplace services, causing myriad and widespread harms to shoppers, sellers, and the public—and depriving Americans of the benefits of fair and free competition," the case asserts.
Is this a class action lawsuit? How can I join?
This case is not a class action lawsuit, and there's nothing that Amazon customers or sellers need to do to sign up or join the litigation. In this situation, the FTC and the attorneys general of 17 states are directly suing Amazon in federal court in an effort to provide restitution to impacted individuals and sellers.
The FTC, like the Consumer Financial Protection Bureau (CFPB), is a government agency authorized to take action against companies or individuals when it has "reason to believe" that they are violating the law and a lawsuit appears to be in the public interest.
Some lawsuits filed by these federal agencies, if successful, result in refunds to consumers. A list of recent FTC actions that have resulted in consumer refunds can be found here. Head to this page for more information about how the agency issues refunds.
If the case described on this page reaches a settlement, ClassAction.org will report on everything you need to know. But as with all lawsuits, progress can be slow, and it may take months or even years for the FTC and states' case against Amazon to play out. The filed complaint, though heavily redacted, can be read below.
Get class action lawsuit news sent to your inbox – sign up for ClassAction.org's free weekly newsletter here.
Hair Relaxer Lawsuits
Women who developed cancer, endometriosis or reproductive problems after using hair relaxers such as Dark & Lovely and Motions may now have an opportunity to take legal action.
Read more here: Hair Relaxer Cancer Lawsuits
Stay Current
Sign Up For
Our Newsletter
New cases and investigations, settlement deadlines, and news straight to your inbox.
Last Updated on September 28, 2023 — 3:18 PM