Defect in Certain Ford Vehicles Causes Unexpected Rollaways, 'Catastrophic Crashes,' Class Action Alleges
A proposed class action filed last week alleges Ford Motor Company has sold approximately three million vehicles equipped with defective shift cable bushings, creating a serious risk of unintended movement and rollaway crashes.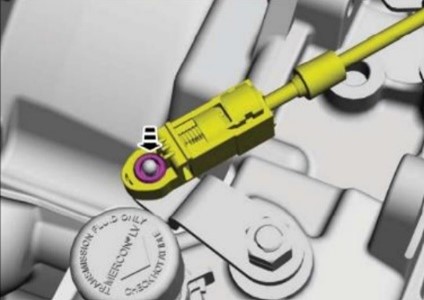 The 99-page case says the defective components, Hilex (Hytrel 4556) shift cable bushings, are found in the following vehicle models: the 2013-2019 Ford Escape; 2013-2016 Ford Fusion; 2013-2018 Ford C-Max; 2013-2021 Ford Transit Connect and 2015-2018 Ford Edge.
Although Ford has known about the defect for years, it continued to design, manufacture and sell vehicles containing the defective bushings, the suit charges. Moreover, Ford actively concealed the defect from consumers until it began slowly issuing safety recalls starting in July 2018, according to the case.
Want to stay in the loop on class actions that matter to you? Sign up for ClassAction.org's free weekly newsletter here.
The alleged defect
The lawsuit explains that shift cable bushings are "small, yet critical" components located under the hood that connect a vehicle's transmission and gear shift. As the case tells it, the faulty auto part degrades and detaches from the transmission over time, causing the transmission to be in a gear state that's different than the gear shift position selected by the driver.
"For example, the transmission may not be in the park position, even though the shifter position indicates that the vehicle was shifted to park," the case reads. "This is particularly dangerous because a driver will not receive a warning message or audible chime alerting him or her that the vehicle is not in the intended gear."
As a result, the complaint says, vehicles may continue to move even after the driver, who has every reason to think their vehicle is in park, has exited their car. In a different scenario, a driver who puts their car in park while waiting at a red light could accidentally roll into oncoming traffic, the suit adds.
The filing stresses that in any instance, unintended movement can damage property and lead to "catastrophic crashes that could result in life-threatening injur[ies]" to drivers and bystanders. On average, rollaways kill 144 people and injure 1,886 nonoccupants each year, a 2022 study by the National Highway Traffic Safety Administration (NHTSA) reports.
The risks posed by the defect do not line up with Ford's "practically unavoidable" safety-based marketing messages, which have been publicized for decades and state that drivers can have "peace of mind" because its cars are "Built Ford Tough," the filing contends.
Similarly, a 2014 marketing campaign for the Ford Escape, the company's best-selling vehicle outside of its F-Series pickup trucks, touts the vehicle's top-of-the-line safety features like "Advanced Safety Protection," which Ford claimed would help the driver avoid a collision, the case relays. Nevertheless, 1.7 million of the four million Ford Escapes sold to date suffer from the bushing defect, the lawsuit alleges.
The plaintiffs, two consumers from New York and Illinois, say they believed the Ford Escape was a safe and dependable car due to Ford's advertisements. Per the suit, the consumers claim they would not have invested in their 2017 and 2014 Ford Escapes had they known the cars were equipped with defective shift cable bushings.
Ford was well aware of the defect, suit alleges
According to the suit, Ford knew about the defect long before it began issuing recalls, despite being required under federal law to file a report with NHTSA within five days of identifying any safety-related defects in its vehicles.
The case claims that Ford, as an experienced manufacturer, would have caught the faulty shift cable bushings during its "extensive" pre-sale durability testing, designed to verify that incoming components are free from defects. Indeed, Ford puts prototype and pre-production vehicles through a "Total Durability Cycle" test to simulate 10 years of usage and a "Full Vehicle Corrosion" test to ensure the products can withstand certain environmental conditions, the complaint relays.
Beyond its testing results, at least 1,630 warranty reports and countless consumer complaints filed with NHTSA between April 2015 and March 2022 have alerted Ford to the bushing defect, the suit asserts. The lawsuit also claims Ford's customer relations department analyzes field data relating to customer complaints on third-party websites, repair requests made at dealerships and service centers, and parts sales reports, all of which apparently identify a defect trend in its vehicles.
It wasn't until July 2018 that Ford issued its first recall of more than half a million 2013-2014 Ford Escape and 2013-2016 Ford Fusion vehicles suffering from the bushing defect, the suit states. Still, the recall only involved a fraction of the affected cars, the filing says.
Instead of promptly recalling all the affected vehicles, Ford opted to take its time disclosing the extent of the defect through four additional recalls issued in May 2019, May 2021, April 2022 and June 2022, the filing claims.
Drivers bear the brunt of the burden, case says
Per the suit, Ford has yet to remedy the defect or identify its root cause, even after more than four years of recalls and investigations. The case argues that the company has resorted to "temporary band-aid solutions," like replacing the defective bushings with new ones that reportedly disintegrate within three years or installing a cap over the bushings that does little to fix the actual defect.
Although Ford warned dealerships not to "demonstrat[e] or deliver[] any new in-stock vehicles" involved in the June 2022 recall until they "replace the transmission shifter cable bushing and protective cap," the automaker has not instructed consumers to stop driving their cars despite the safety risks, the complaint states.
To add insult to injury, Ford allegedly refuses to reimburse consumers for rental expenses while they wait for repairs and forces them to pay out of pocket for any expenses related to damages caused by the defect, the filing contends.
An August 2022 NHTSA complaint from the owner of a 2014 Escape illustrates the "considerable" burden Ford has placed upon consumers, the suit says:
My transmission shifter cable bushing failed while on a car ride home with my son leaving me stranded 96 miles from home. I had to pay $450 to tow it home. Ford doesn't have any parts to fix my vehicle that I can not [sic] drive and only recommends I rent a car until October. I can not [sic] afford this as I am a single mom and teacher....school resumes in 2 weeks."
Who does the case look to cover?
The lawsuit looks to represent anyone in the United States who purchased or leased a 2013-2019 Ford Escape, 2013-2016 Ford Fusion, 2013-2018 Ford C-Max, 2013-2021 Ford Transit Connect or 2015-2018 Ford Edge.
How do I join the lawsuit?
There's usually nothing you need to do to join or be included in a proposed class action lawsuit when it's first filed. If the case moves through the legal process and settles, those who have been affected, i.e., the "class members," may be notified directly and will likely need to fill out and file a claim form online or by mail.
If you've leased or bought one of the Ford vehicles mentioned above, or simply want to stay in the loop on class action lawsuit and settlement news, sign up for ClassAction.org's free weekly newsletter.
Camp Lejeune
Camp Lejeune residents now have the opportunity to claim compensation for harm suffered from contaminated water.
Read more here: Camp Lejeune Lawsuit Claims
Stay Current
Sign Up For
Our Newsletter
New cases and investigations, settlement deadlines, and news straight to your inbox.
Last Updated on January 9, 2023 — 10:50 AM