ClassAction.org Roundup – College Admissions Scandal, Ticketmaster, U.S. Women's Soccer and More [UPDATE]
Last Updated on February 17, 2021
December 1, 2020 – U.S. Senior Women's National Soccer Team Scores a Partial Win
The U.S. Soccer Federation (USSF) has reached a settlement with the U.S. Senior Women's National team in a case alleging women players are not paid as much as men "who do the same job."
According to court documents, USSF has agreed under the settlement to ensure that certain travel accommodations and working conditions will be provided equally to the women's and men's teams. More specifically, USSF has agreed to implement policies that will provide "equal resources" to women's and men's teams when it comes to chartered flights, venues and field playing surfaces, specialized professional support, and hotel accommodations.
Notably left out of the settlement, however, are the women's original claims concerning unequal pay. In May 2020, the judge overseeing the case threw out the plaintiffs' claim that USSF violated the Equal Pay Act, noting that the defendant had provided evidence showing the Women's National Team was actually paid more "on both a cumulative and an average per-game basis" than the Men's National Team during the time period at issue.
The judge concluded that while the Men's National Team's collective bargaining agreement did provide for higher bonuses, the Women's National Team had negotiated for other benefits, such as guaranteed annual salaries and severance pay, in exchange for lower bonuses. Because the Equal Pay Act requires that all forms of compensation be considered, the women's team cannot establish they were paid less than the men's team based only on smaller bonuses, the judge wrote.
Moreover, the judge pointed out that the Women's National Team had rejected an offer to be paid under the same pay-to-play structure as the Men's National Team and instead negotiated for a greater base compensation and the guarantee of a higher number of contracted players.
"Accordingly, Plaintiffs cannot now retroactively deem their [collective bargaining agreement] worse than the [Men's National Team collective bargaining agreement] by reference to what they would have made had they been paid under the [Men's National Team's] pay-to-play structure when they themselves rejected such a structure," the judge wrote.
The judge granted the defendant summary judgment on the plaintiffs' Equal Pay Act claim on May 1, 2020. The plaintiffs plan to appeal the decision and the proposed settlement will not require the plaintiffs to release their claims regarding these alleged violations.
It seems we have all the heavy hitters in this edition of the ClassAction.org roundup – including, but not limited to Facebook, Google and Ticketmaster. And, you can't go anywhere these days without some news on the college admissions scandal. Enough of the small talk intro. Let's get into it.
"No less than $500,000,000,000": Fuming Parent Hits Loughlin, Huffman, 43 Other Defendants with Scathing Class Action Over the College Admissions Bribery Scandal

Sure, you may know all about that class action lawsuit filed in the wake of the shocking-but-not-really-all-that-shocking college admissions bribery scandal. But seemingly under the radar flew another class action, one brought by a parent who, to put it mildly, is rather upset that her academically proficient son was allegedly rejected from a number of schools because of the conduct of a few wealthy parents.
Filed in San Francisco superior court—the building for which, according to this writer's Googling skills, is roughly a seven-minute drive from the Full House house—the lawsuit comes from a mother who alleges her son applied to and was rejected from some of the colleges at the center of the scandal despite maintaining a 4.2 grade point average. As the lawsuit tells it, a lineup of more than 40 defendants—most notable among whom are actors Lori Laughlin and Felicity Huffman, as well as a few big-finance types—conspired to bribe entrance exam administrators and college coaches and administrators, all under the guise of a charitable organization purportedly dedicated to helping underprivileged youths, to gain entrance for their kids to top-tier schools.
Proposed class members, the plaintiff stresses, "simply wanted a fair chance for themselves or their children to go to a good college," an opportunity allegedly stolen by the defendants who, the lawsuit states, "feel that because they are wealthy [they] are allowed to lie, cheat and steal from others." The individual defendants named in the suit, all face criminal fraud charges stemming from "Operation Varsity Blues" that could come with some jail time, Variety writer Gene Maddaus reports.
The kicker, though, is what the plaintiff seeks in damages: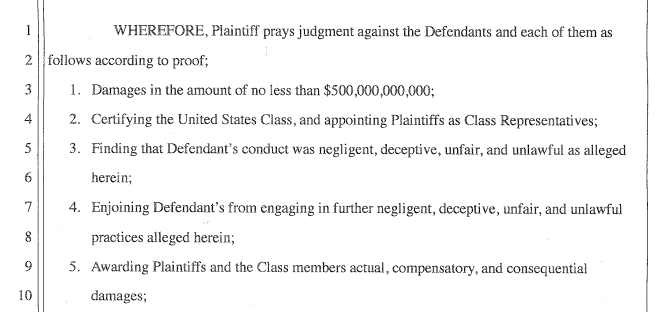 If you're keeping score at home, that's 11 zeros.
Variety has the scoop on the suit here.
Ticketmaster Inches Closer to Arbitration Victory for Antitrust Scalping Class Action

ClassAction.org is no stranger to keeping a close eye on the comings and goings of ticket broker Ticketmaster and its alleged conduct with regard to, oh, just about every allegedly shady practice one could imagine when it comes to the buying and selling of event tickets.
That being said, it's only right to report that a California judge this week tentatively granted Ticketmaster's request to arbitrate a proposed class action lawsuit that alleged the company and its parent outfit, Live Nation Entertainment LLC, helped scalpers re-sell tickets while at the same time profited from fees and surcharges.
While plaintiff's attorneys argued that Ticketmaster and Live Nation were a little too guarded with their user agreements – which contain an arbitration clause – and forced consumers to read them rather quickly before tickets could be scooped up, United States District Judge George H. Wu ended up siding with Ticketmaster's counsel. He pointed out that consumers have multiple opportunities to read and assent to the agreement, including when they sign up for an account.
As to the who decides on the "arbitrability" of the dispute – the court or the arbitrator – Judge Wu passed the buck, arguing that Ticketmaster's arbitration clause "clearly and unmistakably" delegates the issue to the arbitrator.
"This language, as drafted, meets the requisite 'clear and unmistakable' standard," Judge Wu wrote, "and the Court therefore may not override the parties' choice to delegate questions of arbitrability to the arbitrator."
Google Heeds Employees' Demands, Ends Mandatory Arbitration Policy

Google has announced that the company will end its mandatory arbitration policy and open itself up to handling employee disputes in court rather than in private. The policy change, effective March 21, comes in response to a company-wide protest in which employees argued they were effectively silenced by having to resolve issues via third-party mediators hired by Google.
In November 2018, employees across 40 of Google's offices staged a walkout, which was sparked in part by Android founder Andy Rubin receiving a $90 million exit package despite being accused of sexual harassment. The protestors demanded, among other changes, an end to forced arbitration, arguing that Google was protecting abusers and enabling a culture of sexual misconduct, discrimination, and unequal pay. At that time, Google agreed to make arbitration optional in cases of sexual harassment. This past February, however, the company expanded on the policy and announced plans to make arbitration optional for all disputes made by full-time Google employees.
Although Google has also agreed to remove mandatory arbitration clauses from agreements made directly with contractors, vendors and temporary employees—who make up over half of its workforce—it will not require staffing firms to follow the same policy, meaning forced arbitration may still apply to some workers. Additionally, the new policy will not allow former employees or those with previously settled claims to pursue legal action. Eligible employees who have ongoing disputes that are still in arbitration as of March 21 will have the option to take their claims to court.
Find more on the story over at Wired.
Red Card: U.S. Soccer Federation Accused of Pay Discrimination by Women's National Team

Twenty-eight U.S. Senior Women's National Soccer Team members have filed a proposed collective and class action lawsuit against the United States Soccer Federation (USSF) over claims that they are paid significantly less than their male counterparts despite doing the same work – even when they do it better.
The complaint explains that if both the men's and women's teams played and won 20 friendlies in one year, female players would receive a maximum of $99,000 while similarly situated male players would be paid an average of $263,320.
According to the plaintiffs, the USSF paid women less even when they "earned more profit, played more games, won more games, earned more championships, and/or garnered higher television audiences" than their male counterparts.
Wages for both teams are even more disparate for World Cup competitions than friendlies, the suit says. In 2014, the USSF paid female athletes just $15,000 for trying out and making the World Cup team, whereas men received $55,000. Worse, that same year, the men were paid performance bonuses totaling over $5.3 million for losing in the round of 16, yet women received just around $1.7 million for winning the entire tournament in 2015.
The suit says USSF officials have publicly admitted to their discriminatory practices when they claimed that "market realities are such that the women do not deserve to be paid equally to the men."
For more on the case and previous actions taken by the women's national soccer team to combat gender-based inequality, head over to ESPN.
Facebook Faces More Complaints from Scarred Content Moderators

Two former content moderators have joined in on the ongoing litigation against Facebook over claims that they suffered psychological trauma while reviewing images for the social media giant. The case claims that the extreme content moderators are forced to view brought on symptoms of post-traumatic stress disorder, and that Facebook failed to provide them with a safe workplace.
Facebook denied the allegations back in November, but with more of these moderators coming forward, it looks like the legal battle could continue for quite a while. You can find the rest of the story over on CNET.
Litigation Against Movie Ticket Subscription Service Sinemia Gains Momentum
An amended complaint has been filed in the class action litigation against the-other-movie-ticket-subscription-service-company Sinemia, bringing the number of represented states from two to ten. The case claims that Sinemia's business model, which is similar to that of MoviePass, turned into what is essentially a bait-and-switch scheme thanks to a new fee.
Sinemia allegedly started charging a $1.80 "processing fee" on top of the monthly subscription cost – even for those who had pre-paid for the year. The lawsuit claims that the fee "dramatically changes the value proposition that customers thought they were getting."
You can find more information over at Business Insider.
Timberlake, Execs Wave "Bye, Bye, Bye" to Bai Drink Mislabeling Class Action

Earlier this month, a California federal judge dismissed claims against singer Justin Timberlake and two executives in a proposed class action lawsuit that accuses Bai Brands, LLC of mislabeling its fruit-flavored beverages. (You know, the ones that were featured in that 2017 Super Bowl commercial starring Justin Timberlake and Christopher Walken.)
The lawsuit, filed in the Southern District of California, claims Bai's labels are misleading because they represent the drinks as being "naturally flavored" when they apparently contain d-l malic acid, an artificial flavoring ingredient.
The corporate defendants – Bai Brands, LLC and parent company Dr. Pepper Snapple Group, Inc. – pushed back by arguing in a motion to dismiss that the plaintiff is just assuming, "with no basis," that the malic acid in the product is not natural. Yet the companies went on to say that even if Bai beverages do contain the offending artificial ingredient, d-l malic acid is specifically a "flavor enhancer" and cannot be characterized as a "flavor" under federal regulations.
Though the judge denied most of the defendants' motion to dismiss, the court did ax the plaintiff's claim that Bai was wrong to list just "malic acid" in the products' ingredient list and not the more specific "d-l malic acid." The court order explained that under FDA guidelines, it's okay to list the ingredient by its common name as opposed to its scientific name.
Let's get back to Justin Timberlake, though. The singer was named in the lawsuit, along with the former CEO of Bai Brands and the current CEO of Dr. Pepper Snapple Group, because the plaintiff argued that Timberlake holds the title of "Chief Flavor Officer" at Bai Brands (please let me know which corporate ladder I have to climb to attain that title) and was "directly involved" with executives in marketing the product. Whether he was or not, the judge ruled that the court does not have jurisdiction over Timberlake and the other individual defendants because they are not residents of California.
Last Updated on February 17, 2021 — 11:42 AM