Want Some Free Tickets? Here's What You Need to Know About the Ticketmaster Class Action Settlement
Last Updated on July 26, 2018
A class action lawsuit filed in 2003 against Ticketmaster has settled. Here's what you need to know about the case, the settlement, and what you might be able to get out of it.
What was this case about?
Schlesinger v. Ticketmaster was filed over allegations that Ticketmaster, which merged with Live Nation in 2010 and now operates as Live Nation Entertainment, failed to fully disclose to customers the full nature of its UPS and order processing fees.
Ticketmaster, which has admitted no wrongdoing, agreed to settle the lawsuit in 2013. The settlement was given final approval by a judge in February 2015, with settlement awards slowly trickling out to class members in the time since.
Who's eligible for a piece of the settlement?
If you bought tickets to any event on Ticketmaster.com between October 21, 1999 and February 27, 2013, you're eligible for a piece of the settlement.
What can I get?
In short, you might be entitled to free concert tickets and/or discounts to select events.
More specifically:
You will receive one discount code, worth $2.25 off a future ticket purchase, for every purchase made on Ticketmaster.com between October 1999 and February 2013. Up to 17 codes will be issued per person.
If your tickets were delivered by UPS, you will receive one $5 UPS discount code for every ticket purchase made during the aforementioned time period. Up to 17 UPS discount codes will be issued per person.
You will receive one ticket voucher—redeemable for two eligible general admission tickets at certain events—for every purchase made on Ticketmaster.com during the aforementioned time period. Again, up to 17 vouchers will be issued per person.
This settlement sounds pretty sweet.
It is, but it's important for you to know that you need to be proactive about claiming what you're owed. Quite frankly, if you sit on your hands, there's a good chance you won't be able to claim your ticket vouchers for a while or for the events you're really into.
Here's why.
The settlement agreement limits the value of vouchers that can be redeemed within a given year. Once this limit is hit, you'll have to wait until the following year to stake your claim. In addition, the ticket redemption process works on a "first come, first serve" basis. Your ticket vouchers will be valid for eligible events until no further tickets are available and/or no additional events are posted.
Because of the high demand and limited availability, it's important for you to log into your Ticketmaster account, find an event or concert you'd like to go to, and redeem your rewards quickly. Check back frequently as additional tickets and/or events may be added periodically.
So ticket vouchers from the settlement can sell out like real concert tickets?
Correct. Once all tickets available for voucher redemption for a particular event have been redeemed, vouchers can no longer be used to buy tickets to that event.
OK. So how do I go about getting my piece of the settlement?
To obtain your discount code and vouchers, simply log into your Ticketmaster account on the company's website and go to your "My Account" page. On this page, click on "Active Vouchers" on the left.
If you're eligible for a piece of the settlement, you should be taken to a screen with the following message, followed by a list of your active vouchers: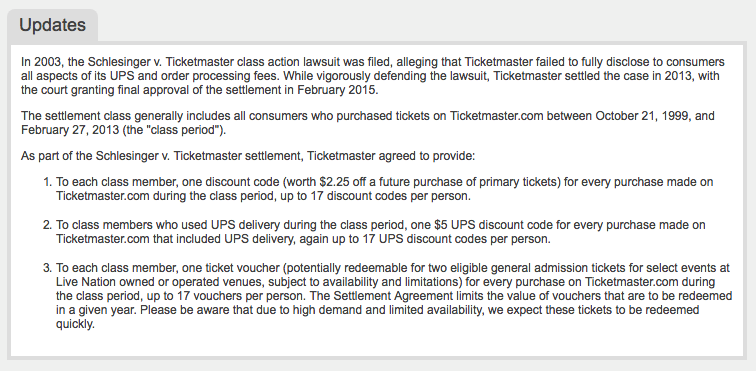 Which events are covered by the settlement?
A full list of concerts and other events for which people can use their ticket vouchers and discounts can be found on the official settlement website by clicking "Eligible Events." Select the city you're trying to see an event in and the list will populate accordingly with events for which discounts and vouchers can be used.
Is there a deadline to retrieve these awards?
All vouchers and discount codes must be redeemed through Ticketmaster/Live Nation by June 18, 2020.
Can I cash in my ticket vouchers and discount codes for cold, hard cash?
Unfortunately, no.
A complete list of FAQs for this settlement can be found here.
Hair Relaxer Lawsuits
Women who developed cancer, endometriosis or reproductive problems after using hair relaxers such as Dark & Lovely and Motions may now have an opportunity to take legal action.
Read more here: Hair Relaxer Cancer Lawsuits
Stay Current
Sign Up For
Our Newsletter
New cases and investigations, settlement deadlines, and news straight to your inbox.
Last Updated on July 26, 2018 — 3:51 PM