Class Action: Selsun Blue Naturals Shampoo Riddled with Synthetic Ingredients
A proposed class action filed this week claims the marketing and advertising of Selsun Blue Naturals Antidandruff Shampoo as a "natural" product is misleading given the shampoo contains synthetic ingredients.
The 28-page lawsuit alleges defendant Sanofi US appeals to health-conscious consumers by marketing its Selsun Blue product as "natural." According to the case, a reasonable consumer would never expect a product with "Naturals" in its name to contain synthetic ingredients and would therefore be willing to pay a higher price for a product represented as such.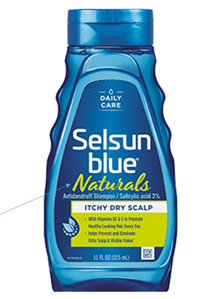 The case argues, however, that consumers did not receive the full value of the Selsun Blue Naturals product due to Sanofi's misrepresentations about its ingredients.
"Plaintiff and the Class members purchased, purchased more of, and/or paid more for, the Product than they would have had they known the truth about the Product," the complaint reads. "Consequently, Plaintiff and the Class members have suffered injury in fact and lost money as a result of Defendant's wrongful conduct."
Class Action Claims Selsun Blue Naturals Is Anything But
The lawsuit alleges that although Selsun Blue Naturals Antidandruff shampoo is represented as a safer and healthier alternative to non-natural shampoo products, it contains a number of synthetic ingredients, including:
Tocopheryl Acetate, an ingredient in pesticides;
Disodium EDTA, a synthetic bonding agent;
Cocamidopropyl Betaine, a synthetic surfactant;
Panthenol, a synthetic compound;
Benzyl Alcohol, a synthetic solvent and preservative that has been linked to contact allergies;
Lauryl Glucoside, a synthetic surfactant or dispersant;
Citric Acid, a synthetic substance manufactured by fermenting black mold fungus;
Potassium Hydroxide, also known as caustic potash, potash lye, and potassa; and
Propylene Glycol, a manufactured substance that does not occur in nature.
The case claims a reasonable consumer would not expect the aforementioned ingredients to be present in a shampoo represented as "natural."
According to the suit, the U.S. Department of Agriculture has issued guidance specifying that a substance can be considered natural as opposed to synthetic if it comes from a natural source and has not undergone a chemical change to make it chemically or structurally different from how it occurs naturally, unless that change was the result of a naturally occurring biological process such as composting, fermentation, enzymatic digestion, heating or burning.
Consumers, the case says, lack the ability to test or determine whether the ingredients in Selsun Blue Naturals shampoo are indeed natural despite being able to read them on the product's ingredients list.
"Discovering that the ingredients are not natural and are actually synthetic requires a scientific investigation and knowledge of chemistry beyond that of the average consumer," the complaint argues. "That is why, even though the ingredients listed above are identified on the back of the Product's packaging in the ingredients listed, the reasonable consumer would not understand—nor are they expected to understand—that these ingredients are synthetic."
The suit claims consumers "relied to their detriment" on the defendant's misleading "natural" representations and paid more for the Selsun Blue Naturals shampoo than they otherwise would have had they known the truth.
Who Does the Lawsuit Look to Cover?
The case looks to represent anyone who purchased the Selsun Blue Naturals Antidandruff Shampoo in the U.S. during the applicable statute of limitations period.
How Do I Join the Lawsuit?
For now, there's nothing you need to do to join the lawsuit. If the case moves forward and settles, anyone affected should then have an opportunity to claim whatever compensation the court deems just. More information about that process can be found here.
If you want to find out about more class action news, updates, and settlements, sign up for ClassAction.org's newsletter here.
Last Updated on December 8, 2020 — 3:12 PM