Class Action Says Defect to Blame for Dodge Ram Refueling Issues [UPDATE]
November 22, 2021 – Dodge Ram Refueling Class Action Dismissed
The proposed class action detailed on this page was dismissed with prejudice on August 28, 2020.
United States District Judge James V. Selna sign a one-page dismissal order a day after automaker FCA US and the plaintiff jointly submitted to the court a stipulation to voluntarily toss the suit. The stipulation states that the plaintiff has voluntarily dismissed his own claims with prejudice and voluntarily dismissed Dodge Ram drivers' claims without prejudice, leaving the door open for another consumer to possibly pursue a similar case in the future.
Want to stay in the loop on class actions that matter to you? Sign up for ClassAction.org's free weekly newsletter here.
A Dodge Ram owner has filed a proposed class action lawsuit in which he claims the trucks are plagued by refueling issues due to a defective fuel tank filler neck. According to the suit, model year 2015 to 2019 Dodge Rams are fitted with "unnecessarily steeply-angled" fuel filler necks that cause gas pump nozzles to become stuck and make refueling take much longer than it should.
Want to stay in the loop on class actions that matter to you? Sign up for ClassAction.org's free weekly newsletter here.
The lawsuit claims defendant FCA US LLC has known about the alleged defect since at least 2015 but has yet to issue a recall or address the problem. The plaintiff says he and other Dodge Ram drivers overpaid for their vehicles and have lost money because of the trucks' now-diminished value.
New Filler Neck Design Is Defective, Case Claims
According to the proposed class action, FCA in 2015 began installing a redesigned fuel filler neck (pictured below on the left) in Dodge Ram vehicles that was more steeply angled than previous versions of the same part (pictured below on the right).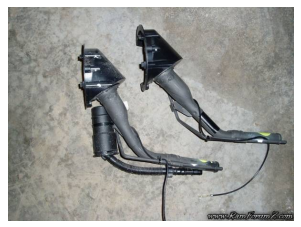 The new design, however, had some "unexpected and unsafe" side effects, according to the lawsuit. Because of the filler neck's steep angle, gas pump nozzles could allegedly become lodged in the trucks' gas tank necks while refueling. Dodge Ram drivers have reported that their gas station visits could take hours because of this issue, and many of them were apparently forced to call roadside assistance or the local fire department to help dislodge the gas pump nozzles from their trucks.
Another side effect of the filler neck's design, the case continues, is that it can trigger the gas pumps' automatic shutoff when the tank isn't full yet. Some drivers have reported that the pump shuts off every few seconds, forcing them to fill their trucks' tanks "mere ounces at a time."
"While other vehicles may take only a few minutes to refuel, Defendant's Dodge Rams typically take far longer," the complaint reads.
Does the Alleged Defect Present a Safety Concern?
Yes, according to the lawsuit. The case claims Dodge Ram drivers are often forced to "physically wrench the gas nozzle free," which can easily cause them to spill highly flammable fuel on their trucks, themselves, and the surrounding area.
The lawsuit also claims some Dodge Ram drivers have attempted to repair the alleged defect themselves, which can pose a risk of injury and cause damage to their trucks.
Want class action news like this sent to your inbox? Sign up for ClassAction.org's newsletter here.
Did FCA Know About the Alleged Filler Neck Defect?
Yes, since at least 2015, according to the lawsuit. The plaintiff notes that Dodge Ram drivers have complained online about their refueling struggles ever since the 2015 model was released.
To date, FCA has not issued a recall for the allegedly defective part nor "made any attempt" to resolve the issue, the case says. This is particularly frustrating, the lawsuit states, in that the problem can be easily remedied by replacing the steeply angled filler neck (part 68400788AA) with an alternative filler neck that is not as steeply angled (such as part 68448220AA). Nevertheless, FCA continues to close its eyes to the alleged problem and has failed to disclose the existence of the apparent defect to consumers.
"Defendant's refusal to acknowledge and disclose the Filler Neck Defect has prolonged the problem and confused Dodge Ram owners who may be unaware that their refueling difficulties are not unique to them," the complaint alleges.
The suit also claims proposed class members have paid an inflated price for their vehicles and have lost money as a result of the trucks' "diminished value."
Which Models Are Affected?
The lawsuit claims model year 2015 to 2019 Dodge Ram vehicles are equipped with the allegedly defective filler neck.
Who Is the Lawsuit Looking to Cover?
The lawsuit is looking to cover anyone in the United States who purchased a 2015–2019 Dodge Ram "during the applicable limitations period," with an additional proposed subclass of those who did so in California.
How Can I Join?
Typically, you don't need to do anything to join a class action lawsuit. If the case settles, class members should receive notice with instructions on how to file a claim. You can read more about this process here. The full complaint can be read below.
Hair Relaxer Lawsuits
Women who developed cancer, endometriosis or reproductive problems after using hair relaxers such as Dark & Lovely and Motions may now have an opportunity to take legal action.
Read more here: Hair Relaxer Cancer Lawsuits
Stay Current
Sign Up For
Our Newsletter
New cases and investigations, settlement deadlines, and news straight to your inbox.
A note on class action complaints:
Bear in mind that the information in this blog post summarizes the allegations put forth in the following legal complaint. At the time of this writing, nothing has been proven in court. Anyone can file a lawsuit, with or without the representation of an attorney, for any reason, and ClassAction.org takes no position on the merits of the suit. Class action complaints are a matter of public record, and our objective on this website is merely to share the information in these legal documents in an easily digestible way.
Last Updated on December 16, 2022 — 1:51 PM