Class Action Filed in Wake of 'Inadequate' Shimano Hollowtech Crankset Recall
A proposed class action filed last week contends that a September recall of roughly 680,000 "Hollowtech" 11-speed cranksets made by Japanese bicycle part manufacturer Shimano was "inadequate" and has put cyclists nationwide at risk of injury.
Want to stay in the loop on class actions that matter to you? Sign up for ClassAction.org's free weekly newsletter here.
According to the 72-page lawsuit, the cranksets at issue, which were distributed and sold by Shimano North America Bicycle and equipped on bikes sold by co-defendants Specialized Bicycle Components and Trek Bicycle Corporation, are defective and can break without warning, often when a cyclist is riding at high speed. The suit warns that if a crankset, the component to which a bicycle's pedals and chain are attached, breaks during use, a rider could easily lose control of the bike and crash.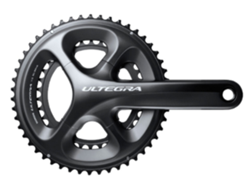 The case alleges that Shimano was aware "for years" that the bonded components of its cranksets, which are often equipped on high-end road bikes, can separate and break yet waited until September 21, 2023 to issue a recall.
Per the suit, the recall is ineffective in that, among other reasons, it allows only for the replacement of Shimano cranksets that have shown "signs of bonding separation or delamination" during an inspection, leaving riders whose cranksets have not begun to fail with no remedy—and potentially at risk of a crash if their crankset later breaks during use.
The filing accuses Shimano of "working hard to limit the cost of fixing the issue at the expense of consumers." According to the case, consumers who own bicycles with the recalled cranksets (listed below) have been injured financially in that they purchased bikes that "are of a lesser standard, grade, and quality than represented" and not as safe as they reasonably expected.
Plaintiffs and the other Class members were deprived of having a safe, defect-free crankset installed on their bicycles, and Defendants unjustly benefited from the sale of these products and from the unconscionable limitations on the recall remedy now offered."
Shimano Hollowtech crankset recall
On September 21, 2023, Shimano voluntarily recalled roughly 680,000 11-speed bonded Hollowtech II road cranksets produced before July 2019. According to the company, the cranksets "can separate and break, posing a crash hazard to consumers."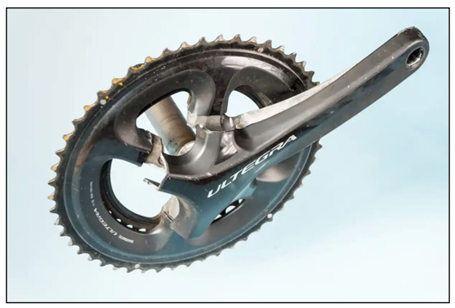 Per the recall notice, the affected cranksets include the Ultegra FC-6800, Ultegra FC-R8000, Dura-Ace FC-9000, Dura-Ace FC-R9100 and Dura-Ace FC-R9100-P models with the following two-letter production codes stamped on the backside of the crank arm where the pedals are attached: KF, KG, KH, KI, KJ, KK, KL, LA, LB, LC, LD, LE, LF, LG, LH, LI, LJ, LK, LL, MA, MB, MC, MD, ME, MF, MG, MH, MI, MJ, MK, ML, NA, NB, NC, ND, NE, NF, NG, NH, NI, NJ, NK, NL, OA, OB, OC, OD, OE, OF, OG, OH, OI, OJ, OK, OL, PA, PB, PC, PD, PE, PF, PG, PH, PI, PJ, PK, PL, QA, QB, QC, QD, QE, QF, QG, QH, QI, QJ, QK, QL, RA, RB, RC, RD, RE, and RF.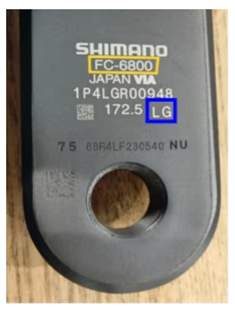 The company warned that consumers should immediately stop using the recalled cranksets and contact an authorized Shimano dealer for a free inspection.
The recall allegedly provides for free inspections at participating retailers, and if a crankset shows "signs of bonding separation or delamination during the inspection," Shimano will provide a free replacement.
According to the suit, Shimano has admitted that it is aware of at least 4,519 incidents of cranksets separating, some of which reportedly caused "significant personal injuries."
Hollowtech crankset recall is "a nightmare" for riders and bike shops, lawsuit says
The lawsuit claims Shimano's September recall came not only years too late—given that the company allegedly received reports of the parts breaking since as early as 2016—but is riddled with "a number of problems and shortcomings" for both cyclists and authorized repair shops.
First, the case says, hundreds of riders will be deprived of their bikes while they attempt to schedule an inspection with a bike shop "alongside hundreds of thousands of other impacted cyclists." Even after waiting for an inspection, cyclists may be without their bicycles for weeks before a replacement part is provided by Shimano and installed by the shop, the lawsuit relays.
Further, the case claims Shimano has left the inspections of its cranksets—"sophisticated pieces of performance engineering"—up to local bike mechanics who "should not be put in the position of making complicated engineering judgments related to a critical safety issue." The suit adds that these decisions are being made based only on a visual inspection, rather than stress testing.
Perhaps most egregiously, the lawsuit says, the recall stipulates that only consumers whose cranksets show signs of failure will be provided with a free replacement. This leaves riders whose cranksets have not failed yet, and those who already discarded the affected part or attempted to fix it themselves, entirely without remedy, the case asserts.
"[C]onsumers who own a Defective Crankset that has not already begun to fail are left in the frightening position of having to ride a dangerous bicycle for months or years, waiting on their cranksets to separate and potentially cause a crash before Shimano will give them a new one," the complaint scathes.
Finally, the lawsuit claims that even those who receive a replacement part are not made whole by the recall given that the 11-speed cranksets at issue are being replaced with 12-speed cranksets, which may not properly integrate with consumers' bikes or line up with their desired performance choices.
The suit points out that neither Specialized nor Trek has issued a recall for bicycles equipped with the allegedly defective cranksets.
Who's covered by the Shimano crankset recall lawsuit?
The lawsuit proposes to cover anyone in the United States who, prior to Shimano's recall, purchased a defective crankset or a bicycle equipped with a defective crankset and who still owns the crankset, sold it after the recall, or discarded the part after it failed or was recalled.
How do I join the lawsuit?
There's usually nothing you need to do to join a proposed class action lawsuit when it's first filed. The time to take action is typically if and when the lawsuit settles, at which point the people covered by the suit, called "class members," should receive notice of the settlement with instructions on what to do next and information on their legal rights.
To stay in the loop on class action lawsuit and settlement news, sign up for ClassAction.org's newsletter here.
Hair Relaxer Lawsuits
Women who developed cancer, endometriosis or reproductive problems after using hair relaxers such as Dark & Lovely and Motions may now have an opportunity to take legal action.
Read more here: Hair Relaxer Cancer Lawsuits
Stay Current
Sign Up For
Our Newsletter
New cases and investigations, settlement deadlines, and news straight to your inbox.
Last Updated on October 10, 2023 — 11:27 AM