Chemicals in Madison Reed Hair Coloring Products Cause Hair Loss, Scalp Irritation, Class Action Claims
Last Updated on March 2, 2023
A proposed class action alleges Madison Reed hair color products are far harsher than the company lets on and have been known to cause hair loss, breakage, shedding, scalp irritation and other damage to a user's hair.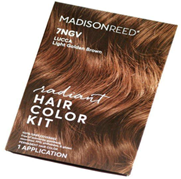 The sprawling 102-page lawsuit says that Madison Reed positions its "salon-quality" hair color products as less harsh on hair, namely because they do not contain ammonia; however, one of the chemicals found in the hair dyes, ethanolamine, is not only made from ammonia but has been scientifically shown to cause more damage to hair than the chemical it replaced.
Want to stay in the loop on class actions that matter to you? Sign up for ClassAction.org's free weekly newsletter here.
According to the case, ethanolamine is a known irritant made from ammonia and ethylene oxide, which is recognized by the U.S. Environmental Protection Agency as a carcinogen. As the suit tells it, Madison Reed intentionally fails to disclose to consumers that a number of the ingredients it uses to replace "harsher" chemicals like ammonia are themselves harmful.
…the Products' front label communicated to Plaintiff and members of the Class the false message that the Products were safer because they did not contain those ingredients, even though their replacements were just as bad, some even much worse since they were partly composed of known carcinogens…"

The complaint, filed in New York on February 7, alleges that Madison Reed is well aware of the danger its hair color products pose yet provides no warning to consumers and, in fact, continues to claim in its pervasive advertisements that the dyes are gentle, safe and healthy for hair. Rather than inform users that its "free of" ammonia hair dyes would need to include an ingredient that functions similarly to ammonia, Madison Reed instead offers a "barely intelligible" ingredients list rife with highly complex chemicals that a reasonable buyer "is not likely to know about," the case says.

"To date, Defendant has not recalled the Products, has not provided any warnings of the known risks, has not reformulated the Products, has denied that the Products cause the reported health issues, has not offered its customers any compensation for their damages and continues to tout via radio commercials, its website, mailers and elsewhere that the Products contain 'good' ingredients and are devoid of 'harsh ingredients,'" the lawsuit summarizes.
The plaintiff says that prior to the COVID-19 pandemic lockdown in New York, she would have her hair dyed at a professional salon. Around September 2020, the plaintiff began to consider dying her hair at home and, after doing some research, settled on using Madison Reed's products under the belief that they were healthier and safer, the suit says.
The woman claims that she "immediately started losing hair" after using Madison Reed products.
Replacement ingredients are just as harmful, lawsuit says
The suit describes Madison Reed as a company that touts itself as honest and focused on using ingredients that are less harsh on the health of a user and their hair than traditionally formulated dyes. The case says the introduction of Madison Reed products to the market was "refreshing and highly-welcome" given traditional permanent hair color products are known to contain irritating chemicals such as ammonia.
Madison Reed's primary marketing message, the lawsuit stresses, is that its hair coloring products are free from certain "harsh ingredients" typically found in hair dyes, namely chemicals like PPD, resorcinol, parabens, phthalates and SLS, among others. Ammonia, for instance, is "very toxic" and "potent enough" to clear a room, the suit says, and PPD is known to cause allergic reactions in some users, according to the case. Overall, Madison Reed's widespread advertising has been "very effective" at convincing consumers that its products are gentler and safer than competing hair dyes, the filing says.
Unfortunately for users, the case relays, the ingredient that Madison Reed replaced PPD with is the "virtually unknown" PTDS, which "still causes an allergic reaction in a whopping 1 out of every 2 individuals" allergic to the original chemical. Similarly, Madison Reed's replacement for ammonia is nevertheless an ammonia derivative known to damage hair, the suit says.
"Indeed, several studies that have been brought to Defendant's attention, have shown that ethanolamine is more harmful to hair and human health than ammonia," the case relays.
The complaint later alleges that Madison Reed's replacement of resorcinol, which in traditional products reacts with a hair color developer such as hydrogen peroxide to bond dye permanently to hair, with a chemical called 2-methylresorcinol is not as safe for users as the company represents. According to the suit, 2-methylresorcinol has been listed as a potential endocrine disruptor. Further, given the minimal amount of data about 2-methylresorcinol, which the case calls a "concern," Madison Reed's representation that its products are free from resorcinol serves only to "provide consumers with a false sense of hope that whatever has been used to replace it is less harmful," according to the case.
Case claims Madison Reed hears user complaints, does nothing
As the lawsuit tells it, Madison Reed is well aware that its representations of its hair dye do not match reality and has responded to a waterfall of complaints by refuting consumers' experiences and continuing to claim the products do not cause hair damage.
Rather than take responsibility for the alleged damage its products have caused, Madison Reed has blamed users' hair loss and scalp irritation on other risk factors, including pregnancy, and stressors such as weight loss, surgery, and hormonal birth control pills, according to the lawsuit. The company has even claimed that hair breakage experienced by users was due to the use of certain types of pillowcases, the suit says.
Madison Reed, seemingly "[u]ndeterred by medical science," has also attempted to convince consumers that its products do not cause hair loss because hair dye "cannot penetrate the scalp," the lawsuit claims, noting that dermal absorption is "universally recognized by the medical community and U.S. government agencies."
The sheer volume of consumer complaints about the hair color products, along with the company's response, make it clear that Madison Reed is "well-aware that it has a huge problem on its hands," the lawsuit says. Nevertheless, the defendant has seemingly chosen to stand pat and play defense rather than meaningfully address consumers' concerns and the alleged risks posed by its hair coloring products, the complaint asserts:
Remarkably, Defendant remains steadfast in its defense of its dangerous Products and messaging by continuing to shift any blame to consumers or to other extraneous factors, by misstating universally accepted principles of medical science, i.e. denying that dermal absorption can occur through the scalp, and by vigorously defending litigation commenced against it because of its misrepresentations of the Products, in an effort to clear its hair dyes of any wrongdoing so that it can continue to turn a profit."
Who does the Madison Reed lawsuit look to cover?
The case looks to represent all consumers who bought Madison Reed hair coloring products in New York during the fullest period allowed by law.
What if I don't live in New York?
At this time, the proposed class action detailed on this page looks to cover only New York residents who've bought Madison Reed products. If you live in another state and want to know more about your legal rights, you may want to reach out to a class action attorney in your area. (Google is a good place to start.) Many attorneys offer free consultations and would be able to give you more details on how to proceed.
I use Madison Reed products to color my hair. How do I get involved?
When a case is initially filed, there's usually nothing a person needs to do to join or make sure they're involved in the class action. It's only if and when a lawsuit settles that the people "covered" by the suit, known as "class members," need to act, which typically entails filing a claim form online or by mail.
Another thing to note is that class action lawsuits generally take some time to work through the legal process, usually toward a settlement, dismissal or arbitration outside of court. If you've bought or otherwise used Madison Reed hair color products, or simply want to stay in the loop, sign up for ClassAction.org's free weekly newsletter.
Hair Relaxer Lawsuits
Women who developed cancer, endometriosis or reproductive problems after using hair relaxers such as Dark & Lovely and Motions may now have an opportunity to take legal action.
Read more here: Hair Relaxer Cancer Lawsuits
Stay Current
Sign Up For
Our Newsletter
New cases and investigations, settlement deadlines, and news straight to your inbox.
Last Updated on March 2, 2023 — 2:56 PM