Certain Hershey's, Lily's Dark Chocolate Bars Contain 'Dangerous' Heavy Metals, Class Action Alleges
Rumor has it that dark chocolate is a healthier option when it comes to sweets, but according to a proposed class action filed last week, such a theory might be worth double-checking.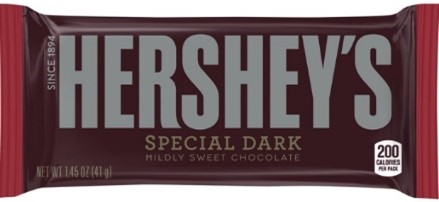 A 20-page lawsuit out of New York claims certain Hershey dark chocolate products contain lead and cadmium, "dangerous and harmful" chemicals that pose serious health risks when consumed, even in small dosages.
Want to stay in the loop on class actions that matter to you? Sign up for ClassAction.org's free weekly newsletter here.
According to the case, tests conducted by Consumer Reports detected heavy metals in 28 dark chocolate bars from various popular brands. Among these products, the suit says, were three manufactured by The Hershey Company: Hershey's Special Dark Mildly Sweet Chocolate, Lily's Extra Dark Chocolate 70% Cocoa and Lily's Extreme Dark Chocolate 85% Cocoa.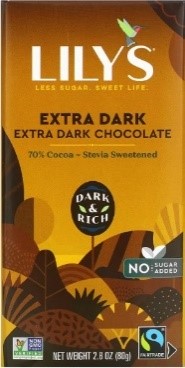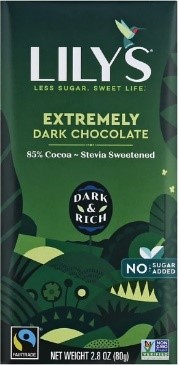 Consumer Reports' analysis, published in December 2022, found that the Hershey's and Lily's chocolates at issue contain levels of lead and cadmium that far exceed California's regulatory standard for chemicals causing reproductive toxicity, known as the Maximum Allowable Dose Level (MADL).
Based on California's MADL for lead (0.5 micrograms per day) and cadmium (4.1 micrograms per day), the investigators reported the following findings, the filing relays (emphasis ours):
…Hershey's Special Dark Mildly Sweet Chocolate product contained 265% of the MADL of lead; Lily's Extra Dark Chocolate 70% Cocoa product contained 144% of the MADL of lead; and Lily's Extreme Dark Chocolate 85% Cocoa product contained 143% of the MADL of lead and 101% of the MADL of cadmium."

Consumer Reports said that since there are no federal limits for the amount of lead and cadmium most foods can contain, the investigators used California's regulatory standards (Proposition 65), which the publication considers "the most protective available."

Heavy metal consumption poses serious health risks, case says
Regardless of regulatory standards, scientific authorities agree that there is no safe level of exposure to lead, the filing explains.
The World Health Organization (WHO) writes that when consumed by children, lead can result in severe neurological and behavioral effects, such as reduced IQ, reduced attention span and increased antisocial behavior. Pregnant women who are exposed to high levels of lead risk miscarriage, stillbirth, premature birth and low birth weight, WHO states.
For adults, lead poisoning can lead to a number of debilitating symptoms, like high blood pressure and joint and muscle pain, and can even be fatal, according to the Mayo Clinic.
Per the suit, cadmium is a cancer-causing agent used in products such as batteries, pigments, metal coatings, plastics and cigarettes. The case says that the consumption or inhalation of cadmium, even in small amounts, can lead to kidney disease and fragile bones over time.
Consumer Reports warns that heavy metals like lead and cadmium can be found in many other foods, and that "small amounts from multiple sources can add up to dangerous levels."
Hershey's advertising is "false, deceptive, and misleading," lawsuit says
Since most customers cannot conduct extensive and expensive tests before making a purchase, they must rely on packaging or labels to "truthfully and honestly" report a product's ingredients, the lawsuit argues. The plaintiff, a New York consumer, claims he read the Hershey chocolate bars' labels and reasonably assumed that the products he bought were safe for consumption and only contained the ingredients listed.
The suit charges, however, that Hershey's marketing campaign is "false, deceptive, and misleading" because it fails to warn consumers that the chocolate bars contain high levels of lead and cadmium.
Although most buyers have no way of knowing what the products contain beyond what is presented on the packaging, the company "knew and could not be unaware" of the harmful substances present in the chocolates based on quality control test results, the complaint asserts.
"Additionally, Defendant receives Certificates of Analysis, and other certifications, from the suppliers of the ingredients used to create the Products," the case reads. "These documents will also disclose the levels of chemicals, such as cadmium and lead, contained in each constituent ingredient."
The case claims Hershey intentionally misrepresented its products, knowing that consumers would have paid less for the chocolates, or would not have purchased them at all, had they been aware of the products' high levels of lead and cadmium. Indeed, the company has capitalized on consumers' demand for safe products and willingness to pay more for such foods, especially parents and caregivers who are "concerned with what they are feeding to the children in their care," the filing contends.
Who does the lawsuit aim to cover?
The lawsuit looks to represent anyone who purchased Hershey's Special Dark Mildly Sweet Chocolate, Lily's Extra Dark Chocolate 70% Cocoa or Lily's Extreme Dark Chocolate 85% Cocoa in the U.S. during the applicable statute of limitations period.
How do I join the lawsuit?
There's usually nothing you need to do to join or be included in a proposed class action lawsuit when it's first filed. If the case moves through the legal process and settles, those who have been affected, i.e., the "class members," may be notified directly and, at that point, will likely need to fill out and file a claim form online or by mail in order to get a share of the settlement.
If you've bought any of the chocolates mentioned on this page, or simply want to stay in the loop on class action lawsuit and settlement news, sign up for ClassAction.org's free weekly newsletter.
Hair Relaxer Lawsuits
Women who developed cancer, endometriosis or reproductive problems after using hair relaxers such as Dark & Lovely and Motions may now have an opportunity to take legal action.
Read more here: Hair Relaxer Cancer Lawsuits
Stay Current
Sign Up For
Our Newsletter
New cases and investigations, settlement deadlines, and news straight to your inbox.
Last Updated on January 3, 2023 — 4:54 PM