Camp Lejeune Water Contamination Litigation: Here's Where We Are Now
Last Updated on March 8, 2023
August 12, 2022 – PACT Act Signed into Law By President Joe Biden
On August 10, 2022, President Joe Biden signed the PACT Act into law. The new law expands benefits and services for veterans exposed to certain toxic substances and provides those who lived at Camp Lejeune between 1953 and 1987 the opportunity to take legal action.
Learn more about the new opportunity being afforded to former Camp Lejeune residents right here.
June 20, 2022 – Historic Bill Could Provide New Chance at Justice
On June 16, 2022, the Senate passed a bill that gives Camp Lejeune residents a rare and unprecedented opportunity to hold the government accountable for the harm they've suffered as a result of toxic water exposure.
If you or a family member was stationed, worked or resided at Camp Lejeune between August 1, 1953 and December 31, 1987 and developed health problems, this means you could soon have the opportunity to seek money from the government for medical bills, pain and suffering and other damages.
For more information on the bill, what it means for you, how to find a lawyer and more, check out our Camp Lejeune Water Contamination Guide.
Every so often ClassAction.org receives questions from readers asking about the legal rights of veterans and their families who may have been exposed to tainted groundwater at the Camp Lejeune Marine Corps base. To address our readers' questions, we thought it would be helpful to refresh everyone's memory on what happened at Camp Lejeune, the resulting litigation and Congressional action, and where we're at today more than a decade after the first lawsuits were filed.
Please refresh my memory. What is Camp Lejeune?
Established in 1941, United States Marine Corps Base Camp Lejeune is a 246-square-mile, 156,000-acre military training facility in Jacksonville, North Carolina. The official United States Marine Corps website says the base was named after Major General John A. Lejeune, the 13th Commandant and Commanding General of the 2nd Army Division in World War I. The base serves as a training ground for amphibious combat, as it is enclosed by 11 miles of beaches.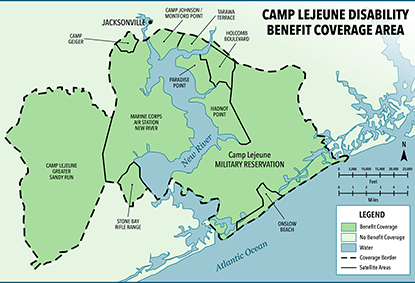 The base is still open today.
What happened at Camp Lejeune?
It was discovered in 1982 that the groundwater provided by two of Camp Lejeune's eight on-base water treatment plants was contaminated by cancer-causing chemicals, including industrial solvents, benzene (a highly flammable constituent of crude oil), and other toxins. The VA's website more specifically notes volatile organic compounds trichloroethylene (a metal degreaser), perchloroethylene (a dry cleaning agent) and vinyl chloride were among the chemicals discovered in several groundwater wells at the base. The wells were ultimately shut down in February 1985.
According to the Agency for Toxic Substances and Disease Registry (ATSDR), the contamination at Camp Lejeune's Tarawa Terrace water treatment plant stemmed from the waste disposal practices of off-base dry cleaning company ABC One-Hour Cleaners. Hadnot Point, the second water treatment plant, was contaminated by multiple sources, the ATSDR said, including leaking underground storage tanks, industrial waste spills, and waste disposal sites around Camp Lejeune.
Investigations conducted through the years by veterans' groups hinted that Marine Corps leaders were sluggish in responding to evidence uncovered in the early 1980s that the groundwater at Camp Lejeune was contaminated.
2011 Documentary "Semper Fi: Always Faithful" and Multi-District Litigation Consolidation
In the timeline of Camp Lejeune, 2011 is an important year.
Litigation
For one, 10 separate lawsuits were consolidated into multi-district litigation in U.S. District Court in the Northern District of Georgia. Unfortunately, U.S. District Judge Thomas W. Thrash in 2016 dismissed these cases—the number of which ultimately grew to 17—rejecting the plaintiffs' motion to move the lawsuits to the Fourth Circuit court on the basis that North Carolina's 10-year statute of repose did not include exceptions for latent diseases caused by drinking Camp Lejeune's water. It should be noted that in denying the plaintiff's request to move the MDL, Judge Thrash effectively agreed with a previous decision from the Eleventh Circuit court rejecting the plaintiffs' statue of repose argument.
"Semper Fi: Always Faithful"
The year also saw the release of "Semper Fi: Always Faithful," a critically heralded documentary on Camp Lejeune's water contamination that ultimately went on to make the short list for consideration for 2012's Academy Award for best documentary feature.
The below trailer—as well as this 2011 ABC News piece on the film—serves as a primer for just how impactful this film would become.
The film follows the story of 25-year veteran Marine Corps Master Sergeant who, along with his deceased child, would go on to play a vital role in not only uncovering the environmental catastrophe and ensuing cover-up at Camp Lejeune, but the government's eventual steps toward (finally) helping veterans and their families.
Camp Lejeune Families Act of 2012
Reportedly motivated by the case of retired Marine Corps Master Sgt. Jerry Ensminger, whose daughter was born while he was stationed at Camp Lejeune in 1976 and died from leukemia at nine years old, President Barack Obama, with Congress' blessing, signed the "Honoring America's Veterans and Caring for Camp Lejeune Families Act of 2012," also known as the Janey Ensminger Act, on August 6, 2012. The catch, many veterans felt, was that the new bill did not automatically provide vital disability aid or survivor benefits, two omissions that prompted litigation from veterans' groups who derided the initiative for effectively leaving out whole swaths of affected citizens.
Where are we today?
The Department of Veterans Affairs (VA) released on January 13, 2017 its finalized rule allowing possibly thousands of former veterans, reservists and National Guard members (or their surviving spouses) exposed to tainted water at Camp Lejeune access to more than $2 billion in government disability benefits. These benefits may supplement VA healthcare already being provided to eligible individuals.
The VA's rule, which one writer noted was published with "no fanfare or announcement from the VA," went into effect in March and will be covered by taxpayers over the next five years. Individuals who served at Camp Lejeune or Marine Corp Air Station New River (including satellite sites and housing areas) for at least 30 cumulative days between August 1, 1953 and December 31, 1987 in any of the capacities previously mentioned may be able to claim benefits.
News reports indicate as many as 900,000 (and possibly one million, some estimate) service members were possibly exposed to Camp Lejeune's tainted groundwater.
What diseases are covered by the VA's rule?
To be considered eligible for VA benefits for ailments tied to the tainted groundwater at Camp Lejeune, an individual must have been diagnosed with any of the following "presumptive diseases":
Adult leukemia

Aplastic anemia and other myelodysplastic syndromes

Bladder cancer

Kidney cancer

Liver cancer

Multiple myeloma

Non-Hodgkin's lymphoma

Parkinson's disease
The VA notes that at present the above conditions are the only ones for which sufficient scientific and medical evidence exists in connection with Camp Lejeune's contaminated groundwater. The VA encourages those who have experienced other health conditions they think may be related to time spent at Camp Lejeune to contact their primary healthcare provider and file a claim.
How do I apply for Camp Lejeune disability benefits?
According to this helpful factsheet published by the VA in July 2015, those who are already enrolled in VA healthcare plans should contact their local VA facility, a state-by-state directory for which can be found here, to submit information regarding their service and condition(s).
Those not enrolled in VA healthcare can apply online here.
Where can I get more information?
We've compiled the below list of useful links and resources for individuals who may have been affected by the tainted groundwater at Camp Lejeune, or simply want to learn more.
Register to get alerts from the Marine Corps regarding Camp Lejeune's drinking water here.
The Agency for Toxic Substances and Disease Registry's timeline of public health activities at Camp Lejeune can be found here. More detailed (albeit unofficial) timelines of events are available courtesy of The Few, The Proud, The Forgotten here and via VetsHQ.com here.
General information on the water contamination can be found via the U.S. Department of Veterans Affairs here.
Camp Lejeune
Camp Lejeune residents now have the opportunity to claim compensation for harm suffered from contaminated water.
Read more here: Camp Lejeune Lawsuit Claims
Stay Current
Sign Up For
Our Newsletter
New cases and investigations, settlement deadlines, and news straight to your inbox.
Last Updated on March 8, 2023 — 8:53 AM