'Anything But Free': Sweeping Class Action Alleges Dozens Involved in La Pura 'Free Trial' Scam Ring
A proposed class action aims to blow the lid off what the suit describes as a multi-layered "free trial" scam ring involving dozens of companies and individuals whose "only goal" is to fraudulently obtain consumers' financial information.
Filed in the U.S. District Court for the Southern District of California, the sweeping 159-page complaint claims online shoppers are being enticed into signing up for purportedly free trials with fake celebrity and magazine endorsements that claim a famous person has either backed or created a new cosmetic product line.
Though scammers claim consumers can try a new product for the cost of shipping and handling only, this offer is merely a trap aimed at locking the individual into an unrelenting, costly billing cycle for which they never bargained and have little recourse, the lawsuit alleges.
"And once they have [the victim's credit card or bank account information], they begin billing their victims for subscriptions they never signed up for, never agreed to, and about which they were never properly informed," the complaint says.
A tale of two websites
In recent years, the internet has become awash with scams targeting consumers with "free trials" that, in fact, come with costly, nearly inescapable monthly charges, the lawsuit begins. To effectuate the pervasive scheme, scammers utilize fake news articles, fake celebrity endorsements and at least two websites—one seen by consumers, the other seen by banks—among a tool chest of unsavory tactics to mask their true aim in purporting to offer free trials, the complaint says.
According to the case, scammers present one face to consumers via a well-hidden "landing page" website, potentially hidden from search engines, purporting to offer free trials. This site either displays no disclosure of any subscription or includes such language "buried in a terms of service on a separate page," the lawsuit says.
At the same time, banks tasked with investigating complaints into the alleged scammers are shown "a completely different face" – that is, a "false front" website that is never seen by consumers and appears to "fully comply with the law and fully disclose" the terms of any subscriptions, the suit claims.
In all, the alleged scammers' two-faced approach in dealing with consumers in search of a deal and banks and credit card companies on the hunt for wrongdoing ultimately leaves the former with no tools to fight once they've discovered the fraud, the complaint says.
"Consequently, consumers are left with no recourse because the scammers have defrauded their banks into believing they consented to be billed, when in fact they did not," the plaintiff claims.
Layers to the onion
According to the lawsuit, fake "free trial" scammers operate in "rings" structured to protect those involved from liability as they pretend to be legitimate businesses who have no knowledge of the others' actions. In truth, however, every member of the scam "knows full well what they are doing," the suit scathes.
One ring includes product marketers/branders, such as the La Pura defendants, who create both "free trial" landing pages to lure unwitting consumers into buying the products and "false front" websites to throw banks off the scent of any wrongdoing, the case says.
Next, fulfillment companies, such as the QuickBox defendants, handle procurement of turnkey "white label" products for marketers/branders while assisting with affiliate marketing and advertising, nationwide distribution, and returns "when customers complain," the lawsuit alleges.
For the third prong, customer relationship management (CRM) software developers, such as the Konnektive Defendants, provide specialized software used by scammers to create "free trial" landing pages and "false front" websites, the complaint continues. Per the lawsuit, CRM software companies enable scammers to use multiple merchant accounts and chargeback/re-billing screening to sidestep fraud detection by banks and credit card companies.
From there, scammers rely on networks of affiliates paid to advertise fraudulent celebrity and magazine product endorsements, while "crooked processors," the last ring of the scheme, assist scammers in avoiding detection by bank and credit card companies, the lawsuit alleges.
In all, the lawsuit paints a picture of a well-oiled machine geared toward scamming consumers. According to the suit, marketers/branders "intentionally seek out" affiliates and affiliate networks to "do their dirty work" under the guise of independent contractor agreements, operating a myriad of websites to obfuscate fraud detection from banks and credit card companies.
At the same time, fulfillment companies take the brunt of consumer complaints over unauthorized billing for products never purchased while CRM developers and processors "openly pitch themselves" as being able to help their clients avoid any adverse financial action from consumers.
"These scams are not just deceptive—they are criminal," the suit charges.
Lawsuit: Better Business Bureau hit the nail on the head
Highlighted in the sprawling complaint is a December 2018 Better Business Bureau study titled "Subscription Traps and Deceptive Free Trials Scam Millions with Misleading Ads and Fake Celebrity Endorsements." The suit relays that the study, written by BBB International Investigations Specialist C. Steven Baker, is a "virtually verbatim" description of the alleged scheme the lawsuit says the following defendants are behind:
The "La Pura Defendants":
Total Health Supply TUA Inc.; DL Group Inc.; Beautiful Skin and Health SL, Inc.; Beauty and Balance LV, Inc.; Coastal Beauty Care KV, Inc.; Coastal Health & Body TML, Inc.; Coastal Skin Care DC, Inc.; Complete Beautiful Skin DT, Inc.; Complete Dietary Health DT Inc.; Diet and Beauty Enterprise JB, Inc.; Diet Focus MG, Inc.; Dietary 8 Leaves TL, Inc.; Dietary Care Group MK, Inc.; Dietary Health DL, Inc.; Dietary Health Management SL, Inc.; Dietary Health Supplements ADN, Inc.; Dietary Mind & Body AR, Inc.; Dietary Pills TTH, Inc.; Dietary Supplements 8 Leaves TL, Inc.; Dietary Supplements NS, Inc; EM Strength & Wellness Products, Inc.; EW Ideal Health Store, Inc.; EW Radiant Skin Store, Inc.; Fit and Slim Body OLO, Inc.; Fit Body Forever KZ, Inc.; Fit Lifestyle Enterprise JD, Inc.; Fitness & Health Supplements PKL, Inc.; Flawless Beauty Forever MC, Inc.; Forever Beautiful Products KZ, Inc.; Forever Beauty and Balance JL, Inc.; Health & Body Care TN, Inc.; Health & Skin Nutrition JLN, Inc.; Health & Wellness Products EM, Inc.; Health and Diet Products ISA, Inc.; Health and Fitness Lifestyle JL, Inc.; Health Enterprise AR, Inc.; Health Enterprise LT, Inc.; Health Skin and Beauty Maya, Inc.; Health Skin and Body JB, Inc.; Healthy and Slim TT, Inc.; Healthy Beautiful Skin JD, Inc.; Healthy Body & Balance CD, Inc.; Healthy Fit Lifestyle DC, Inc.; Healthy Leaves TL, Inc.; Healthy Lifestyle Diet JL, Inc.; Healthy Skin Group TQH, Inc.; Healthy Skin Lifestyle JB, Inc.; Healthy Supplements Maya, Inc.; Ideal Skin & Health Care NA, Inc.; Lasting Fitness & Beauty JLN, Inc.; PKL Everlasting Beauty, Inc.; Radiant Skin & Body Shop ATN, Inc.; Remarkable Beauty TN, Inc.; Remarkable Health Supply PO, Inc.; Select Skin Products MV, Inc.; Skin and Beauty NS, Inc.; Skin Beauty & Health JN, Inc.; Skin Beauty and Balance CD, Inc.; Skin Beauty Enterprise MG, Inc.; Skin Beauty Products ISA, Inc.; Skin Care Enterprise TTH, Inc.; Skin Care Group MK, Inc.; Skin Products Rubio, Inc.; Strength & Fitness Lifestyle LT, Inc.; Total Fitness & Health MC, Inc.; Vibrant Face & Beauty Shop ATN, Inc.; and John Does 1-10.
The "QuickBox Defendants," doing business as QuickBox Fulfillment:
Quick Box LLC, Quick Holdings LLC, Stephen Adele, Chad Biggins, and James Martell.
The "Konnektive Defendants":
Konnektive LLC, Konnektive Corporation, Martorano Holdings LLC, Konnektive Rewards LLC, Matthew Martorano, and Kathryn Martorano.
From the lawsuit:
Believing that they can pretend that their affiliates are independent contractors, or that they can pretend to see no evil and hear no evil and thus escape legal liability, the conspirators work together as a group to profit from the fraud. But they are quite wrong to believe that they are safe—every member of these conspiracies knows full well what they are doing, and every member is jointly and severally liable for the conduct of the others."
Per the case, the plaintiff, a San Diego resident, signed up in early January 2020 for a "free trial" of one La Pura skin product, expecting she would be billed only $4.94 for shipping costs. The lawsuit claims the woman's credit card was later hit with charges on consecutive days totaling $172.83 without the woman's knowledge or authorization.

Though the plaintiff received a partial refund from La Pura after complaining to customer service, she was ultimately unable to recover all money taken from her via the supposed "free trial," the suit alleges.
Plaintiff claims La Pura ensnares consumers with "sales funnel"
According to the lawsuit, proposed class members come to be hooked into the apparent La Pura scam by way of a sales funnel "typical of the free trial scams about which the Federal Trade Commission and Better Business Bureau" have repeatedly warned consumers.
The lawsuit says the first step in the La Pura sales funnel is a consumer's initial encounter with an advertisement for a product through a third party, such as Facebook or Snapchat or a text message purportedly from Amazon, which leads the individual to the product's landing page to complete their order. As many of these landing pages are hidden from search engines, they're inaccessible to anyone who has not viewed the initial advertisement, the suit relays.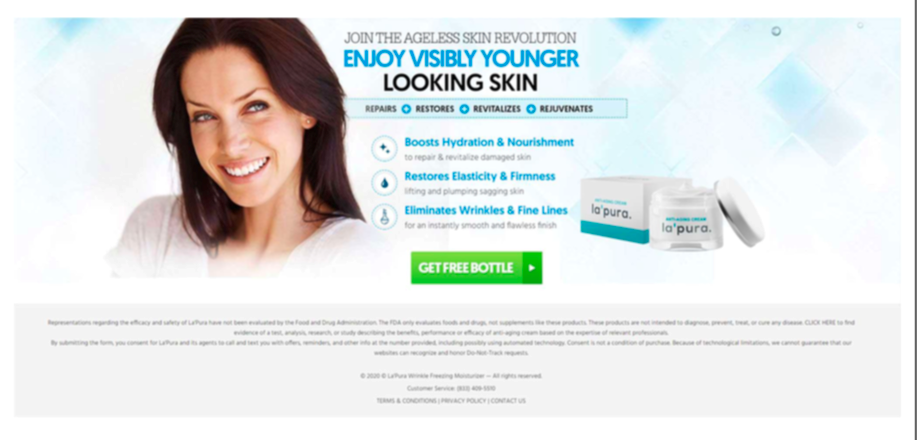 Another common tactic within the sales funnel is for a scammer to use an "affiliate page" the lawsuit describes as "designed to mimic the format of a legitimate news article." An affiliate page may display logos or a banner across the top claiming the La Pura product for sale has been featured in a variety of well-known publications, urging consumers to complete their transaction.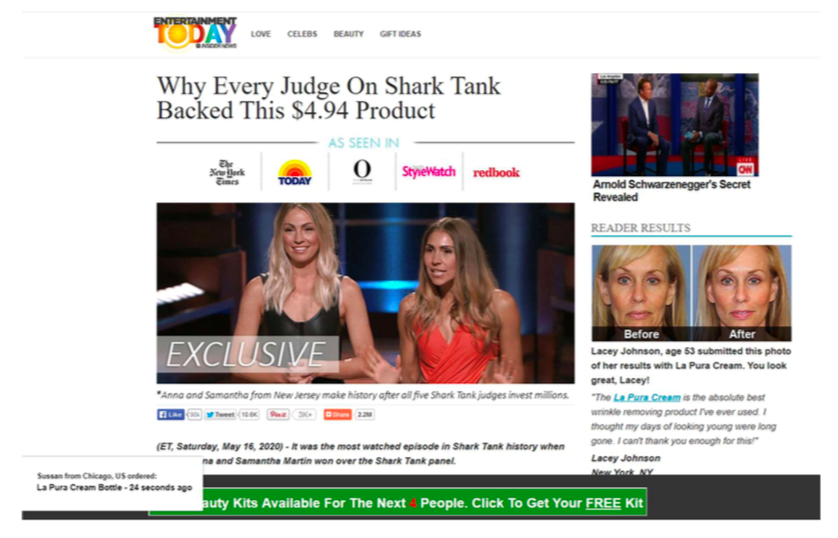 According to the case, affiliate pages, in addition to touting bogus media endorsements, will make use of celebrity names and likenesses and fake reviews to further bolster a product.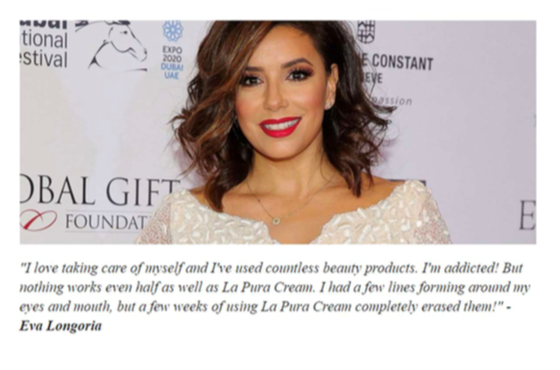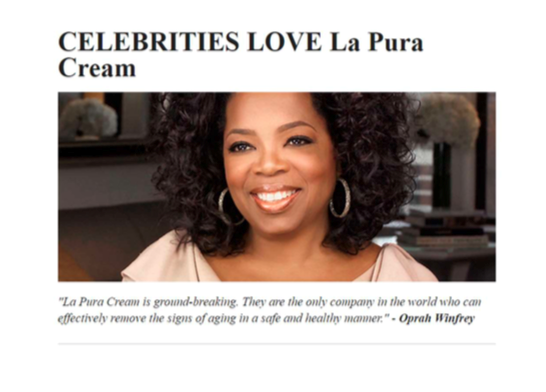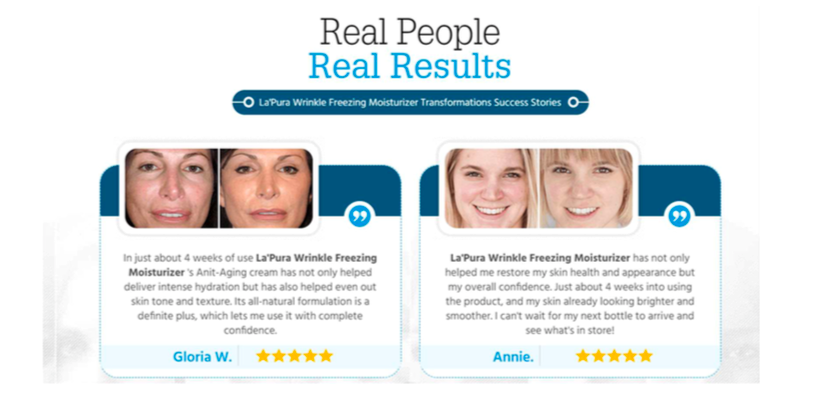 Ultimately, those who sign up for a La Pura trial through a landing page are "subjected to a number of false or misleading representations," the case claims, alleging the "most reprehensible" of which being the non-disclosure that the individual will be signed up for a subscription costing $93.42 per month.
More from the complaint:
A few weeks later, victims who were told that they would pay only a small shipping fee for the La Pura product are understandably shocked to see their credit card billed for an additional $88.46 to which they did not agree. If they do not immediately call to cancel, they find themselves being billed endlessly, each and every month. This is nothing more than credit card fraud—lying to customers about what they will pay, taking their credit card information, and billing them for something they never agreed to. But this is just the beginning of the Defendants' misrepresentations."

The lawsuit alleges violations of the Racketeer Influenced and Corrupt Organizations Act (RICO) and California's Consumer Legal Remedies Act; False Advertising Law; Automatic Renewal Law; Sherman Food, Drug, & Cosmetic Law; and Unfair Competition Law.

Further, the suit presents allegations of bank, wire and mail fraud and violations of FTC regulations regarding the use of endorsements and testimonials in advertising; the federal Food, Drug, and Cosmetic Act; and the Electronic Fund Transfer Act, in addition to civil conspiracy and aiding and abetting claims.
Who's covered by this lawsuit?
The lawsuit looks to represent a class of consumers in the United States who, within the applicable statute of limitations period and until the date notice is sent out, were billed for La Pura products.
The plaintiff additionally seeks certification of a California-only class of consumers who fit the same criteria.
The complaint can be found below.
Get class action lawsuit news sent to your inbox – sign up for ClassAction.org's newsletter here.
Camp Lejeune
Camp Lejeune residents now have the opportunity to claim compensation for harm suffered from contaminated water.
Read more here: Camp Lejeune Lawsuit Claims
Stay Current
Sign Up For
Our Newsletter
New cases and investigations, settlement deadlines, and news straight to your inbox.
Last Updated on June 16, 2020 — 4:03 PM