Zeeto Hit with Class Action Over Alleged Text Message Ads
A lawsuit claims Zeeto sent telemarketing texts to consumers who never consented to be contacted or whose numbers were on the National Do Not Call Registry.
A proposed class action claims Zeeto, LLC has sent unlawful telemarketing text messages to consumers who never consented to be contacted or whose numbers were listed on the National Do Not Call Registry.
Per the lawsuit, the defendant, who offers digital marketing, permission-based marketing and online advertising services, has overstepped the Telephone Consumer Protection Act (TCPA), a federal law that the suit says was enacted "to protect consumers from unsolicited telephone text messages like those alleged in this case."
The suit argues that although automated telemarketing texts may be sent when the recipient has consented to receive them, the defendant has unlawfully used an automatic telephone dialing system to send messages without first obtaining consumers' prior express consent and in violation of the TCPA.
Zeeto, according to the case, makes sales through online advertisements, text messages and its websites, zeeto.io and getitfree.us, where consumers submit their personal billing information, addresses and telephone numbers. Per the suit, Zeeto uses hardware and software capable of storing or producing numbers through a random or sequential number generator to dial phone numbers en masse "in an automated fashion and without human intervention." The case alleges that the use of this type of equipment is unlawful unless the caller has obtained recipients' prior express consent to be contacted.
The plaintiff, a Statesboro, Georgia resident, claims to have received "from a number he did not recognize" in June 2020 text messages that contained a link to getitfree.us. Per the suit, examples of the defendant's texts have been captured below: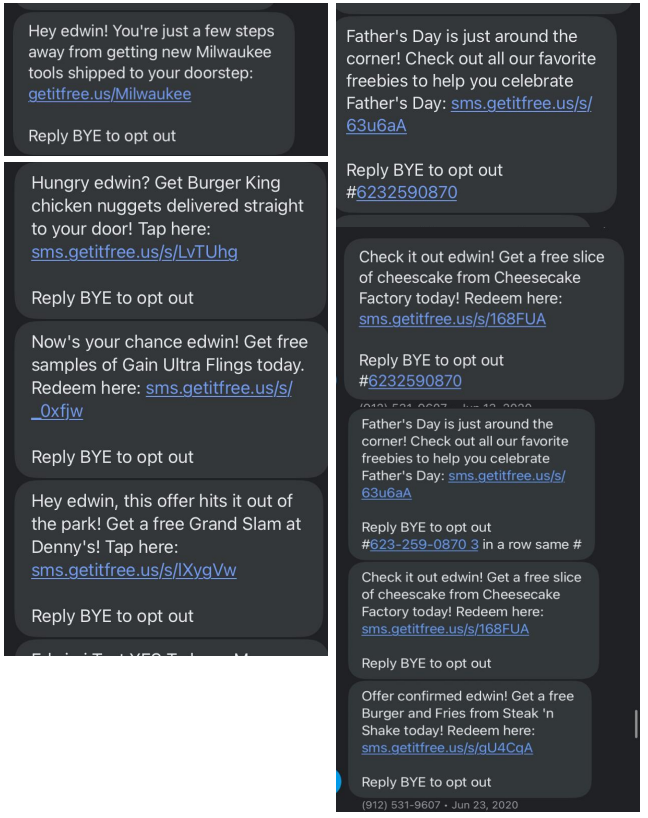 The lawsuit alleges the texts were sent using an automatic telephone dialing system at the defendant's direction even though the plaintiff had never provided express consent to receive them.
According to the suit, Zeeto has caused the plaintiff and other consumers "actual harm," including "aggravation, nuisance, and invasions of privacy that result from the placement of such text messages, in addition to the wear and tear on their phones, interference with the use of their phones, consumption of battery life, loss of value realized for monies consumers paid to their carriers for the receipt of such messages, and the diminished use, enjoyment, value, and utility of their telephone plans."
Get class action lawsuit news sent to your inbox – sign up for ClassAction.org's newsletter here.
Last Updated on September 21, 2021 — 5:09 PM