TurboTax Intentionally Diverted Qualified Military Personnel from Free Tax-Filing Program, Class Action Alleges
Last Updated on May 21, 2019
A class action claims that despite advertising its free tax-filing service specifically for military personnel, TurboTax maker Intuit steered qualified military members away from the service.
Potential class action litigation continues to roll in against Intuit over allegations that the TurboTax maker intentionally steered qualified taxpayers away from its feature that allows tax returns to be filed with the IRS for free.
Whereas previous cases against TurboTax are centered on average qualified taxpayers, the latest case, out of California's Northern District, charges that the company intentionally diverted qualified military personnel away from its free filing program in favor of paid product offerings. Intuit accomplished this, according to the lawsuit, through a number of deceptive practices, ranging from manipulating the language used in its online advertising—i.e. with excessive use of the word "free" in web links that direct taxpayers to decidedly non-free TurboTax services—to coding certain parts of its website so they would not show up in search engine results.
While the bulk of the allegations in the suit closely echo those detailed in other cases filed this month against Intuit—namely that it deliberately hid its free tax-filing feature for those whose adjusted gross income is $66,000 or less per year—a sticking point is that the company specifically advertised free tax filing for qualified military members as recently as January 2019: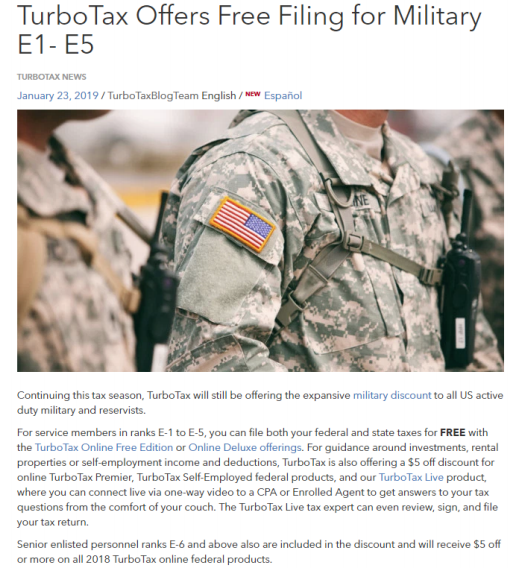 While TurboTax's military-specific advertising directs military personnel to its paid products, such as Intuit's Online Free Edition, Online Deluxe Offerings and TurboTax Live, the lawsuit says, none of it leads to TurboTax's Freedom Edition, the actual service that allows free filing with the IRS. Moreover, TurboTax's military personnel marketing allegedly fails to even mention that all active military personnel with an adjusted gross income of $66,000 or less are eligible to file with the IRS for free.
Intuit's overall conduct with regard to obscuring the path to its free-file feature, the complaint says, is the reason as to why "only a tiny fraction of eligible taxpayers" have filed their taxes with the IRS for no cost. According to the 26-page suit, TurboTax violated its agreement with the government by going to "great lengths to protect the viability of its business" by removing the threat to its bottom line created by allowing consumers to file their taxes for free.
The lawsuit looks to cover a proposed class of all qualified active military members who satisfied TurboTax's eligibility requirements but were nevertheless charged money by the company to file their tax returns.
Last Updated on May 21, 2019 — 3:05 PM