Totino's Pizza Rolls Are Misrepresented Since Product Uses Imitation Cheese, Class Action Argues
A class action alleges the packaging of Totino's Pizza Rolls, and even the name of the snack itself, is misleading to consumers.
A proposed class action alleges the packaging of Totino's Pizza Rolls, and even the name of the snack itself, is misleading to consumers given the cheese used in the product is "almost entirely imitation cheese."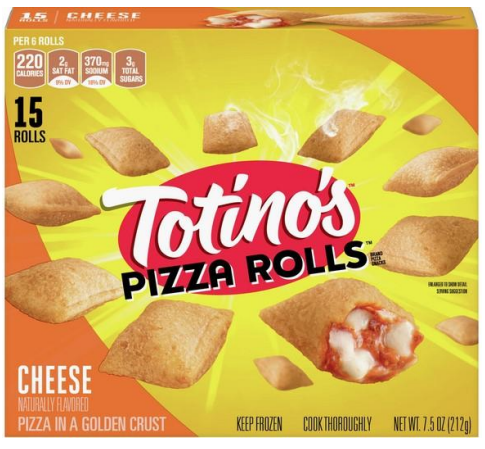 The 16-page suit contends that the manner in which the snack is represented leads consumers to believe that the pizza rolls contain "a non-de minimis amount" of ingredients associated with pizza, in particular cheese. According to the case, the pizza-centric representations of the Totino's snack, including the name of the item, are misleading since its characterizing cheese ingredient is imitation mozzarella, as revealed in the product's ingredients list.
"The small relative and absolute amount of cheese and its replacement with imitation cheese is misleading in light of the Product's name and cheese representations," the lawsuit argues.
The case states that the imitation mozzarella cheese in Totino's pizza rolls is made from "highly processed" ingredients not typically found in cheese made from dairy, including vegetable oils, corn starch and casein. Ultimately, consumers who buy Totino's pizza rolls receive a "nutritionally inferior food," the suit says.
According to the suit, federal and identical state regulations require the product's packaging to disclose the percentage of the characterizing cheese ingredient present in the food. The complaint says that although defendant General Mills Sales, Inc. attempts to disclaim the presence of cheese by including the statement "Naturally Flavored" on product packaging, this is insufficient to overcome what the case calls the product's "misleading common or usual name."
"The representations are misleading because the Product's common or usual name, 'Pizza In A Golden Crust,' does not include the percentage of the characterizing cheese ingredient," the case summarizes, adding that regulations prohibit the use of "natural flavor" to simulate the flavor of cheese.
The lawsuit goes on to argue that reasonable consumers must and do rely on companies to honestly and lawfully market and describe the components and attributes of a product relative to itself and other comparable items or alternatives. Given the prominence of imitation cheese, the value of Totino's pizza rolls is "less than its value as represented by Defendant," the case claims.
The lawsuit looks to cover consumers in Illinois, Arkansas, Iowa, Utah, Idaho, Alaska and Montana who bought Totino's pizza rolls within the relevant statute of limitations period.
Get class action lawsuit news sent to your inbox – sign up for ClassAction.org's free weekly newsletter here.
Camp Lejeune
Camp Lejeune residents may soon have the opportunity to claim compensation for harm suffered from contaminated water.
Read more here: Camp Lejeune Lawsuit Claims
Stay Current
Sign Up For
Our Newsletter
New cases and investigations, settlement deadlines, and news straight to your inbox.
Last Updated on March 24, 2022 — 4:09 PM