Terminix Hit with Class Action Over Alleged Spam Text Messages
Carranza v. The Terminix International Company Limited Partnership
Filed: September 15, 2020 ◆§ 3:20-cv-01819
A California man claims Terminix sent automated text messages to his cell phone despite having never obtained prior express written consent to do so.
A California man claims in a proposed class action that Terminix sent automated text messages to his cell phone despite having never obtained prior express written consent to do so.
The 18-page suit out of California, filed against The Terminix International Company Limited Partnership, claims the plaintiff is not a customer of the defendant and has never done business with the pest control company.
The plaintiff says he nevertheless received on February 8, 2019 an automated text message from Terminix regarding its services. The text, sent from 626-705-8944, was followed by an additional text a few days later, and two more in April 2019, according to the suit.
Per the complaint, several of the messages were sent in a similar format and "appeared to be automated," stating, "Good morning it's mike from Terminix, I wanted you to know that I will be at your house [day of the week and time frame]."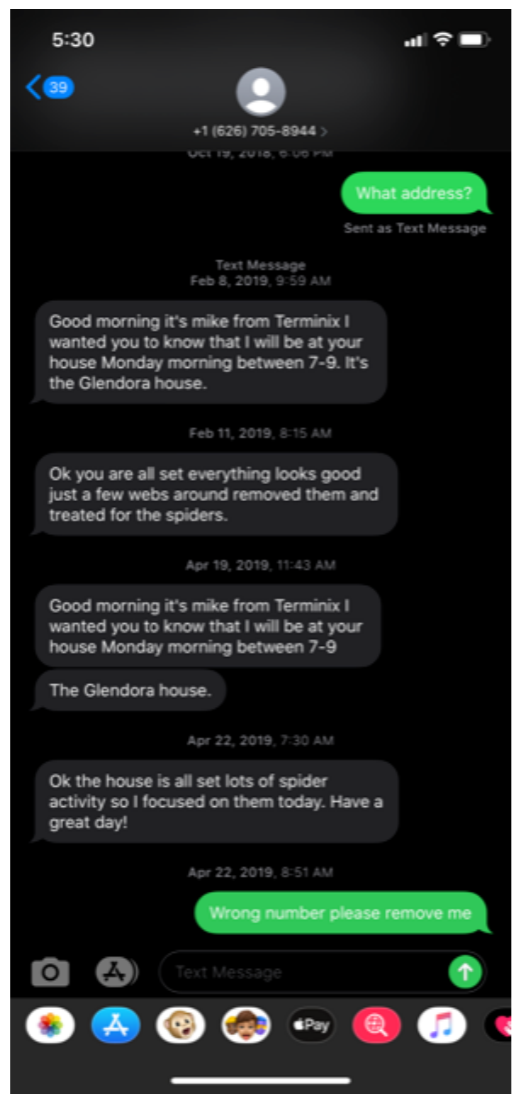 According to the suit, the plaintiff, "[f]eeling frustrated with the messages" and after receiving an email from the company, contacted Terminix in June 2019 to inquire as to how his information was obtained. After almost two hours on the phone, the plaintiff received no information about how Terminix obtained his email address and phone number, and was told he would "not be contacted in the future," the case says.
The plaintiff claims he also submitted an online form on the defendant's website to request that Terminix cease emailing and texting him.
Nevertheless, Terminix allegedly sent the plaintiff the following text message on August 7, 2020 from short code 710-96: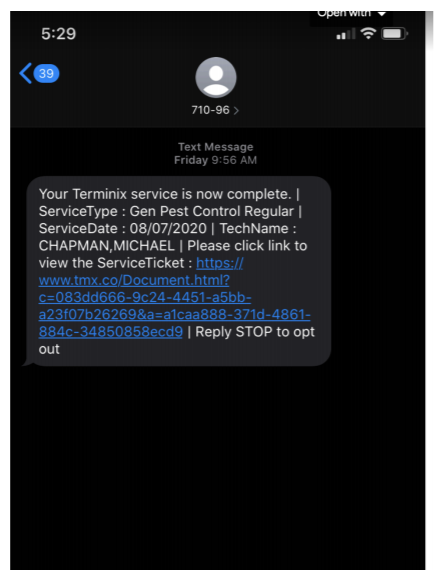 The plaintiff claims he never sought service from Terminix or consented to receive automated text messages from the company. Per the case, the language in the messages was "inputted into pre-written text template without any actual human intervention." According to the suit, the "same exact messages" were sent to thousands of other customers.
According to the lawsuit, the nature and character of the texts indicate they were sent using automatic telephone dialing technology—the use of which for non-emergency purposes is prohibited under the Telephone Consumer Protection Act unless the caller obtains the recipient's express written consent.
"Defendant did not have Plaintiff's prior express consent to place automated text messages to Plaintiff on his cellular telephone," the complaint states, claiming the texts drained the man's phone battery and caused "additional electricity expenses," as well as wear and tear on his phone.
The lawsuit looks to cover anyone in the U.S. who, within the past four years through the date of class certification, received a text message from the defendant on their cell phone that was sent using an automatic telephone dialing system.
Get class action lawsuit news sent to your inbox – sign up for ClassAction.org's newsletter here.
Last Updated on September 16, 2020 — 4:09 PM