Steaz Organic Iced Green Tea 'Misleadingly' Labeled as 'Lightly Sweetened,' Class Action Alleges
Last Updated on October 7, 2020
Pierre et al. v. the Healthy Beverage Company, LLC
Filed: October 6, 2020 ◆§ 2:20-cv-04934
A class action claims Steaz Organic Iced Green Tea beverages are misleadingly labeled as "lightly sweetened" given they contain 20 grams of added sugar.
The Healthy Beverage Company has falsely and misleadingly advertised and marketed its Steaz Organic Iced Green Tea as "lightly sweetened," a proposed class action alleges.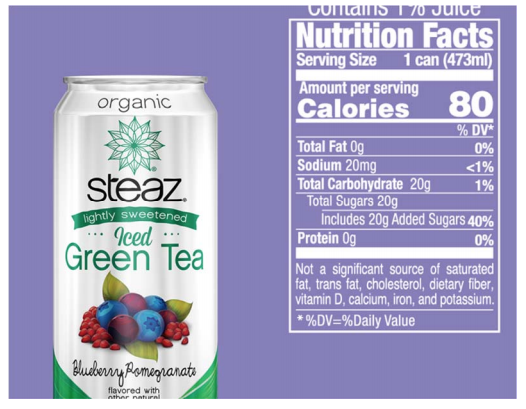 The 21-page complaint claims the company's "lightly sweetened" representation on product labels leads consumers to mistakenly believe the green tea, which contains 20 grams of added sugar, is low in sugar.
"Contrary to this representation, Defendant's Product is anything but 'Lightly Sweetened' and low in sugar," the lawsuit says. "Instead, Defendant's Product is high in sugar which directly contradicts the sugar content representation Defendant prominently makes on its label."
The plaintiffs—New York, Pennsylvania, Texas, Massachusetts, Wisconsin, Illinois, Oklahoma, California and Alaska consumers—contend that the reason the Healthy Beverage Company labels its organic iced green tea as "lightly sweetened" is that buyers "would read and rely on such a representation" and be induced into buying the product, which the case says commands a premium price.
According to the suit, consumers would not have bought the defendant's organic iced green tea had they known the product was neither lightly sweetened nor low in sugar.
The lawsuit relays that sugar found in beverages is "especially problematic" for consumers aiming to lose weight given calories consumed through a beverage lack "the same appetite suppression effects" as solid food. As a result, the dangers of high sugar consumption and its effects on diabetes and obesity are common knowledge, as well as an indicator as to why consumer dietary preferences have changed, the suit says.
"When consumers purchase beverages, a material factor they consider is the sugar content," the complaint states, stressing that buyers expect the amount of sugar declared on a product's front label not to contradict what's actually in the product.
With regard to Steaz Organic Iced Green Tea, however, the defendant has used product labeling as a way to "deceive the consumer into believing" the drink, which contains 20 grams of added sugar, is lightly sweetened, the lawsuit claims.
"20 grams of sugar is a significant and excessive amount," the complaint reads. "The American Heart Association recommends that men consume 37.5 and women consume 25 grams of added sugar per day respectively."
Each plaintiff alleges they bought the defendant's Steaz Organic Iced Green Tea with reliance on the product's label representation that it was low in sugar. The plaintiffs relay they would buy the drink again in the future if the iced tea was "remedied or reformulated to be in accordance" with the Healthy Beverage Company's label representations.
Get class action lawsuit news sent to your inbox – sign up for ClassAction.org's newsletter here.
Last Updated on October 7, 2020 — 4:10 PM