in
Newswire
Published on August 31, 2022
Oral-B Glide Dental Floss Likely Contains 'Forever Chemicals,' Class Action Claims
Dalewitz v. The Procter & Gamble Company
Filed: August 26, 2022 ◆§ 7:22-cv-07323
The maker of Oral-B Glide dental floss faces a class action that alleges it has failed to disclose to consumers that the product likely contains "forever chemicals."
The maker of Oral-B Glide dental floss faces a proposed class action that alleges it has failed to disclose to consumers that the "Pro-Health" product likely contains synthetic "forever chemicals."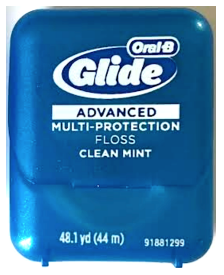 The 20-page case says that although The Procter & Gamble Company (P&G) touts the Oral-B floss as part of its "Pro-Health" line of items, laboratory testing indicates that the product "likely contains" per- and polyfluoroalkyl substances (PFAS), a category of synthetic chemicals believed to be harmful to humans and the environment, even at very low levels.
According to the lawsuit, PFAS persist and accumulate in nature over time, and can move through soil and contaminate drinking water. Per- and polyfluoroalkyl substances are called "forever chemicals" because they do not break down naturally in the environment, the suit shares.
"Use of PFAS in the manufacturing of dental floss and other products leads to the accumulation of PFAS in soil, water, humans, and elsewhere in the environment, threatening other organisms."
The filing says that the plaintiff, through his counsel, "screened" the Oral-B Glide dental floss and found "indicators" of PFAS. More specifically, the product was found to contain fluorine, a "reliable proxy for the presence of PFAS," the case states. Moreover, a peer-reviewed study identified the chemicals PTFE and PFHxS as being "associated" with Oral-B Glide products, according to the suit.
The case charges that P&G's marketing of the dental floss "tends to mislead" consumers and is materially deceptive about the "true nature and quality of the Product." According to the suit, P&G had a duty to disclose the "likely presence of harmful chemicals" to consumers, who reasonably do not assume the floss contains PFAS.
Although P&G discloses on its website that PTFE is a material used generally in the manufacture of dental floss, it does not mention which Oral-B products contain the substance, or if it uses PTFE at all, the lawsuit relays. The company also does not mention the use of PFHxS, the case adds.
The lawsuit looks to cover all consumers who bought Oral-B Glide dental floss in the United States during the applicable statute of limitations period and until the date of class certification.
Get class action lawsuit news sent to your inbox – sign up for ClassAction.org's free weekly newsletter here.
Camp Lejeune
Camp Lejeune residents now have the opportunity to claim compensation for harm suffered from contaminated water.
Read more here: Camp Lejeune Lawsuit Claims
Stay Current
Sign Up For
Our Newsletter
New cases and investigations, settlement deadlines, and news straight to your inbox.
Last Updated on August 31, 2022 — 4:35 PM