Nevada Cannabis Dispensary Hit with Class Action Over Alleged Spam Texts
Jackson v. Euphoria Wellness, LLC
Filed: September 10, 2020 ◆§ 2:20-cv-01661
Euphoria Wellness faces a lawsuit that claims the cannabis dispensary sent automated telemarketing texts without recipients' prior express consent to do so.
Euphoria Wellness, LLC is on the receiving end of a proposed class action wherein a California consumer claims the cannabis dispensary has sent automated telemarketing text messages without obtaining prior express consent to do so.
Per the complaint, the plaintiff received "numerous text messages" from the defendant over the past year despite having never signed up for the texts nor having "any form of business relationship" with Euphoria Wellness.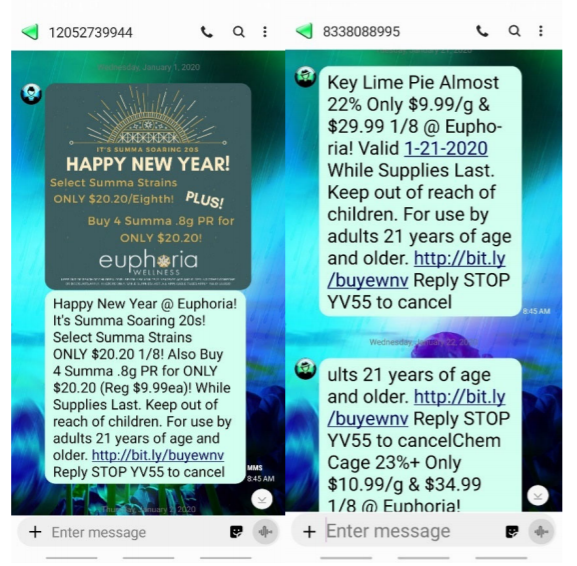 "At no time did Plaintiff provide Plaintiff's cellular number to Defendant through any medium, nor did Plaintiff consent to receive such unsolicited text messages," the lawsuit claims, adding that the woman's cell phone number has been listed on the National Do Not Call Registry since 2012.
As the case tells it, the texts violated the Telephone Consumer Protection Act (TCPA) in that they were sent without permission and for non-emergency purposes through automatic telephone dialing technology. The suit alleges Euphoria utilized for its marketing campaign "a combination of hardware and software systems" capable of generating or storing random or sequential numbers and then dialing those numbers in an automated fashion without human intervention.
The plaintiff says she has become "understandably aggravated" by the repeated automated text messages, claiming they've diverted her attention away from her work and personal activities and forced her to spend time investigating the source of the communications.
Originally filed on May 15 in California, the lawsuit was transferred to Nevada federal court on September 8.
Get class action lawsuit news sent to your inbox – sign up for ClassAction.org's newsletter here.
Last Updated on September 11, 2020 — 5:09 PM