Maximum Booting Co. Facing Lawsuit Over Alleged Improper Collection of 'Thousands' in Booting Fees
Last Updated on May 30, 2018
The plaintiff claims Maximum Booting boots cars in Union City, GA in violation of ordinances requiring signage to display certain vehicle towing information.
A proposed class action lawsuit recently removed to federal court in Georgia details one consumer's allegations that defendant Kenny McElwaney, who does business as Maximum Booting Co., has unlawfully collected thousands of dollars in vehicle booting fees. The plaintiff, a Florida resident, claims the defendant has accomplished this through a "systematic process" of booting cars without first complying with Union City ordinances that require certain signage be posted at any location where vehicle immobilization occurs.
Per the named plaintiff, the complaint says he was parked in a Walmart parking lot when the defendant placed a boot on his vehicle removable only in the event the man paid a $500 fine. The lawsuit includes the following image of the signage reportedly present in Walmart's parking lot: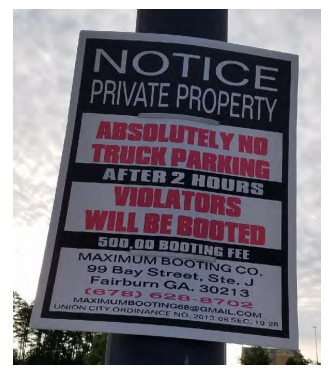 Such signage does not comply with the Union City Code of Ordinance, the case claims, in that the sign:
Does not contain "a statement that cash, checks, credit cards, and debit cards are accepted for payment";
Does not contain a statement that "no additional fee will be charged for use of cash, checks, credit cards or debit cards"; and
Fails to note the name and address of the entity that hired Maximum Booting for vehicle immobilization services.
The complaint below is the second amended complaint filed in the litigation, and now includes Walmart Inc. and Bright Meyers Union City Associates, L.P. as defendants.
Last Updated on May 30, 2018 — 9:05 AM