Los Angeles Cannabis Dispensary Hit with Class Action Over Alleged Spam Texts
Pettibone v. City Compassionate Caregivers, Inc.
Filed: July 19, 2021 ◆§ 2:21-cv-05800
A lawsuit claims City Compassionate Caregivers sent automated text messages to consumers without obtaining prior express consent to do so.
A proposed class action has been filed against City Compassionate Caregivers, Inc. over the Los Angeles cannabis dispensary's alleged practice of sending automated text messages without obtaining prior express consent to do so.
According to the 13-page lawsuit, the dispensary has engaged in "aggressive unsolicited marketing" in order to promote its cannabis products and thereby harmed "thousands of consumers in the process." The case alleges violations of the federal Telephone Consumer Protection Act (TCPA), a law that prohibits entities from sending non-emergency telemarketing calls and texts to consumers who did not provide prior express consent to receive them.
The plaintiff, a Los Angeles County resident, claims to have received over the past several years numerous text messages from the dispensary despite having never consented to receiving them.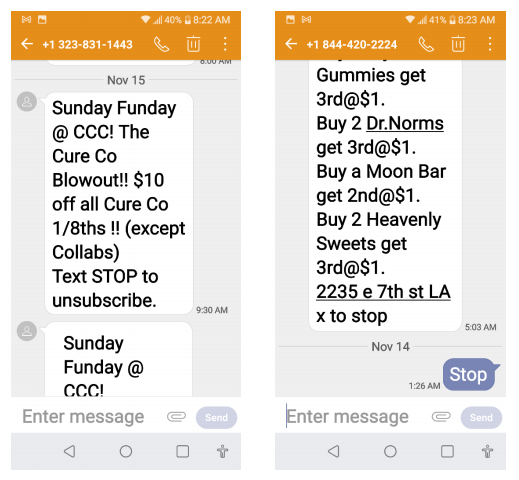 According to the case, the plaintiff, on November 14, 2020, replied "Stop" to the messages in an attempt to opt out of future communications with City Compassionate Caregivers yet continued to receive automated messages thereafter.
"Despite Plaintiff's use of Defendant's preferred opt-out language, Defendant ignored Plaintiff's opt-out demand and continued to send Plaintiff further text messages from multiple numbers," the complaint alleges.
The lawsuit argues that even if the defendant had obtained the plaintiff's consent to receive the messages, any such consent was revoked when the woman responded to the texts with "Stop."
Per the case, City Compassionate Caregivers violated the TCPA on multiple fronts—namely, by sending the texts to the plaintiff without her consent, sending a telephone solicitation to a number that was listed on the National Do Not Call Registry and failing to honor the plaintiff's opt-out request.
The plaintiff claims to have suffered "actual harm, including invasion of her privacy, aggravation, annoyance, intrusion on seclusion, trespass, and conversion," not to mention inconvenience and a disruption to her daily life, as a result of the dispensary's text messages.
Get class action lawsuit news sent to your inbox – sign up for ClassAction.org's newsletter here.
Last Updated on July 20, 2021 — 4:07 PM