Listerine Naturals Mouthwash Is Misleadingly Labeled, Class Action Claims
Phillips v. Johnson & Johnson Consumer Inc.
Filed: August 15, 2021 ◆§ 1:21-cv-06866
Listerine Naturals herbal mint mouthwash is mislabeled in that it is not free from synthetic, chemically derived ingredients as buyers are led to believe, a class action claims.
Listerine Naturals herbal mint mouthwash is mislabeled in that it is not free from synthetic, chemically derived ingredients as buyers are led to believe, a proposed class action claims.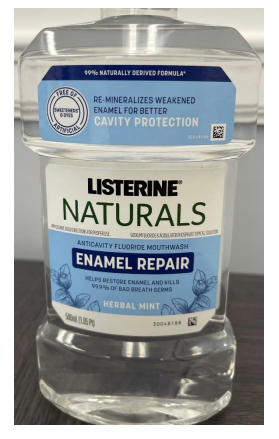 The 16-page lawsuit against Listerine maker Johnson & Johnson Consumer contends that although the mouthwash's label states that it is made with a "99% Naturally Derived Formula" and "Free of Artificial Sweeteners & Dyes," the product's active and inactive ingredients undergo significant chemical alterations through non-natural processes before being sold in stores.
Overall, the suit says that buyers are unable to discern the true nature of Listerine Naturals mouthwash merely by looking at the product's label, and have bought something that's worth materially less than what they paid based on Johnson & Johnson Consumer's "natural" claims. The Listerine Naturals mouthwash is by and large "[i]nconsistent with consumer expectations," the case charges.
"Reasonable consumers must and do rely on a company to honestly identify and describe the components and features of their products," the complaint reads. "The value of the Product that plaintiff purchased was materially less than its value as represented by defendant."
According to the filing, a reasonable consumer understands "natural" to mean free from synthetic ingredients and those made via non-natural, synthetic methods. The case asserts that although the Listerine Naturals ingredients may begin as natural raw materials, the processes they undergo before making their way into the mouthwash leave them decidedly different than how they occur naturally.
Among the mouthwash's active ingredients, sodium fluoride is a byproduct of the fertilizer industry, the suit says, and is made by reacting hydrofluoric acid with sodium carbonate or sodium hydroxide. The result of this process is a salt that is centrifuged and dried, according to the suit.
"Sodium fluoride is used for water fluoridation, to treat metal surfaces, etch glass and adjust pH in industrial textile processing," the lawsuit says. "Sodium fluoride is toxic and can severely irritate the skin or eyes."
The product's inactive ingredients include sorbitol, a naturally occurring sweetener that when used in the mouthwash comes not from fruits but from corn starch "subject to hydrolysis and hydrogenation, with chemical catalysts, under high pressure," the case continues. Also found as inactive ingredients are poloxamer 407, which is used to blend immiscible liquids in the mouthwash and is "believed to be highly toxic and linked to cancer"; methyl salicylate, which gives the product its wintergreen flavor and is produced for commercial purposes through synthetic means; and thymol, almost all of which is "entirely synthetic, produced from the precursor compound meta-cresol, an organic chemical extracted from coal tar."
Still further, the complaint centers on the stevia sweetener in the mouthwash. In one method of commercial stevia production, steviol glycosides are extracted from the stevia leaf and then "harshly purified through chemical processes," while a second method involves "genetic engineering and synthetic biology," the suit says.
"Regardless of the method used, the claim that the Product is free from artificial sweeteners is misleading because stevia is made through an artificial process," the complaint argues.
The complaint lastly challenges as misleading the "99% Naturally Derived Formula" claim on the product's labeling, calling it "misleading for several reasons." For one, the criteria by which the product can be considered 99 percent "naturally derived," a standard known as ISO 16128, are "inconsistent with how reasonable consumers understand 'natural,'" the case contends. Moreover, it permits products such as Listerine Naturals to include formulation water in its natural origin content, the suit says.
"If water was excluded, the percentage—even when using the above-criticized ISO 16128 standard for evaluating ingredients—would be significantly less than 99%," the complaint alleges.
Per the lawsuit, most independent certification standards for natural products do not include water because its use inflated the percent of the total mass of the product that's considered natural.
"No reasonable consumer would consider Coca-Cola as a drink containing substantially natural ingredients because it has a high-water content," the complaint reads.
The suit looks to represent New York residents who bought Listerine Naturals herbal mint mouthwash during the applicable statute of limitations period.
Get class action lawsuit news sent to your inbox – sign up for ClassAction.org's free weekly newsletter here.
Last Updated on August 16, 2021 — 5:00 PM