LG Failed to Disclose Childhood Asthma Risk Linked to Gas Stoves, Class Action Alleges
Last Updated on March 27, 2023
A class action alleges LG gas stoves can damage the air quality inside a home and circulate pollutants that might increase the risk of childhood asthma and other health conditions.
LG Electronics faces a proposed class action in the wake of a Harvard Medical School report warning that gas stoves can damage the air quality inside a home and circulate pollutants that might increase the risk of childhood asthma and other health conditions.
Want to stay in the loop on class actions that matter to you? Sign up for ClassAction.org's free weekly newsletter here.
According to the 25-page lawsuit, the asthma risk posed by LG's gas stoves is "avoidable" given that the manufacturer can reasonably design the products to cut down on the risk of pollutant emission. At the same time, the filing says, manufacturers such as LG can and should disclose the risk of pollutants to consumers, who may weigh the information when deciding whether to buy a gas or electric stove.
"Plaintiff believed that the product was free from defects, and she did not know that gas cooking has significant pollutant risks," the complaint says, claiming neither the Vallejo, California resident nor other consumers would have bought an LG gas stove, or would have paid as much for it, had they known the product emitted nitrogen oxides.
Per the case, nitrogen oxides are gases that can exacerbate asthma and other lung conditions. Consumer Reports states that, outdoors, nitrogen oxides come primarily from cars and power plants and cause the haze associated with smog.
According to the case, roughly 40 percent of homes in the United States use a natural gas stove. The lawsuit shares that recent studies have confirmed that gas stoves emit not only nitrogen oxide but "carbon monoxide and fine particulate matter" at levels considered unsafe by the Environmental Protection Agency and World Health Organization.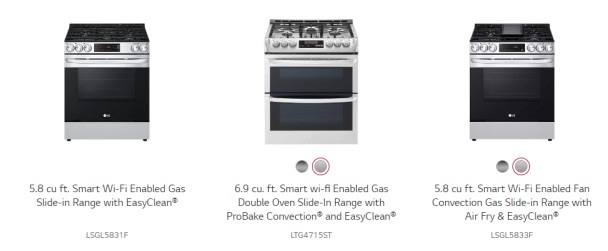 The suit says that recent EPA research has linked long-term exposure to nitrogen oxides with "cardiovascular effects, diabetes, poorer birth outcomes, premature mortality and cancer," as well as "reduced cognitive performance, especially in children."
According to the lawsuit, homes with gas stoves have approximately 50-percent higher levels of nitrogen oxides than homes with electric stoves.
"Concentrations of NO2 emissions from gas stoves can exceed US outdoor pollution standards several times over when conducting common cooking tasks like boiling water, baking a cake, roasting meat, and frying bacon with a gas stove," the complaint relays, claiming a child living in a house with a gas stove is "42% more likely to have asthma," a level "similar to the childhood asthma burden attributed to secondhand smoke exposure."
The case accuses LG of being aware that its gas stoves emit harmful pollutants given that the company, like other gas stove makers, "monitors and keeps track of the research on the health effects of its products." The suit attests that harm to consumers and their families "could have been avoided through safe, reasonably alternative designs" of the products.
"While Defendant is aware of the harmful health effects of gas cooking, everyday consumers are unaware of these risks," the filing explains, noting that LG's product packaging includes no disclaimer warning that gas stoves emit pollutants. "Consumers shopping for a new oven, range or stove have very little information about the health risks of gas appliances."
Overall, LG had a duty to warn the public of the risks associated with its gas stoves yet instead "actively concealed" the "unreasonable safety hazard," the lawsuit says. However, had LG disclosed the gas stove dangers, the price of the products would fall substantially, the case claims.
The suit looks to cover all consumers who bought an LG Electronics gas stove while living in the United States during the applicable statute of limitations period.
Get class action lawsuit news sent to your inbox – sign up for ClassAction.org's free weekly newsletter here.
Hair Relaxer Lawsuits
Women who developed cancer, endometriosis or reproductive problems after using hair relaxers such as Dark & Lovely and Motions may now have an opportunity to take legal action.
Read more here: Hair Relaxer Cancer Lawsuits
Stay Current
Sign Up For
Our Newsletter
New cases and investigations, settlement deadlines, and news straight to your inbox.
Last Updated on March 27, 2023 — 9:47 AM