Kodiak Cakes Hit with Class Action Over 'All-Natural' Claims, Alleged Slack Fill
Last Updated on January 7, 2020
Stewart et al. v. Kodiak Cakes, LLC
Filed: December 19, 2019 ◆§ 3:19-cv-02454
Kodiak Cakes is facing a class action that claims the prepackaged breakfast and snack food manufacturer "slack filled" and deceptively labeled its products.
A proposed class action lawsuit claims Kodiak Cakes, LLC made deceptive claims about its products' ingredients and "slack filled" packages of its baking and breakfast mixes in a way that conceals from consumers how much they're actually buying.
According to the complaint, the defendant claims that its products are "all natural," "free of artificial additives" and contain no genetically modified organisms (GMOs) or preservatives. Kodiak Cakes, the case explains, also labels its products as "healthy," "nourishing" and protein-packed – claims that are "uniform" across the company's advertising and marketing efforts.
The complaint contends, however, that the products in question are not high in protein and contain genetically modified soy and corn components, in addition to artificial ingredients like citric acid. According to the suit, the defendant's products also fail to live up to the company's "healthy" and "nourishing" descriptors since they contain elevated levels of fat, cholesterol and sugar.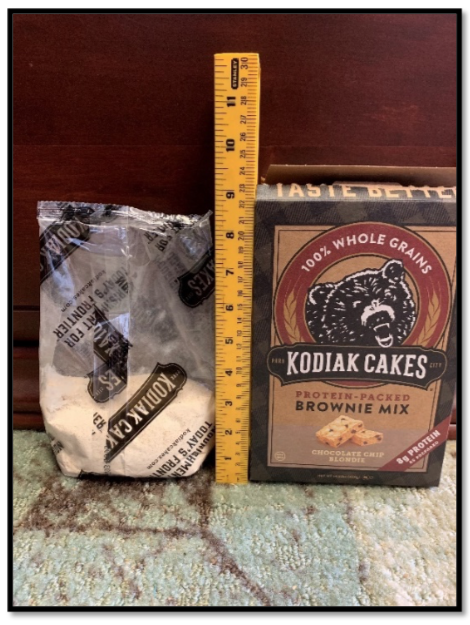 In addition, the lawsuit alleges that the packaging of Kodiak Cakes' baking mixes is deceptive because the products are sold in small opaque boxes that are sometimes as much as two-thirds empty. Under California law, this practice – known as slack filling – is forbidden unless the empty space serves a particular purpose, such as protecting the product. The empty space in Kodiak Cakes' mixes serves no functional purpose, the suit says, and therefore violates California's Fair Packaging and Labeling Act.
"The box is filled substantially less than the capacity of the package by more than half," the lawsuit says. "This packaging entirely conceals the amount of product actually contained therein and prevents consumers from directly seeing or handling the product inside the packaging to facilitate value comparisons."
The lawsuit claims that Kodiak Cakes knows consumers are willing to pay more for foods that are all natural or free of GMOs and preservatives and misled these individuals into paying a premium price they would not have paid had they known the true nature of Kodiak Cakes' goods. According to the complaint, Kodiak Cakes has run afoul of labeling laws in the past, as the company failed to include milk on the allergen statement for its Blueberry Chia Energy Waffles, which were subsequently recalled in March 2018.
Last Updated on January 7, 2020 — 11:01 AM